National University of Advanced Legal Studies (NUALS), Kochi, in collaboration with CAN Foundation organized an enlightening Online Session by Justice Mr. Sanjay Karol, Chief Justice, Patna High Court along with Mr. Justice Anand Pathak, Judge, High Court of Madhya Pradesh and Mr. Vikas Singh, Senior Advocate, Supreme Court of India on 18th September i.e. Friday. The Panelists deliberated upon the topic of "Social Engineering & Distributive Justice: High Courts Under Our Constitution".
Justice Anand Pathak commenced by delving into Social Engineering by using several landmark Judgments which brought drastic social changes in India ranging from Delhi Transport Corpn. v. D.T.C. Mazdoor Congress, 1991 Supp (1) SCC 600 and Indra Sawhney v. Union of India, 1992 Supp (3) SCC 217. He stated that implementation of law should be such that it caters to the needs of the people as law is social engineering which is used to balance between the competing needs of the society.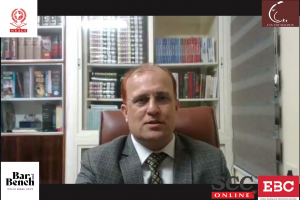 To describe the practical aspect of justice better, Justice Pathak resorted to a Sanskrit Shloka that translated as, "If a man steals a piece of bread to satiate his hunger he deserves to be pardoned, but if he steals bread after his hunger has been satiated, he should be punished." Justice Pathak added, "as citizens first made a promise of justice under the preamble which is a non-negotiable principle and cannot be done away with. He further expounded on the doctrine of separation of powers between the three branches and stated that the doctrine is just for separation of power and not for separation of Constitutional goals."
He further commented on how Fundamental Rights and Fundamental Duties are repositories of Constitutional goals and its spirit. Furthermore, he divided Justice dispensation into adjudication, occupation and education. Adjudication is of cases by Judges. It is an occupation pursued by lawyers as a profession. Education is symbiotic in nature where lawyers and Judges educate and enrich each other by their knowledge, experience and wisdom.
On High Courts, Justice Pathak was of the opinion that the High Courts provide the first platform where the initial discussion on a subject or controversy takes place and then the dispute travels to the Supreme Court to get fait accompli. Justice Pathak further discussed several cases on social engineering, Delhi transport corporation v. DTC Mazdoor Sangh with a Constitutional bench of the Apex Court and also D.S. Nakara v. Union of India, (1983) 1 SCC 305 from 1983 were of prominence.
His opinion on the Delhi Transport Corpn. v. D.T.C. Mazdoor Congress, 1991 Supp (1) SCC 600 was encapsulated in the statement that Law is a social engineering to remove the existing imbalance and to further the progress. While he opined upon the case of DS Nakara v. UOI in the manner that law is an instrument of Social Engineering be so as it may but as well that to be pragmatic is not to be unconstitutional. Law as an instrument of social engineering, helps to usher in socio economic justice.
Taking into account the case of Dr Sharique Ali v. State of MP, 2002 (1) MPHT 315 where not giving the benefit of revised pay scale to teachers on the basis of agreement was termed arbitrary and violative of article 14 of the Constitution, he termed this to be a case of distributive justice. Furthermore, he reflected upon the suo motu cognizance by Chief Justice Karolat Patna High Court, where after noticing an incident where a toddler was trying to wake up his dead mother in the Muzaffarpur railway station.
He also reflected upon the case where the Kerala HC took cognizance of dilapidated condition of animals during Lockdown in a writ petition and when the Madhya Pradesh High Court took proactive steps for welfare of Migrant workers. He opined that there are angular deviations in decisions of High Courts and finally, the Supreme Court has the final word.
He mentioned that Article 227 cannot be undermined as it decides the controversies in procedural and private laws conclusively. Limited resources do not allow litigants to take disputes to SC and so, the role of High Courts is important in providing meaningful justice i.e., distributive justice. High Court plays a major role in providing distributive justice. Amidst pandemic, virtual Courts strengthened the access to justice. This is also a measure of social engineering. Social engineering has to use data mining post litigation for justice dispensation and justice realization over the ground. Rule of law should become one of the essential components of development to prevent mis-governance.
A French thinker well said that, Emotions have taught mankind to reason, through emotions, man reaches to the conclusion. Social engineering is an offshoot to this thought. Justice dispensation involves adjudication, occupation and education. Adjudication is of cases by Judges. It is an occupation pursued by lawyers as a profession. Education is symbiotic in nature where lawyers and Judges educate and enrich each other by their knowledge, experience and wisdom.
Justice Pathak concluded by commenting "Social Engineering and distributive justice supplement each other and time contradict also because the concept of social engineering precisely followed the principle that the maximum satisfaction should be obtained for the maximum people and the concept of distributive justice goes on to that the actions should be adopted which provides maximum satisfaction to the lowest strata."
Senior Advocate Mr. Vikas Singh started his address by marking the Topic of the Session's decision as thought provoking. As per him, "Distributive justice should be aimed at removal of economic inequalities and law should be used to aim at this very objective."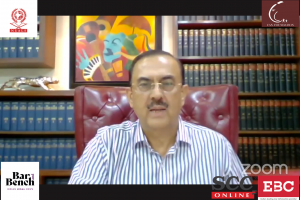 Elaborating on Aristotle's commutative justice, Mr. Singh stated how the former requires two persons while distributive justice requires three or more. He further referred to Radbruch- distributive justice as a prototype justice. Cardozo was also mentioned upon the aspect that what we are seeking is that justice be guided by objective and subjective interest. Bridge between Part 3 and Part 4 is very essential for the purposes of distributive justice.
Highlighting some of the prominent judgments of High Courts like decriminalization of gay sex by Justice AP Shah, Mr. Vikas Singh claimed and appreciated the Delhi High Court for setting an example for distributive justice. He commented, "Justice Wanchoo of Rajasthan High Court, while hearing a case of Sati which was abolished in 1883, said that abetment of suicide is a crime and Sati should not be an exception. This practice is abandoned by the law. People should respect the law, at least the law declared 100 years ago."
He also stressed on Judicial process evolves with new thought to take the trends of emerging society. The cases of Triple talaq, child labour, reservation, human rights, SC/ST act, bonded labourers, etc. prove that law is none other than social engineering. Also, talking about the migrant labour crisis, he said that the issue was first raised before the Supreme Court but the Court disposed of the PIL relying on the statement of the Centre, but the High Courts rose to the occasion, Andhra High Court being the pioneer. Suo motu cognizance by Justice Karol in the case of a helpless toddler in Muzaffarpur is remarkable.  Other High Courts like Allahabad, Gujarat, Karnataka, MP, etc. also passed orders in the interest of migrant labour.
He further tried to draw attention to a very crucial aspect which needs a lot of thought in the modern context. As the police works at the ground level, police reforms are needed urgently; as delivered in the Prakash Singh case in 2006 by the Supreme Court.
He also urged that the Writ jurisdiction of High Courts is wider than that of Supreme Court and the High Courts have been granted the power of Superintendence over subordinate Courts which the Supreme Court doesn't have. High Courts therefore, are the real vehicles of distributive justice and social engineering.
During post session questions, a question was raised regarding how one did look at the Court resolving the conflict between social justice and individual justice. To which Justice Pathak responded by saying that Judges are bound by four corners of law, but beyond that also Judges should act as healers of injustice. Justice delivery and emotions guide reason. He gave an example of a writ case where a lady was harassed by her husband. SHO resolved the problem on his orders. Thus, thought process was put into it and then orders laid out. Thus, he mentioned that Formula should be devised on case to case basis barring all kinds of discrimination.
A question was raised to Senior Advocate Mr. Vikas Singh as to whether High Courts seem to be the last resort for the people in underdeveloped states. To which he responded by stating that a lot many times, access to justice is easier, cheaper, proximate in high Courts. Also, choice of good Judges will ensure good justice at the high Court level.
Justice Pathak was asked for his views on the pragmatic approach of handling distributive justice like in the case of Sadhuram Bansal v. Pulin Behari Sarkar, (1984) 3 SCC 410; he responded in the lines that; Every Judge is a healer. Every file has a life. If these thoughts are inculcated in Judges, then justice would be ensured. Citizens and judiciary share a symbiotic relationship.
A final question was raised to Mr. Vikas Singh regarding his opinion on handling of high-profile cases by the High Courts; wherein he stated that at the end of the day a Constitutional Court has to ensure that rule of law is followed.  They should not make comments which may affect the trial at a later stage. While filing a charge sheet, no interference of politicians should be taken into account. Classical case of Jain Havala was cited as an example.
The full session can be viewed at the following link: HERE