Amrith Bhargav graduated from the School of Law, SASTRA (Deemed to be) University, Thanjavur in the year 2017 as the Best Outgoing Student. He was recognised as a "scholar student" by his University's Vice-Chancellor Dr. S. Vaidhya Subramaniam. He has had an illustrious academic career filliped with numerous publications to his credit, & the most noted of them being "Law and Dharma: A Tribute to the Pitamaha of the Indian Bar: Shri K Parasaran"which he co-authored with his two other batch mates. The book carries a foreword by the Former Chief Justice of India Justice (Retd.) M.N. Venkatachaliah andappreciative messages from various renowned Judges– Justice B. N. Krishna, Justice K. T. Thomas, Justice Ibrahim Khalifulla. The book was released on October 9th, 2016 in Chennai by the then Chief Justice of the Madras High Court, Justice Sanjay Kishan Kaul in the presence of Shri K Parasaran, himself, and other luminaries like  Late Prof (Dr.) NR Madhava Menon, Mr. S. Gurumurthy and Prof. R. Sethuraman, Chancellor, SASTRA Deemed University to name a few. For this pioneering contribution, he was bestowed upon a scholarship by his alma mater which was presented to him by the legendary Mr. K Parasaran.
Upon graduation, he has been associated with the Chambers of Senior Advocate P.H. Arvindh Pandian and Advocate Harishankar Mani and has been regularly appearing before the Madras High Court and various Tribunals। He is pursuing his doctoral studies from SASTRA Deemed University and is designated as the Research Scholar in the recently inaugurated TATA-Palkhivala chair on Artificial Intelligence ("AI") and Alternate Dispute Resolution ("ADR"). He also spoke at SAMVAD: the Global Hindu- Buddhist Conclave on Conflict Avoidance and Environment Consciousness at UlaanBaatar, Mongolia in 2019.
In this informational interview, Amrith Bhargav narrates his experience in researching for the Book Law and Dharma, his illustrious academic record at School of Law, SASTRA University, his art of researching personalities and his experience in litigation. 
This interview has been conducted by EBC/SCC Online Student Ambassador Ujjwal Jain who is currently pursuing law from TNNLU.
PART-A
Welcome to SCC Online Mr. Bhargav! The Book "Law and Dharma"plays a significant role in your UG days at School of Law, SASTRA (Deemed to be) University and it would not be an exaggeration to state , as you had invested 2 years in co-authoring the book and have successfully steered the team in this task.
If you could please tell us about the Book? Why is the Book coined as the "Tribute to the Pitamaha of the Indian Bar: Mr. K Parasaran, Former Attorney General for India"?
The book was intended as a 90th Birthday tribute to Mr. K Parasaran, Senior Advocate and Former Attorney General for India and also to encapsulate and compile the legal heritage as gleaned from ancient texts. It is a broad compilation from various sources and literature on socio-legal issues, jurisprudence, procedural law and the endeavour to study law and society. Surely, Mr. K. Parasaran is one of the greatest jurists produced by India and is the Pitamaha of our Bar, the pride of our legal profession.
In the words of Dr. S. Vaidhyasubramaniam, Vice Chancellor, SASTRA Deemed University,the Book is a product and culmination of "deep levels of research" which your team undertook. If you could please share your experience while working and researching for the Book?
The book involved reading tomes of books both online and offline. I personally visited close to 5 – 7 libraries across India between 2014- 2016 for this research. I must add that since I have a working knowledge of Sanskrit, I did read a lot of our ancient sources which deal with juristic issues. We framed the chapters to showcase the integrated approach to jurisprudence and how India had an advanced system of thinking on this.
I must add that we had the golden opportunity of interviewing Mr. K Parasaran on quite a few occasions where he shared his inputs on ancient India's contribution to legal thought. His original thinking, encyclopaedic knowledge and interesting narration captivated us. I must profusely thank Mr. Mohan Parasaran, Senior Advocate and Former Solicitor General & Mr. Satish Parasaran, Senior Advocate for their kind facilitation of these interviews.
My friends, Aishwarya Mahesh and Akshay Nagarajan deserve my unstinted gratitude for their efforts, by burning the midnight oil and completely supporting me in completing the book. The constant encouragement given by Dr. S. Vaidhyasubramaniam, Vice Chancellor, SASTRA Deemed University was invaluable and guided us in every step. His motivation and generosity has been phenomenal.
I would also to remember and cherish the wholesome support given by my professor at University, Dr R Madhavan, a trained sociologist who infused a strong sense of intellectualism in many of us. I certainly owe a debt of gratitude to him.
"The first person to get influenced from a Book – is the Author himself!" How has the book influenced you in the practice of the profession and in shaping your thoughts? On this point, what would be your message to the readers?
The Book, though intended as a tribute is actually a portal through which we must appreciate the genius of Indian culture as a whole. I am totally involved in knowing the fusion between Indian and global streams of legal thought and writing the book was a vantage point for realising the flashpoints of civilizational understanding and building bridges between the past and present.
Inspiring and thought provoking in every aspect, Mr. K. Parasaran represents the highest ideals of legal professionalism and his blessing made the compilation a labour of love and total respect to one of the giants in Indian public life as a whole.
PART –B
Your internships are litigation-centric and seem to be aligned in a planned manner. How did you go about planning for your internships? Were you steadfast of your interest leaning towards litigation?
Internships involve a mix of duty and destiny. I am privileged to have worked under some of the best lawyers, Judges and at a think tank too. Internships facilitate practical learning and increase exposure to the world of litigation. Most of these internships opened newer avenues and better opportunities, networking was an incidental occurrence! Internships also require the creation of a context for better professionalism in nurturing relationships. Ultimately, it is the context which makes the pitch for our career building.
Again, I was completely attracted to the life of an everyday litigating lawyer. I was sufficiently convinced that there is no substitute to court work and arguments. A senior's office was my calling indeed.
You have interned under a number of Judges of the Madras High Court. How have these internships benefitted you?
I did intern under a number of Judges. All of them were epitomes of simplicity, grace and kindness in treating me as an intern. Closely watching the judicial process, made me understand the various vantage points of litigative practice and how a Judge makes his/her age in history actually!
I appreciated the operation of law on a given set of facts and how each case was a puzzle with the niceties of presentation. I spent hours reading law reports and articles. Truly, we have inherited a great legal tradition.
Please do prescribe a Do's &Don't's dosage for an intern interning in the Offices of a Judge. In your experience, how can one extract the maximum from such an internship?
It's simple. Duty and dedication with a strong sense of punctuality are essential. A life- long passion for law, both in the academic and practical working with a zeal to endure long hours of court related observation and accepting the sacrosanct nature of our judicial process is necessary.
One must exhibit total enthusiasm and learn to show professional courtesy and respect at every level possible. Interns must aim to contribute to the journey by supplementing legal research with creative inputs. We must learn to engage in intellectually stimulating discussions and at the same time to use time wisely.
PART – C
If a reader views the videos of any Chief Guest/ Keynote speaker's speech on SASTRA University's YouTube channel, then, he/she,inevitably, would be immensely benefitted by the introductions of the Speakers given by you which appears to be meticulously researched and prepared. This has earned youpraises from numerous personalities on and off-record. One of the most noted of them being Justice (Retd.) Yatindra Singh's (former Chief Justice of Chhattisgarh HC) appreciation, who penned on his Blog,with specific reference to you, "I never thought anyone read my judgements, articles so carefully and that too by a student."
The introductions which you have given before the commencement of lectures at SASTRA reflects the in-depth research and voracious reading you used to undertake. Please do benefit our viewers with what used to go behind the scenes i.e. preparation?
As a close reader of biographies and autobiographies, people and their life stories have deeply impacted me. Fascinated by the stories of lives, I usually work on welcome speeches with a keen sense of creating an impression out of the ordinary. I have tried to avoid clichés, empty statements and usual phrases and instead searched for better usages.
Any visiting guest at University is always special and the welcome address was to add to the enriching memory. I always spend a lot of time reading older souvenirs, festschrifts and special volumes released in the honour of yesteryear and current greats in any field. This is instrumental in assisting my formulations. The vintage addresses contained in special souvenirs capture the energy of the moment and in fact spur my thoughts. I visit old libraries, search for these commemorative issues spending hours and days since they are intellectual treats. As a life – long enthusiast of history and literature, the felicity of expression and their usages fascinate me. I am also an avid collector of books, both law and associated subjects. I do believe that law is also an endless intellectual pursuit and any lawyer must keep reading in form or the other.
Another great read of biographical sketches includes one of my favourite books, 'A Century Completed' by the Late V C Gopalaratnam on the personalities of the Madras High Court published in 1962. It gives page wise precise biographical accounts with remarkable style and sparkling description.
PART – D
You recently shared the dias (or let's say the screen!) with the Hon'ble Finance Minister Smt. Nirmala Sitaraman and Mr. N. Chandrasekaran, Chairman, Tata Sons in the virtual launch of Nani Palkhivala Centenary celebrations and inauguration of the Tata-Palkhivala Chair on ADR & AI, of which you are designated as the research scholar.
If you could please elaborate about your role as the Research scholar of the Tata-Palkhivala Chair on AI & ADR?
This is a one of a kind initiative just started by SASTRA Deemed University with an endowment from TATA Sons in the memory of that great gem of the Indian legal world, Nani Palkhivala. This is a monumental project which really seeks to invest for a technologically synergetic future. The interesting intersection between law and technology, especially the idea of using AI in case disposal of certain kinds  and in judging itself is a leap for the judicial system.
It is a captivating field of research actually. I vividly remember Mr. M.N. Venkatachaliah, Former Chief Justice of India telling me during one of my meetings with him Bangalore about the scope and vitality of Artificial Intelligence in the administration of justice. He was kind enough to give his personal message during the virtual launch earlier their month.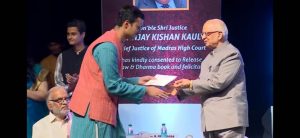 PART- E
You are presently associated with the Chambers of Sr. Adv P.H. Arvindh Pandian and Adv. Hari Shankar Mani for 3+ years now. How has your experience been? What would be your message to the students wishing to take up litigation as a career?
It is my good fortune for being associated with my respected seniors, both Mr. P.H. Arvindh Pandian, Senior Advocate & currently Additional Advocate General – II for Tamil Nadu and Mr. Harishankar Mani, Advocate. The amount of inspiration, care and foundational learning has been immense. Both of them show a great deal of attention towards the future and professional success of their juniors. I enjoy spending time in interaction and the kind of cases that I have worked on makes me thank God for blessing me with such mentors.
The first ever case was an income tax matter relating to capital gains in the end of 2017, in which Mr. P.H. Arvindh Pandian led me. It was a great learning experience and a strong start to my career.
For my law student friends who wish for a career in litigation, I would suggest that they learn from illustrious seniors in the profession, by watching them in action at courts, regularly reading law reports and sticking to reality at all times. We need to get out of our mental silos and perceive the world afresh. As a litigating lawyer, time is of essence and timely completion of work is vital. Inculcating a broad perspective in neutrality is also essential. We must, in our own encounters, learn to measure or gauge situations, without being judgmental.