In yesterday's hearing, India presented its arguments before the International Court of Justice (ICJ). The public hearings started from Monday 18 and will be continued till 21-02-2019.
Schedule for the hearings
First round of oral arguments-
Monday 18 February 10 a.m.-1 p.m.   : India
Tuesday 19 February 10 a.m.-1 p.m.: Pakistan
Second round of oral arguments-
Wednesday 20 February 3 p.m.-4.30 p.m.: India
Thursday 21 February 4.30 p.m.-6 p.m.: Pakistan
Snippets from Yesterday's Hearing:
Kulbhushan Jadhav case used as propaganda by Pakistan.
Salve emphasizes: Review and reconsideration of the case would be inadequate. The relief should be in the form of a direction to set Jadhav free.
India: It has established that not allowing consular access is a gross violation of Article 36 of the Vienna Convention by Pakistan.
In the present case, relief of review & re-consideration would be highly inadequate, considering facts & circumstances.
India seeks annulment of Jadhav's conviction and a direction that he be released.
---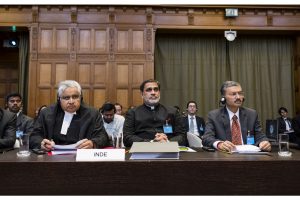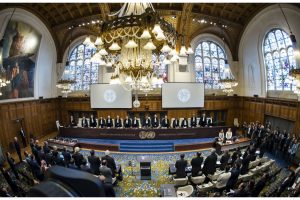 ---
Image Courtesy: ICJ
---
LIVE UPDATES [India v. Pakistan]: Pakistan's oral arguments begins:
Oral arguments by Pakistan's Attorney General Anwar Mansoor Khan.
Since 1947, India has continuously tried destroying Pakistan.
"On humanitarian grounds, Pakistan allowed Jadhav's family to visit him. I challenge India to quote a similar example."
Mr Khawar Qureshi representing Pakistan starts with his oral arguments.
Developments in customary international law not consistent with India's position on Article 36 of Vienna Convention on Consular Relations.
Blatant misrepresentations in the pleadings by India.
Qureshi in an electronic presentation places the issues it will present its arguments.
He states that "Why was Jadhav in possession of an authentic Indian passport with a Muslim cover name."
What evidence is there that Jadhav retired from the Armed Forces?
ICJ President interrupts in between and asks Mr Qureshi to kindly slow down.
India's conduct is far from irrelevant.
India failed to provide any explanation as to how it is that Commander Jadhav was able to travel frequently to and from India using an authentic Indian passport bearing a false identity in a Muslim name.
Evidence of how Jadhav was an Indian National?
India's hands are sullied.
Passport was authenticated by expert David Westgate. Used at least on 17 occasions by Jadhav.
"We gave every single opportunity to India to correct/clarify/apologize, but it arrogantly dismissed."
ICJ President again interrupts and asks Qureshi to slow down as the judges are not able to follow.
Qureshi on claims that Jadhav was not well when his family visited him stated in regard to Deputy High Commissioner J.P. Singh's letter that: "I wish him well for his future as a fantasy fiction writer."
Court adjourned for a 15-minute break.
Mr Qureshi starts with his arguments after the break.
At no stage can India say that Pakistan engaged in any clear and unequivocal representation made directly to India, to the effect that India waived the requirement for India to establish the Indian nationality of Commander Jadhav.
At no point, India has established (even now) that commander Jadhav is an Indian National.
No general practice accepted as law (opinio juris) by States to provide consular access in cases of espionage.
India has used flowery and topsy turvy language in its pleadings.
Did India demand any negotiation or mediation? NO
What does India have to say for that passport?
Why didn't India raise a dispute back in 2016? Why did it come directly to the ICJ for provisional measures?
India stated that Pre-Mediated murder was supposed to take place.
India's MEA Official stated that India and Pakistan have a bilateral agreement (vis consular access).
India's claim for "at least" acquittal, release, and return is outlandish.
India shamelessly misrepresented the conclusion of the Joint Report of the distinguished Military Law Experts and extremely late in the day (shamelessly and without apology) sought to deflect criticism by saying a "typo" was involved in one respect.
India simply fails to answer questions.
Reference to Narendra Modi's purported claim that rapists will be hanged within days quoted by Qureshi.
India invokes the decisions of the IACHR in a completely irrelevant and misleading manner.
"Why does India wants Pakistan to be treated differently?"
In any event, effective review and reconsideration has always been available to Commander Jadhav and his family.
India's Application should be declared inadmissible by reason of India's conduct in this context manifesting abuse of rights, lack of good faith, illegality, lack of clean hand and misrepresentations.
Conduct of India as aforesaid militates against the grant of any relief in any event.
VCCR is not engaged as India has not established that Commander Jadhav is an Indian National, nor was consular access refused prior to the commencement of these proceedings.
Customary International law provided for an exception to consular access in the case of an individual reasonably suspected of espionage.
India's claim for "at least", "acquittal, release or return"/annulment of the conviction is at best misconceived, at worst made in bad faith in the light of the Court's previous decisions consistently rejecting such a claim.
India has not made any other relief, thus its application should be dismissed.
Sitting is now adjourned for the day. 
Parties will now respond to the oral arguments for the next two days of the hearing.