Indian Journal of Law and Public Policy & Ayyubi Law Practices, Alumni Association of Jamia Millia Islamia; New Delhi conducted a National Conference on Identity, Citizenship, and National Register of Citizens, Assam on February 2nd, 2019 at Auditorium, Faculty of Engineering and Technology.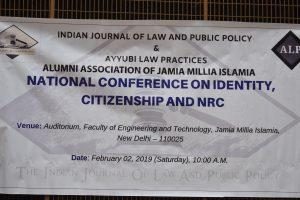 The event was held in two sessions:
The first session dealt with National Register of Citizens, Legal Framework and Implementation and D-Voters: Abundance Precaution or Legal Persecution and was joined by very esteemed panelists, namely:
Prof. Anupama Roy (Centre for Political Studies, School of Social Sciences-II, Jawaharlal Nehru University)
Prof. Sanjoy Hazarika (International Director, Commonwealth Human Rights Initiative)
Mr. Venkitesh Ramakrishnan (Chief of Bureau, The Frontline)
Dr. Ghulam Yazdani (Academic Advisor, IJLPP)
Mr. Fuzail Ayyubi (Advocate on Record, Supreme Court of India)
The panelist heard a number of research papers which were presented by students and independent writers all over India.
Professor Anupama Roy addressed the gathering by stating that "Statelessness is an issue which we need to look at whether our Constitution allows it within the ambit of Constitutional morality".
The second session dealt with Citizenship Laws in India: Leaning towards Political Rhetoric or Constitutional Morality and Post NRC Regime and Issues regarding Illegal Migrants and Detention Camps. The session was joined by esteemed panelists, namely:
Prof. Mahendra P. Lama (Professor of South Asian Economies, School of International Studies, Jawaharlal Nehru University)
Mr. Mohan Katarki (Advocate, Supreme Court of India)
Ms. Jayshree Satpute (Co-founder, Nazdeek and Human Rights Lawyer)
Mr. Mohammad Nizam Pasha (Advocate, Supreme Court of India)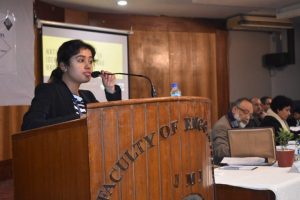 On several papers, Prof. Lama commented, "The entire discourse we've lost the major discourse of how, close to 40 lakh people are illegal and as to who brought them and the role played by paramilitary forces in this. This issue should be looked at from an inter-disciplinary aspect, for instance, the impact on relations of India with its neighbors due to this issue, the shape of the borderline to be considered, etc. Further, it becomes necessary to go beyond legal interpretations and to examine this issue in the context of public interest."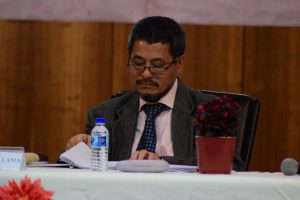 The valedictory speech was attended by Mr. Salman Khurshid (Advocate, Supreme Court of India) as a Chief Guest. He spoke about the big problem of lack of communication existing in Indian politics with the Congress Party in Assam being unaware of the issue and having never been consulted on this issue. Further, he pointed out that the apex court is incompetent to find a solution to this issue and that it is doubtful whether the people involved in the entire NRC exercise have been given the appropriate training to conduct this exercise. NRC has no mitigating factors and no law can be without its mitigating factors.