With its motto "Aspire and Achieve", Army Institute of Law is an amalgamation of excellence, fortitude and balance that remains unparalleled in the legal fraternity. The unique strength of our community lies in its diversity and steadfastness. We have always believed that mooting affords participants the opportunity to decipher substantive legal problems while giving them an insight on practical and theoretical aspects of law, which cannot be tutored in the confines of a classroom. With this objective in mind, the 1stAIL National Moot Court Competition 'Checkmate' was held in the year 2011 and has been an annual affair ever since. The pandemic forced us all to shift online and Army Institute of Law pulled off yet another successful event, virtually. We received an overwhelming response to the Moot Proposition released by us.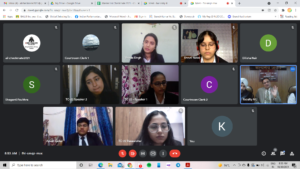 'Checkmate' is known for it's avant-garde and unique moot propositions and this year the proposition was based on multiple facets of criminal law, law of evidence and constitutional law. The year's moot problem was conceived to create awareness about the juxtaposition of criminal jurisprudence with the ever-emerging technological developments of our time, that not only revolutionises legal education but also find application in actual practice.
The Preliminary Round of the competition was conducted through the memorial selection round made by 26 teams, out of which the top 16 teams made it to the Octa-Final rounds, followed by the eight highest scorers reaching the Quarter-Finals, both of which were conducted on 29th October, 2021. The Semi-Final rounds commenced between the top four teams this very morning and our revered judges from the legal fraternity declared the top two teams who battled in the court room for the coveted title of the 'Winner' of 11th Checkmate National Moot Court Competition, 2021.
The final round was adjudged by our esteemed panel consisting of: Hon'ble Mr. Justice G S Sandhawalia, Punajb and Haryana High Court, Hon'ble Mr. Justice J S Bedi Punjab and Haryana High Court, and Dr. K P Singh, Former DGP Haryana.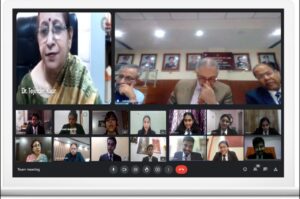 As the saying goes, "In life, unlike chess, the game continues after Checkmate," even though this wasn't a game of chess, we believe Mooting is not less than the game of Chess. Thus, there is felt a need to know the results which declared the following as the winners:
Best Team Award- Rs. 18,000/-
Dr. Ram Manohar Lohia National Law University, Lucknow
Shruti Yadav, Vrinda Singh and Ayush Yadav
Runners up Award- Rs. 12,000/-
Himachal Pradesh National Law University
Sanchit Sharma, Ishu Dayal Srivastva and Sanmati Awasthi
IIIrd Best Team- Rs. 6000/-
Dharmashastra National Law University, Jabalpur
Sachin Tiwari, Ayush Chaurasia and Ananya Saxena
Best Researcher Award- Rs. 4,000/-
Delhi Metropolitan Education, GGSIPU, New Delhi
Riddhima Bisht
Best Memorial Award- Rs.9000/-
Rajiv Gandhi National University of Law, Patiala
Shreya Maloo, Prince Agrawal and Suryapratap Singh Jodha
Best Speaker Award- Rs. 6000/-
Stuti Sinha
Lloyd Law College, New Delhi