Online Consumer Mediation Centre (OCMC), National Law School of India University (NLSIU), Bengaluru, was  inaugurated on the National Consumer Rights Day on 24th December, 2016 by Shri Ram Vilas Paswan, Hon'ble Minister, Consumer Affairs, Food and Public Distribution, Government of India Shri C.R. Chaudhary, Hon'ble Minister of State for Consumer Affairs, Food And Public Distribution, Government of India, Shri Hem Pande, Secretary, Department of Consumer Affairs, Ministry of Consumer Affairs, Food & Public Distribution Government of India (GoI) and Hon'ble Justice Shri D.K. Jain, President, National Consumers Disputes Redressal Commission (NCDRC) at Vigyan Bhavan, New Delhi.
Understanding the need for non-adversarial conflict resolution in consumer disputes, the Chair on Consumer Law and Practice at National Law School of India University had for the first time in India, disembarked on a mission of setting up an Online Consumer Mediation Centre. The initiative has been whole-heartedly supported by the Ministry of Consumer Affairs, Government of India, both in words and action. The Mediation Centre has developed an online platform with motto 'Anytime Anywhere Dispute Resolution' that ensures confidentiality and privacy at every stage of the online mediation. A dedicated website is designed to provide a user-friendly, transparent and secure online mediation process. An advisory committee is set up at the mediation centre to assist the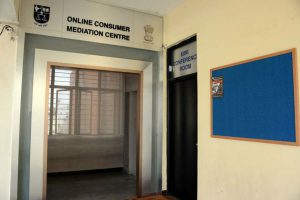 Centre at every stage of development and appointment of expert mediators to the panel, from among those with professional and technical experience in different fields. The Centre has been advocating for quick and amicable settlement for both the consumers and businesses to preserve the relationship and trust between them which is the main agenda of the Centre. As a pilot programme, the Centre is confined to mediation services for consumer disputes in e-commerce only. The Centre runs with the vision to provide for an innovative online mediation tool that affords consumers better access to justice through quick and easy redressal mechanism and at the same time provide opportunity for businesses to maintain good customer relations. The mission of the Centre is to provide innovative technology for consumers and organisations to manage and resolve conflicts and to propel online mediation as a first choice to resolving consumer disputes. The values include Easy accessibility, Security, Confidentiality, Cost-effective, Neutrality and Integrity.
BENEFITS TO CONSUMERS  
Anytime – 24×7 any day
Easy accessibility – Online
Security – No threat or risk
Low cost – Only registration fee
Time efficient – No delays
BENEFITS TO BUSINESS 
Low cost – Reduce resolution overhead
Satisfied customers – Repeat business
Confidentiality – No 3rd party or media
Scalable – Low-cost via internet cloud
Neutrality – No preference, win-win
Contact for further details:
Prof. (Dr.) Ashok R. Patil
Director
Online Consumer Mediation Centre
National Law School of India University
Nagarbhavi, Bengaluru 560072, India
Email: ocmc@nls.ac.in
Website: www.onlinemediationcenter.ac.in
For more information about the Centre, please watch: https://www.youtube.com/watch?v=HFNU4SezyDM&t=7s