SCC Online Weekly Rewind Episode 49 ft. Nilufer Bhateja, Associate Editor is out now. The written episode along with the video episode can be watched and read below.
---
Supreme Court 
---
Battle half won for MP District Judge in alleged sexual harassment case as SC orders her reinstatement 
In the case where one Additional District and Sessions Judge of Madhya Pradesh was "was left with no other alternative" but to resign after she was transferred as a consequence of the sexual harassment allegations levelled by her against the then Portfolio/Administrative Judge of Madhya Pradesh High court, the bench of L. Nageswara Rao and BR Gavai has held that the said resignation cannot be said to be voluntary and hence, set aside the order accepting her resignation and directed her reinstatement directed as an Additional District & Sessions Judge. 
The District Judge was transferred mid-term from Gwalior to Sidhi I.e. from Category A to Category C which is against the Transfer Rules. Also, her representation regarding her daughter's education was also not paid heed to.  
All the frustration actuated by the thought that injustice was being meted out to her by the very Institution of Judiciary , led to her resigning from the post and choosing her daughter's education over her own career. The Court observed that  
"It appears that in a gruesome battle between a mother and a Judicial Officer, the Judicial Officer lost the battle to the mother." 
Bank Employees misappropriate funds. Confession by one leads to mild penalty; No evidence against another leads to dismissal! SC directs reinstatement 
In a case where a bank employee was dismissed from services despite lack of evidence, the Supreme Court has directed his reinstatement and has held that  even in departmental proceedings, there had to be some overt evidence, and not mere suspicion, to support a valid finding of complicity of the employee. 
In the case at hand, it was alleged that the respondent had disbursed loan in favour of twelve fictitious persons and had misappropriated the amount of ₹ 60,000/- forming the subsidy component. Interestingly, confession of guilt by his colleague resulted in a mild penalty of withholding of increments. However, the respondent, who did not admit his guilt, or confess to it, was dismissed from his service despite no credible evidence. 
In such circumstances the Court observed that the bank's charge about his complicity had to be proved by evidence and the document, containing others' confession, could not have been used against him. 
POCSO Offenders Deserve No Leniency; "A Message Must Be Conveyed To The Society At Large" 
In a case where a 65-year-old man committed aggravated penetrative sexual assault on his 4-year-old neighbor, the bench of MR Shah* and BV Nagarathna, JJ has observed that any act of sexual assault or sexual harassment to the children should be viewed very seriously and all such offences of sexual assault, sexual harassment on the children have to be dealt with in a stringent manner and no leniency should be shown to a person who has committed the offence under the POCSO Act. 
Noticing that the children and more particularly the girl child deserve full protection and need greater care and protection whether in the urban or rural areas, the Court observed that 
"Cases of sexual assault or sexual harassment on the children are instances of perverse lust for sex where even innocent children are not spared in pursuit of such debased sexual pleasure." 
---
High Courts
---
Tripura High Court: Exclusion of married daughters from the die-in-harness scheme of the State Government discriminatory? Court discusses 
  Deciding the question pertaining to exclusion of married daughters from the die-in-harness scheme of the State Government, Tripura high Court while explaining the object of the scheme expressed that, 
Marriage does not break the bond between a daughter and her parents as it does not do between a son and his parents. A crisis in the family of her parents equally worries a married daughter. As such, there is no rationale behind exclusion of a married daughter from the scheme. 
High Court held that a die-in-harness policy inasmuch as it operates as a disqualification in the case of a married woman, as against a married man must be held to be discriminatory and such policy, tested on the touchstone of Articles 14 to 16 of the Constitution, cannot be held to be valid. 
Bombay High Court : 9-year-old child prefers to stay with mother's father and his family members and shows animosity towards father: Whether father will get custody of child or not? Bom HC decides 
Addressing a matter wherein a child's mother was diagnosed with cancer due to which she started living at her parental home with the child, and after the passing of the mother, a custody battle arose between the father of the child and the father and brother of wife, Bombay High Court, noted animosity of the child towards his father, to which the Court expressed that, the same must have occurred due to 'parental alienation syndrome'. 
  Expressing that preference of child alone cannot be a decisive factor, High Court gave the custody to the father, and stated that the child has already lost his mother at a young age and he requires parental love, care, affection and protection for overall development. 
---
Legislation Updates 
---
Aadhaar (Authentication and Offline Verification) (First Amendment) Regulations, 2022
 The Unique Identification Authority of India notifies Aadhaar (Authentication and Offline Verification) (First Amendment) Regulations, 2022 to further amend the Aadhaar (Authentication and Offline Verification) Regulations, 2021. The Amendment inserts various definitions such as Aadhaar Letter, 'Aadhaar PVC Card, e–Aadhaar" and mAadhaar'.  
SEBI issues circular on Audit Committee of Asset Management Companies (AMCs) 
SEBI has issued a circular on Audit Committee of Asset Management Companies (AMCs). It has been decided that the AMCs of mutual funds shall be required to constitute an Audit Committee. The circular provides the role, responsibility, membership and other features of the Audit Committee of AMC. It shall come into force with effect from August 01, 2022. 
Delhi Judicial Service (Amendment) Rules, 2022 
The Lieutenant Governor of NCT of Delhi in consultation with the High Court of Delhi notified Delhi Judicial Service (Amendment) Rules, 2022 to amend the Delhi Judicial Service Rules, 1970.  
Rule 7 has been modified to include a proviso providing that the quorum for any meeting of the Selection Committee. 

Rule 13 has been modified to provide the recruitment process. 

Rule 14 has been modified to include the eligibility criteria where the candidate is not more than 32 years of age on the 1st day of January of the year in which the applications for appointment are invited. 
---
New Feature on SCC Online
---
Search through 'funnel' for notifications now gets easier as we start adding headings to the Notifications.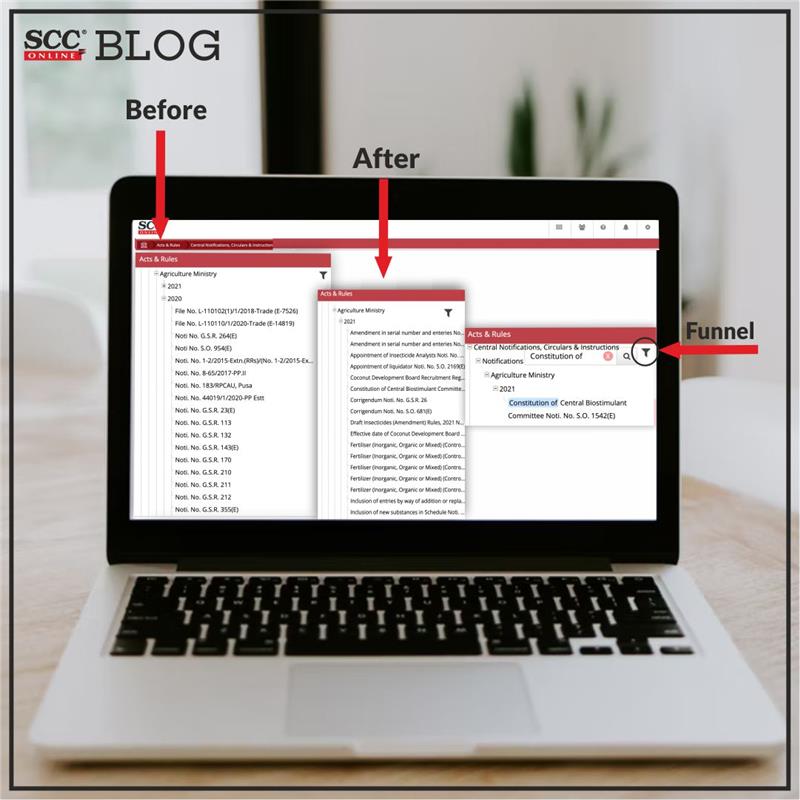 Hope you will find this effort by SCC Online team useful.
---
Follow us on Social Media:
Twitter – https://twitter.com/scconline_
Facebook – https://www.facebook.com/scc.online/
Instagram – https://www.instagram.com/scconline_/
LinkedIn- https://www.linkedin.com/company/scco…
Telegram – https://t.me/scconline
Whatsapp – https://chat.whatsapp.com/IFivYcauiEt…
Follow Nilufer Bhateja
SCC Online Blog Reports: https://www.scconline.com/blog/search/nilufer%20bhateja
Twitter: https://twitter.com/LucknawiRooh
LinkedIn: https://www.linkedin.com/in/nilufer-bhateja-99194a21/