Supreme Court: A 3-judge bench of Arun Mishra, B R Gavai and Krishna Murari, JJ has issued notice in the suo motu contempt petition initiated by the Supreme Court against Advocate Prashant Bhushan and Twitter. The Court has asked Bhushan to file a detailed response by next date of hearing i.e. 05.08.2020.
The matter deals with certain tweets made by Bhushan. He had recently criticised the Supreme Court and the sitting and former CJIs in a couple of tweets which prompted the Supreme Court to initiate suo motu contempt petition against him. Here are the tweets: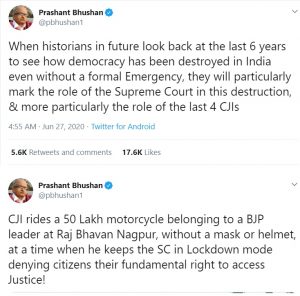 The Court, in it's order, recorded:
"We are, prima facie, of the view that the aforesaid statements on Twitter have brought the administration of justice in disrepute and are capable of undermining the dignity and authority of the Institution of Supreme Court in general and the office of the Chief Justice of India in particular, in the eyes of public at large."
The Court also issued notice to the Attorney General for India.
Sajan Poovayya, appearing on behalf of the Twitter, submitted that the Twitter Inc., California , USA is the correct description on which the tweets were made by Prashant Bhushan. The Court, hence, also issued a notice to Twitter.
Earlier this year, the bench of Ashok Bhushan and Sanjiv Khanna, JJ, had granted protection to Bhushan from any coercive action in an FIR lodged against him at Rajkot in Gujarat for allegedly hurting religious sentiments of the Hindus through one of his tweets. He had tweeted:

Last year, the Attorney General KK Venugopal and the Union of India filed a contempt petition against Bhushan after he made some comments on Twitter regarding the appointment of former interim chief of CBI M Nageswara Rao. Here's what he had tweeted:
[In re Prashant Bhushan, 2020 SCC OnLine SC 588 , order dated 22.07.2020]
---
SCC Online is now on Telegram and Instagram. Join our channel @scconline on Telegram and @scconline_ on Instagram and stay updated with the latest legal news from within and outside India