Introduction
Court management is a dynamic and constantly evolving field, as the world becomes more complex and interconnected, and as new challenges and opportunities arise. One way in which court management is evolving is through the use of technology. As technology continues to advance, there are likely to be more opportunities to use it to make the justice system more efficient, transparent, and accessible. Another way in which court management is evolving is through the increasing emphasis on collaboration and communication between stakeholders in the justice system. Collaboration with prosecutors, defence attorneys, law enforcement officials, and other stakeholders can help to coordinate cases, share information, resolve cases outside of court, and identify areas for improvement in the justice system. In addition, court management is also evolving in response to changing social and economic conditions. For example, there is a growing recognition of the need to address issues such as access to justice for marginalised communities, the impact of mass incarceration, and the use of restorative justice practices to promote healing and reconciliation.
Principles of effective court management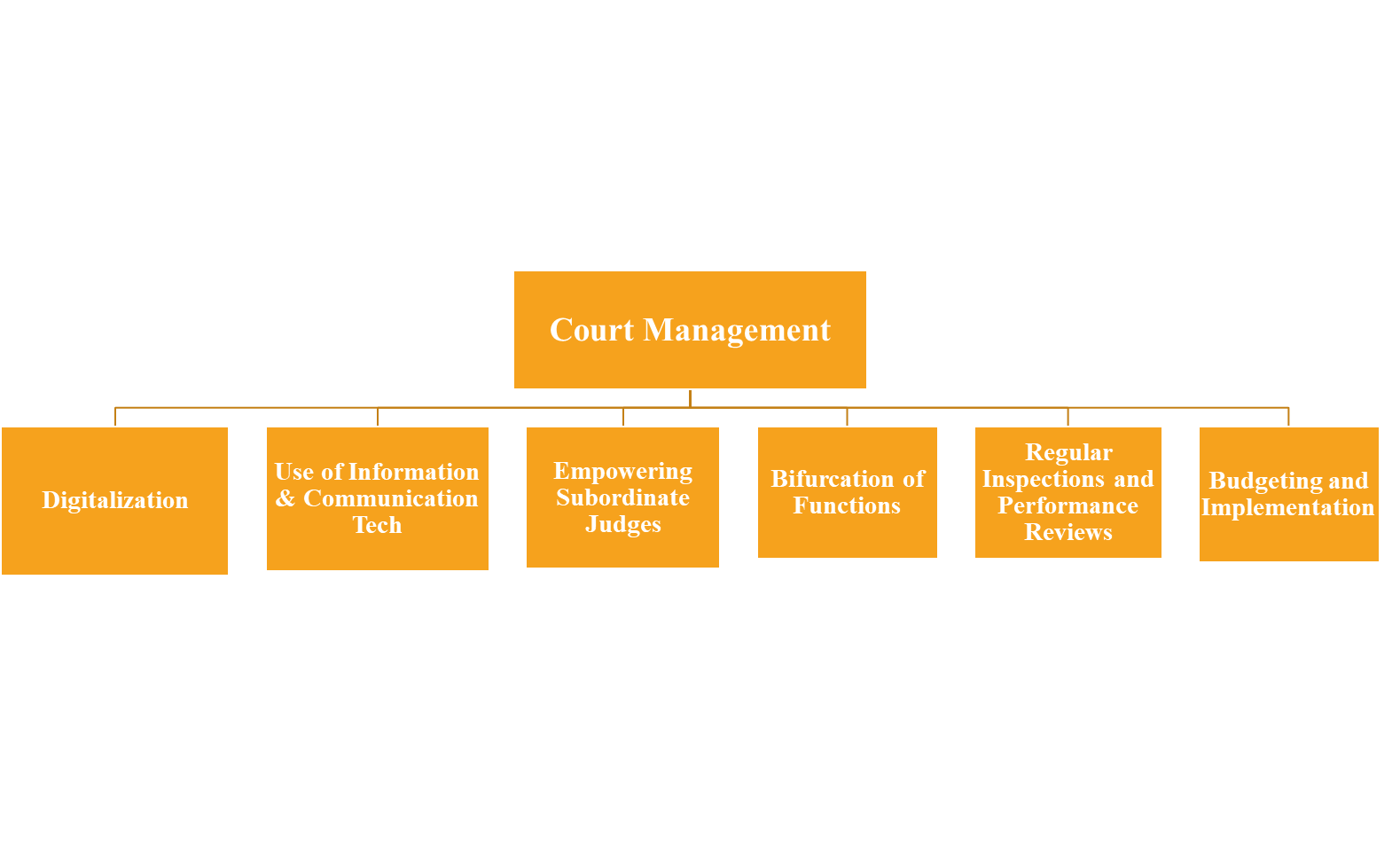 Court management refers to the set of procedures and actions taken by courts to control the flow of cases, monitor their progress at each stage of the lifecycle, and ensure efficiency in the system by utilising resources optimally for their effective and speedy disposal. This involves several activities, including filing of cases, scheduling, adjudication, access to information, document verification, service of summons and notices, and grievance redressal. Effective court management not only minimises litigation costs but also enhances access to justice for all. Here are some notable principles of court management:
Digitalisation
The shift from manual to digital data systems has improved the efficiency of the court system by allowing for faster and more accurate data management. The use of technology in court management has become increasingly important in recent years, as it has the potential to improve the efficiency and accessibility of the justice system. This trend has been accelerated by the COVID-19 Pandemic, which forced courts to adopt new technologies and adapt to remote working practices to maintain operations.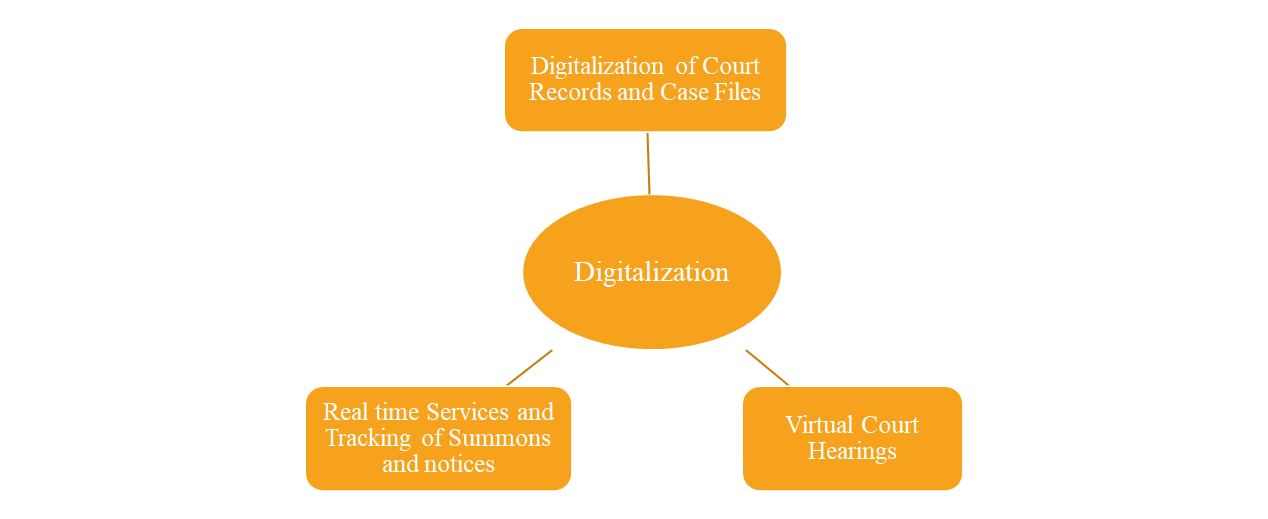 Digitalisation of court records and case files
Digitalisation of court records and case files can bring about several benefits to the court system. The advantages of digitalisation include ease and speed of access to information. Digital records can be easily searched, organised, and accessed by Judges, court staff and litigants, saving a considerable amount of time and resources that would otherwise be spent manually managing paper records. The use of digital records and case files also reduces the risk of misplacement or loss of important documents, as the records are stored electronically and can be easily backed up and retrieved in case of any system failures.
Virtual court hearings
Virtual court hearings have several benefits for the justice system. First, they can help to reduce delays caused due to the non-appearance of parties who do not come to the courts because of travel constraints. In such cases, proceedings can be allowed to be heard remotely, without the need for parties to travel to the courthouse. This can save time and resources for both litigants and the court. Second, virtual court hearings can increase access to justice by reducing geographical barriers. Parties who live far away from the courthouse, or who have difficulty travelling due to health, work, or other reasons, can still participate in court proceedings from the comfort of their own location. This can make the justice system more inclusive and equitable.
Real time service and tracking of summon and notices
The use of technology in court management has been helpful in reducing delays in the justice system. One of the main causes of delay in the disposing of civil suits in subordinate courts is the bottlenecks that occur at different stages of the trial. Once a case is registered, the court sets a date for the issuance of summons to the defendants. The preparation of these summons is often a time-consuming task for court officials who have multiple duties. Additionally, there have been instances where defendants or their advocates delay the process by providing incorrect reports of non-delivery of summons from process servers in exchange for bribes. In other cases, plaintiffs have obtained ex parte decrees based on false reports of non-availability of defendants. What is, therefore, essential is the real-time generation and tracking summon and notices is therefore essential of speedy redressal of dispute. Although measure have been taken to streamline the process of service of summon like, one-time collection of processing fees, clubbing it with the court fees, using information and communication technology (ICT) in delivery of summons, etc.1 In order to avoid neglect and malpractices among process servers in generation and dispatch of summons, it is necessary that their work be monitored and supervised, by a judicial officer through help of technology.
Use of information and communication technology tools
Delays in normal flow of cases happen due to blatant disregard of the statutory procedures by the litigants and their advocates, which wastes the precious time of the courts, delays the matter at hand, compels the Judges to spend their crucial time in checking for procedural compliance and issue frequent adjournments which increases the cost of litigation and prolongs the matters.2 Judges have to spend a lot of time checking whether the plaint (the document submitted by the plaintiff) meets all the requirements under Order 7 of the Code of Civil Procedure3. By adopting technology-driven solutions, screening the documents before they reach courts can significantly reduce the delays and arrears in their systems. Another initiative is the eCourts Integrated Mission Mode Project (ICMP), an initiative launched by the Government in 2015, to enable technology-driven courts across the country. This project is aimed at providing technology solutions for effective court management and better access to justice. The eCourts project has enabled the digital filing of cases, and the online tracking of case status, summonses, and notices. This has significantly reduced delays in the legal system, as the technology enables Judges and lawyers to access case information and updates in real time, from any location.
Empowering Subordinate Judges
In recent years, there have been several initiatives to empower subordinate Judges in India, aimed at improving the efficiency of the court system and reducing the burden on higher courts. Here are some examples: computerisation of courts, case management systems, training programmes, delegation of powers, and the like. This reduces the burden on higher courts and allows Subordinate Judges to gain experience and confidence in case management.
Separation of judicial and administrative functions of the court
Judges in lower courts are struggling with an excessive workload due to a backlog of cases in their courts. On top of their judicial duties, they are also required to handle administrative tasks for the court. To address this issue, some countries have established a separate entity to manage the high volume of cases and provide administrative support to courts and tribunals. The United Kingdom, for example, has the HM Courts and Tribunals Service, which is responsible for overseeing the administration of civil, criminal, and family courts and tribunals in England and Wales.4 Canada also has established Courts Administration Service to provide administrative assistance to the Federal Court, Tax Court, Court of Appeal and Court Martial Appellate Court.5 Likewise Australia has established Court Services Victoria to provide administrative services and facilities for Victorian Courts and Court of Appeal.6 Similarly United States of America has established Administrative Office (AO) for the United States Courts to provide support for wide range of activities including administrative, legal, financial, management and technology services to the Federal Courts of USA.7
As of now, India did not have a system in place that separated judicial duties from administrative tasks, leaving judges with the responsibility of managing both aspects of the judiciary with limited support from their staff and clerks. Bifurcation of functions is necessary for efficient functioning of the court system.
Regular inspections and performance reviews
Regular inspections and performance reviews can greatly improve the efficiency of the court system. By conducting regular inspections, the court administration can identify areas of weakness in the system and take corrective measures. The inspection team may consist of experts from different fields such as law, administration, and technology. Similarly, monthly performance reviews of Judges can help identify areas of improvement and ensure accountability in the court system. The inspections may focus on several areas such as Judges' performance, adherence to timelines, quality of judgment, conduct of Judges towards litigants and colleagues, and the like. The review may also consider feedback from litigants, advocates, and court staff. The inspections and performance reviews can help identify inefficiencies in the system and address them in a timely manner.
Budgeting and implementation
The allocation of budgets and their effective implementation is crucial for the functioning of the court system. The eCourts Phase III Project, which received a budget allocation of Rs 7000 crores from the Indian Government, aims to further enhance the efficiency of the Indian court system by leveraging technology8. The strategy for spending this budget includes strengthening the IT infrastructure of the court, developing integrated case management system (ICMS), provide mobile applications to judicial officers and staff, setting up videoconferencing facilities, strengthening e-filing system and implementing a centralised payment gateway. Overall, the strategy for spending the allocated budget in the eCourts Phase III Project focuses on leveraging technology to enhance the efficiency, transparency, and accessibility of the Indian court system.
Conclusion
By devising effective court management strategies and leveraging technology, legal systems can improve the quality, increase speed and efficiency of justice-delivery processes by reducing the risk of errors, increasing the speed of decision-making, and improving the transparency and accountability of legal processes. Legal systems are exploring a range of technological innovations, including electronic case management systems, online dispute resolution platforms, artificial intelligence-powered legal research tools, and blockchain-based solutions to reduce bottlenecks in the system and enhance the capacity of stakeholders. This will address the problem of rising arrears by reducing delays in the judicial process and further reducing pendency by enhancing the capacity of the stakeholders. It is equally important to ensure that the use of technology in the legal system is guided by principles of fairness, impartiality, transparency, privacy, legal and ethical compliance, in order to ensure that the administration of justice is fair, effective, and accessible for all.
---
* Teaching and Research Assistant, School of Law-Forensic Justice and Policy Studies, National Forensic Sciences University, Gandhinagar, India. Author can be reached at shubham.pandey@nfsu.ac.in.
** Registrar, Hidayatullah National Law University, New Raipur, Chhattisgarh, India. Author can be reached at shankarudaymishra@gmail.com.
1. National service and tracking of electronic processes (NSTEP) is an android-based dedicated system where digital processes are generated in secured manner, transmitted to authorised users from where processes are allocated to different jurisdictions and local bailiffs. The processes are automatically transmitted to the mobile devices of the bailiffs. The bailiffs use it for service and delivery of court processes. NSTEP electronically transmits digital process from one court establishment to another or from court to police station or officer.
2. Code of Civil Procedure, 1908, Or. 23 R.1(2).
3. Civil Procedure Code, 1908, Or. 7.
4. HM Courts and Tribunals Service is established to ensure all administrative functions of the Magistrate's Court including County Courts, Royal Courts of Justice, Crown Court and Family Courts are carried out effectively and with lesser costs to litigants, while ensuring a responsible and accountable judicial system. See, HM Courts and Tribunals Service here <https://www.gov.uk/government/organisations/hm-courts-andtribunals-service/about>.
5. See Courts Administration Service Act, 2003 (Canada).
6. The Court Services Victoria has been established under the Court Services Victoria Act, 2014 to give administrative assistance to Presiding Officers in courts of Australia. This service acts independently from the executive branch of the Australian Government, to support the judicial system in the speedy and effective administration of justice.
7. Administrative office of United States Courts has been established under the Administrative Office Act, 1939 to provide central support for federal judicial system in USA.
8. Indian Government, eCourts Project Phase III, (Department of Justice, Ministry of Law and Justice, 2023).