Supreme Court: The 3-judge bench of NV Ramana, CJ and Ajay Rastogi and Vikram Nath, JJ has issued notice to the Gujarat Government on the release of 11 men convicted for the gangrape of Bilkis Bano during the 2002 Gujarat riots. The Court has also directed that the 11 released men be impleaded as parties in the plea challenging the decision of the Gujarat Government.
Bilkis Bano was 21 years old and five months pregnant when she was gangraped. She saw 14 of her family members being killed, including her 3-year-old daughter, in the 2002 Gujarat riots that broke out after the Godhra train burning.
When on August 15, 2022, her rapists walked out of the prison after serving 15 years' imprisonment based on Gujarat Government's remission policy, Bilkis Bano found herself "bereft of words" and "numb". In a statement released by her, she stated,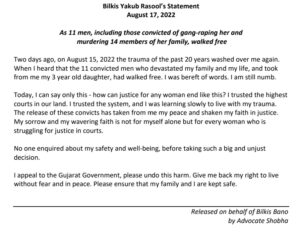 "Two days ago, on August 15, 2022, the trauma of the past 20 years washed over me again when I heard that the 11 convicted men who devastated my family and my life, and took from me my three-year-old daughter, had walked free. I was bereft of words. I am still numb.
Today, I can say only this – how can justice for any woman end like this? I trusted the highest courts in our land. I trusted the system and I was learning slowly to live with my trauma. The release of these convicts has taken from me my peace and shaken my faith in justice. My sorrow and my wavering faith is not for myself alone but for every woman who is struggling for justice in courts.
No one enquired about my safety and well-being, before taking such a big ad unjust decision.
I appeal to the Gujarat government, please undo this harm. Give me back my right to live without fear and in peace. Please ensure that my family and I are kept safe."
The matter will now be taken up after two weeks.
[Subhashini Ali v. State of Gujarat, 2022 SCC OnLine SC 1083, order dated 25.08.2022]
---
Counsels: Sr. Adv. Kapil Sibal, AOR Aparna Bhat, Advocates Karishma Maria, Nizam Pasha, Adit Subramaniam Pujari, Rishabh Parikh, Aparajita Sinha, Maitreya Subramaniam