On May 27, 2021, the President makes Department of Revenue Appraiser Recruitment Rules, 2021 for regulating the method of recruitment to the post of Appraiser in the Commissionerates of Customs under the Central Board of Indirect Taxes and Customs, Department of Revenue, Ministry of Finance, Government of India.
Key features of the Rules are:
Number of the said post, its

classification and the level in pay matrix as specified in the Schedule

annexed to these rules.

Method of recruitment, age

–

limit, qualification

as specified in columns (5) to (13) of the said Schedule.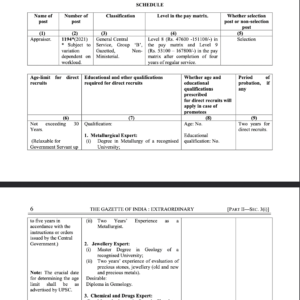 Read the Schedule HERE
Disqualification.

–

No person

–
(a) who has entered into or contracted a marriage with a person having a spouse living; or
(b)who, having a spouse living, has entered into or contracted a marriage with any person,shall be eligible for appointment to the said post:Provided that the Central Government may, if satisfied that such marriage is permissible under the personal law applicable to such person and the other party to the marriage and that there are other grounds for so doing, exempt any person from the operation of this rule.