The Centre for Business and Commercial Laws (CBCL) of National Law Institute University, Bhopal (NLIU) is delighted to present to you the 5th NLIU-Trilegal Summit on Corporate and Commercial Laws, 2019 in collaboration with Trilegal, and in association with Eastern Book Company (EBC).
The present edition of the summit is an effort to continue the successful legacy of the past editions. It aims to initiate a dialogue on key issues arising in the corporate world and contribute to the growth of knowledge and research in the field of commercial laws, whilst increasing the awareness and aptitude of students in these fields.
The prominent themes that will be covered in the session include analysis of landmark mergers & acquisitions, emerging trends in foreign investment (private equity/venture capital and debt instruments), recent updates on the Insolvency and Bankruptcy Code (IBC) and emerging trends, rise of IPOs in niche sectors such as insurance companies, banks,  data privacy aspects of financial information and in capital markets and other relevant contemporary issues.
The Summit will witness the participation of students from law schools across India in a Paper Presentation competition. The panelists and judges will include officials from regulatory bodies like the IBBI, RBI, CCI, IICA (part of Ministry of Corporate Affairs) and the Ministry of Law and Justice. We will also have legal counsel from other private sector companies along with Partners from Trilegal. With so many professionals from different backgrounds present with us, the Summit promises to be a fantastic learning experience.
As the Competition goes on, we will keep posting the details of the paper presentation competition. Stay tuned for all the updates!
9:00 AM | Registration: The registrations for the NLIU- Trilegal Summit have begun! The participants and audiences have started filing in the University Auditorium to attend the Summit. The session will commence with the lighting of the lamp.
The Summit has seen an unprecedented increase in submissions this year with over 100 papers being sent from across various universities in India. The selected papers also represent a wide diversity of participants, with cross college submissions being very prevalent. The qualifying universities include:
ILS, Pune
WBNUJS, Kolkata
RGNUL, Punjab
Nalsar , Hyderabad
GNLU, Gandhinagar
NLIU, Bhopal
NLU, Delhi
INLU, Nirma University
NLSIU, Bangalore
RMNLU, Lucknow
NUALS, Kochi
NUSLR, Ranchi
Symbiosis Law School
Further, in light of the MoU signed between Jagran Lake University and NLIU, Bhopal we saw a great increase in the registration and participation for the summit by Jagran Lake University, Bhopal students.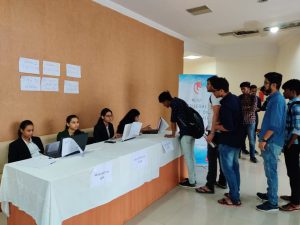 Commencement of Registration
10:00 AM | Inauguration: The inaugural ceremony commenced with the lighting of the lamp by our esteemed panelists consisting of Prof. (Dr.) V. Vijayakumar, Vice Chancellor, NLIU, Mr. Ramakant Rai, Partner, Trilegal, Mrs. Ranjeeta Dubey, G.M., RBI, Dr. R.J.R. Kasibhatla, Dy. Legal advisor, Ministry of Law and Justice, Mr. Shekhar, Joint Director, Competition Commission of India and Prof. (Dr.) Rajeev Khare, professor of law & chair professor of Consumer Protection and Welfare.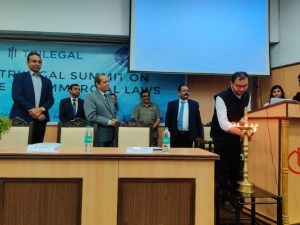 Lighting of the lamp in the inauguration ceremony
10:05 AM | Opening Address: After the delivery of the opening address by our CBCL Convenor, Shounak Banerjee, our esteemed panelists shared their invaluable insights and encouraged the participants to learn and educate themselves with the current legal scenario in India, specifically in corporate laws.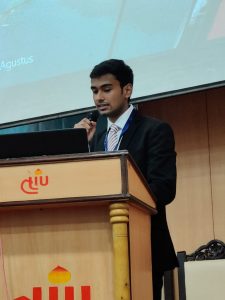 The welcoming vote extended by the CBCL Convenor, Shounak Banerjee
Mr. Yogesh Singh has been a partner at Trilegal since 2009 and is experienced in strategic M&As, joint ventures, restructuring and private equity transactions in a wide range of sectors including infrastructure, telecom, hospitality, real estate, manufacturing, financial services, trading and IT. It was in 2016, that the NLIU-Trilegal Summit on Corporate and Commercial Laws was kicked off and this would have been impossible without Yogesh sir's support and dedicated efforts. He has been the driving force behind the summit and has strived for perfection in all aspects of the summit without an exception.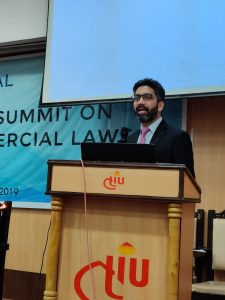 Mr. Yogesh Singh, a Trilegal Partner, addresses the gathering
Mr. Ramakant Rai, is an alumnus of the National Law Institute University, Bhopal. He has been associated with Trilegal for around 9 years, wherein he is currently a Partner at the firm. Specializing in cross-border investments, investment structures, mergers and acquisitions, joint ventures, court driven ventures, he has represented several multinational and Indian firms in a number of high profile deals. An insolvency expert in his own right, he has advised various stakeholders in relation to strategies for formulation of resolution plans.
Prof (Dr.) Rajiv Khare, one of NLIU's senior most alumnus and Dean of Postgraduate Studies at NLIU also joined us at the dais to inaugurate the ceremony and invite the various dignitaries. He was extremely proud at how far NLIU's collaboration with Trilegal has come. He shared how his experiences have helped him cultivate a comprehensive understanding of developing legal demands in the corporate sphere which has enabled him to better prepare his students for the professional world. He concluded his speech by encouraging students to participate and put forth their inquisitive streaks to ask as many questions as they could.
Dr. R.J.R. Kasibhatla, who is presently serving as Deputy Legal Advisor for the Ministry of Law and Justice. He has over 25 years of experience not only in the field of advocacy but also in academics. As Legal Adviser to Government of India, he has tendered advice on various important constitutional, taxation and international issues and was involved in the process of making and drafting of Insolvency and Bankruptcy Code of India and the subsequent amendments to it. He has also been actively involved in the BIPA/BIT negotiations.
Mr. Shekhar, who is serving as the Joint Director (FA) at Competition Commission of India (CCI).
Ms. Ranjeeta, G.M. RBI, shared her experiences working with the RBI and shed light on the current interplay between the financial and corporate scenario. She has over 20 years of experience with the Reserve Bank of India spanning across various functions including public debt management, external reserves management, supervision of banking companies and non-bank financial companies, rural planning and policy, and communication. We are also honored that Ms. Dubey extended her unending support, on behalf of the RBI, for promoting financial literacy and awareness in the NLIU fraternity.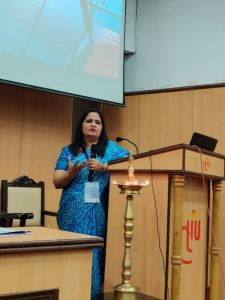 Ms. Ranjeeta encouraging the students with her wise words
10:20 AM | Welcoming Address: Our very own esteemed Vice Chancellor, Dr. V Vijayakumar, delivered the last address and warmly welcomed all the dignitaries as well as the participants on behalf of the entire NLIU fraternity. Having innumerable years of experience in the field of academics, Prof. Vijayakumar encouraged students to stay motivated, not just in the corporate field but also in the entire legal dynamics of India. He emphasized that the true pursuit of law will be fruitless without the will to help others. Which is why he has also endeavored to create an easy and free access to the articles published in each issue of the Summit in order to further development and research in the fields of corporate and commercial law.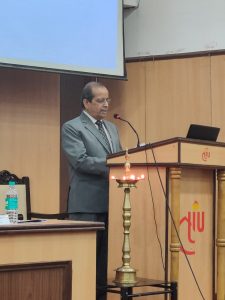 Prof. (Dr.) V. Vijaykumar, Vice Chancellor, NLIU gives his welcoming address 
Post the welcoming address, the dignitaries were presented with inaugural bouquets and were given a welcoming memento. All the dignitaries commented upon the maturity and understanding showcased by the students on the nuanced aspects of complex topics like the subtle interplay that exists in the financial and commercial spheres in Indian economy.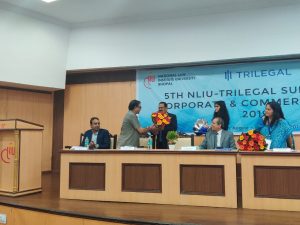 The welcome bouquets presented to the dignitaries
10:40 AM | Launch of the book:
The launching of the CBCL book on "Emerging Trends in Corporate and Commercial Laws in India" would not have been possible without the unwavering support of EBC, invaluable guidance of Trilegal and our ever encouraging VC. Throughout the journey of this Summit, Mr Sumeet Malik has been quintessential in each and every step which has led to the successful launch of the book. We can't emphasize enough on how much we are grateful for their constant guidance and support!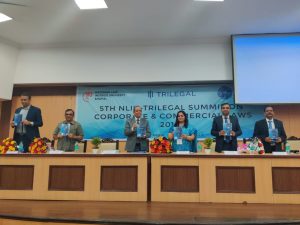 The launch of the book 'Emerging Trends in Corporate and Commercial Laws of India'
10:45 AM | Session Break: All the dignitaries and participants stepped out for 15 minutes to refresh and re-gear themselves for the first session of the Summit to begin.
11:15 AM | Commencement of the 1st Session:  And the roller coaster ride begins! We have started with the first session of paper presentations. The panel for the firsts session consists of Mr. Yogesh, Mr. Kasibhatla, Mrs. Ranjeeta, Ms. Shravani Shekhar (Senior Associate Trilegal, Competition Law), Mr.Shekhar, Mr. Naveen Bali and Mr. Sunil Kumar.
Ms. Shravani Shekhar started off working with AZB & Partners as an associate and has worked her way up the ladder to become a senior associate and currently works at Trilegal. We are extremely honored to have a well versed professional of competition law like her to be present among us.
Mr. Sunil Kumar has significant experience in Insolvency laws, he is currently working with Insolvency and Bankruptcy Board of India (IBBI), New Delhi and deals mainly with legal affairs division which includes drafting and notification of regulations, analyzing court orders, opinions.
Dr. Naveen Bali, is presently working as an Assistant Professor at Indian Institute of Corporate Affairs (IICA), Gurgaon. Before joining IICA, he was working as an Economics Consultant in the Office of Principal Economic Adviser, Department of Economic Affairs, Ministry of Finance, Government of India, during which he contributed to the Economic Survey 2018-2019 as a lead author for two chapters namely. He possesses over seven years of experience in the field of research as well as teaching which includes organising workshops for IBBI and other Insolvency Professionals.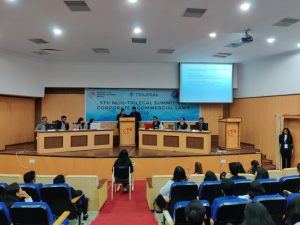 The competition will feature 15 teams competing for the first prize. Each team gets 10 minutes to present their paper convincingly and comprehensively to the judges. Post which, the panel of judges can question the participants for 5-7 minutes. The students commented that they were excited to hear the panelists and their insights owing to their extremely dazzling credentials.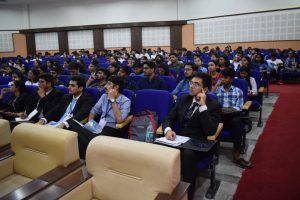 11:20 AM | First Paper Presentation:  Anoop George and Shreya Bambulkar, students from ILS Law College, Pune are the first participants today to present their paper titled 'A Need to Relook the Merger Control in Digital Economy- An Analysis'. Their paper focused on important aspects and lacunae which exist in the current M&A scenario in India in relation to big data.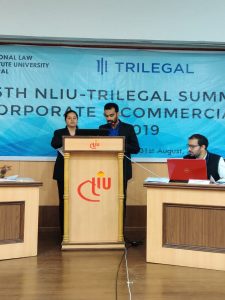 Anoop George & Shreya Bambulkar
11:50 AM | Second Paper Presentation: The second paper was presented by Arpita Pandey & Gokul Holani, students from NLIU Bhopal, which was titled "Regulating and Deregulating Initial Coin Offerings: A Cross Jurisdictional Analysis".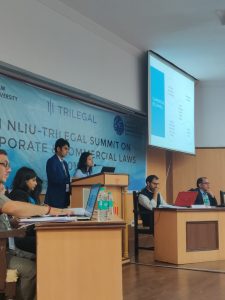 Arpita Pande and Gokul Holani
12:20 PM | Third Paper Presentation: Aman Vasavada, a student from National Law School India University, Bangalore has come here today to present his essay on "Rejection of Claims by Resolution Professional: Scope and Remedies". The paper attempts to question the nature of the power embodied in the resolution professional in the collation and verification stage. The author argues that the discrepancies, that arise due to exercise of discretion, can be eradicated through the information utility process and the operation of NCLT proceedings.
Aman Vasavada
12:55 PM | Fourth Paper Presentation: Ayush Wadhi and Swati Shekhar, are currently presenting their novel take on "Equity Crowdfunding in India: Present Perspectives and Prospects". These two students from ILS, Pune provide a fresh take on equity crowdfunding, a topic that the SEBI discussed over six years ago but then disappeared into oblivion. A major chunk of the presentation was dedicated to the discussion about the legislative steps India should take for the same.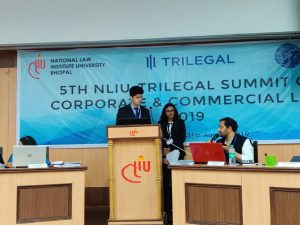 Ayush Wadhi & Swati Shekhar
1:30 PM | Fifth Paper Presentation: Arjun Gaur, a student at RGNUL, Patiala, presented his paper on "Commodum ex injuria sua nemo habere debet: Conflict between sections 29A of IBC & 230 of Companies Act". He engages with the panelists meticulously and discusses with them, at great length, the overriding effect of section 230 of the Companies Act.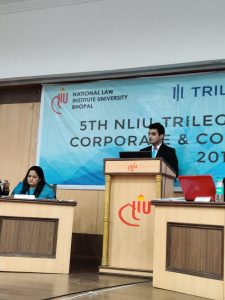 Arjun Gaur
1:50 PM | End of session 1 | Lunch Break 
|| Huge Shoutout to EBC || 
We are absolutely delighted to have our exclusive Media Partners, Eastern Book Company and SCC Online Web Edition for the NLIU – Trilegal Summit on Corporate and Commercial Laws 2019.
This year, we have an exciting addition being offered to the winner, runner-up and first runner-up to a subscription of EBCLearning.com.
EBC Learning is an online platform that brings you courses on legal and ancillary subjects. EBC Learning is a source for everyone seeking primary and continuing legal education. Courses at EBC Learning are only taught by top professionals, experts and teachers and meet the strictest quality standards. The treasure trove of knowledge being made accessible to our winners ensures that the rewards keep getting bigger and better!!!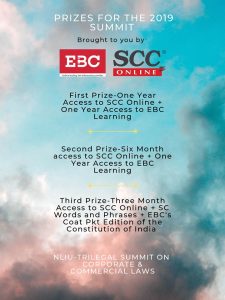 3:00 PM | the 2nd Session begins: Lunch break is over and the participants as well as the panelists are eager to begin. For this session we have a whole new panel lined up: Mrs. Ranjeeta Dubey, Mr. Ramakant Rai, Mr. Rupesh Mishra, Mr. Sunil Kumar, Mr. Navin Bali and Mr. Kasibhatla.
Mr. Rupesh Mishra is an alumnus of National Law Institute University, Bhopal. At present, he is the Vice President (Legal) in Everstone Capital Advisors, headquartered in Singapore which is one of the premier private equity and real estate investment firms. He specializes in matters such as joint ventures, strategic alliances, foreign investment and corporate law advisory. He has the largest equity deal in the logistics space to his credit. He has previously worked at Khaitan & Co in the M&A and General Corporate team.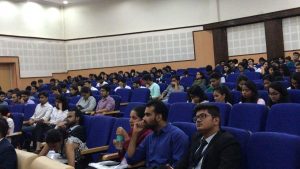 The audience awaiting eagerly for the second session to commence.
3:05 | Sixth Paper Presentation: Samidha Sanjay Mathur and Aditya Anand are here to kick-off the second session of the summit, with their paper titled "To Enforce or Not To Enforce : The Impacts of Ipso Facto Clauses on Indian Insolvency". These two students from GNLU and NLUD respectively, comprise our only cross college team. The authors argue the enforceability of ipso facto clauses with special focus on suppliers and their postion. Inspired by the jurisprudence of other countries, they recommend making such clauses redundant by giving suppliers prominence by endorsing their rights under the current insolvency framework.
Samidha Sanjay Mathur and Aditya Anand
3:30 PM| Seventh Paper Presentation: Ayushi Goel and Aarvi Singh, two students from RGNUL, Patiala are here today to present their paper, titled "Measuring the Impact in Impact Investment". The participants reviewed the impact investment and kind of returns market models of business have under the preview of regulatory scheme.They suggested innovative solutions which included reducing compliances, lowering minimum investment limit, fast tracking of green patent applications, among several other things. They concluded their presentation by emphasizing that there should be separate dispute resolution tribunals dedicated towards solving issues arising from investment impacts.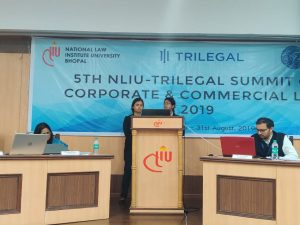 Ayushi Goel and Aarvi Singh
3:55 PM | Eighth Paper Presentation: Aadhya Kancharla, a student of NALSAR, Hyderabad presents her paper on 'Issuance and Listing of Shares with DVR: Evaluating a "Make in India" initiative from the lens of corporate governance and shareholder democracy'. The participant dealt in heavy detail about differential voting rights, as well as the asymmetry of information in the course of her presentation. She managed to capture the attention of all the panelists, and was embroiled in the discussion that ensued.
Aadhya Kancharla
4:20 PM | Ninth Paper Presentation: Shubham Gupta of Nirma University presents his paper on "Institutionalizing Whistle-blower Mechanism in Insider Trading Regime: Overhauling Evidence and Enforcement Challenges". The major premise of his presentation was whether the whistle blower mechanism would effectively furnish primary evidence, within the insider trading regime, the same was explained through the use of contemporary examples. It was a comprehensive presentation, wherein he discussed incentives as well as downsides of his proposition.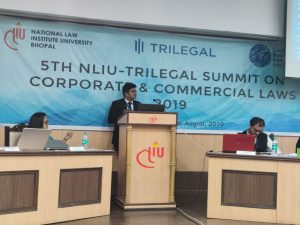 Shubham Gupta
4:45 PM | Tenth Paper Presentation: Tushar Kumar, a student of RMLNLU, Lucknow is currently presenting on "Assessing the feasibility of pre-packaged administration in corporate insolvency proceedings in India – is it the need of the hour?". His paper attempted to outline how pre pack will function under the Indian bankruptcy framework by taking inspiration from various jurisdictions. He lays out the reasons a pre pack will increase the gap between the operational and financial creditors and create disbalanced situation in an already precarious situation. However, this perspective got a fiery discussion brewing across the panel which brought to light a varied perspectives and a holistic view of the topic.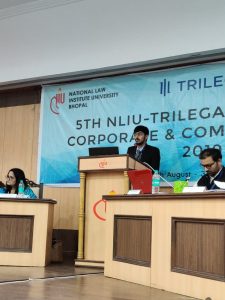 Tushar Kumar
5:30 PM | End of 2nd session | Tea Break
|| Prizes ||
At the end of these three engrossing sessions, two deserving papers will win their authors a chance to either go on an exotic foreign trip to an undisclosed location or bag a prestigious and coveted internship with one of India's leading firms, Trilegal. Trilegal in collaboration with CBCL, is offering the winner of this year's Summit a chance to fly to a foreign location, and on coming runners up an opportunity to intern at their offices.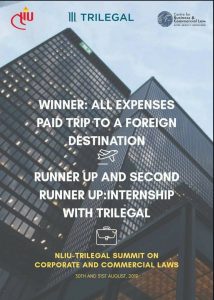 5:45 PM | Commencement of the 3rd session: As we near the end of the summit, the third and final session begins with fresh vigor. The panel for this session comprises Mr. Yogesh Singh, Mr. Ramakant Rai, Mrs. Ranjeeta Dubey, Mr. Rupesh Mishra, Mr. Shekhar and Mr. Naveen Bali.
6:00 PM | Eleventh Paper Presentation: Akanshha Agrawal, a student of NLU Delhi, presents her paper on "Pricing Algorithms and Collusion Under Competition Law in India". Akanshha reproduces an interesting insight on how algorithms can induce price fixations in the market. Using these pricing algorithms, Uber and Ola have been impacting the prices in the market which incapacitates other drivers from affecting the prices of taxis in the market and this makes it unfair. The judges found this topic to be highly engrossing as it related to every day lives of a common man and how algorithms affected it.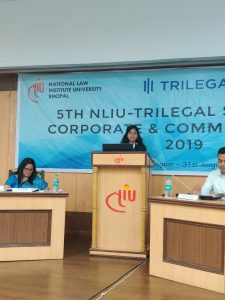 Akanshha Agrawal
6:20 PM | Twelfth Paper Presentation: The next paper was titled "Resolution of Financial Service Providers: Time for a 'new deal'?". It was presented by Vedant Malpani, written in co-authorship with Srihari Gopal, both students of GNLU. In this paper the authors analysed the current legal framework under which financial service providers function, the probable changes in the near future and whether this shall negatively or positively impact the finance providers. Borrowing from resolution mechanisms which exist around the world they attempt to draw a clear picture of the current national scenario.
Vedant Malpani
6:40 PM | Thirteenth Paper Presentation: Sarath Ninan Mathew, a student of WBNUJS Kolkata, presents his paper on "An Optimal Liability Solution for Independent Directors". Through his novel and in his words 'probably controversial' take on independent director liability, Sarath Ninan, a student from WBNUJS aims to revaluate the liability paradigm in India currently. He proposes a renewed model for the quantification of liability of independent directors which shall be based on 'the intention to cause lose'. According to him this shall be the best possible alternative in light of the discrepancy that exists between the inputs required of independent directors and the rewards they receive.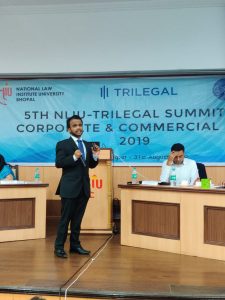 Sarath Ninan Mathew
7:00 PM | Fourteenth Paper Presentation: Author of the paper titled "Sailing the Rough Waters: A Study of Duties of Directors and Creditor Protection under Companies Act, 2013", N Raghav Harini questions whether under the current legislative framework creditors can hold directors of a company liable in situations of insolvency and whether their state of mind must be taken into account. The student from ILS Law College, Pune proposes a different and more lenient threshold of liability that if the director ought to have reasonably believed that the creditor's interests were in jeopardy.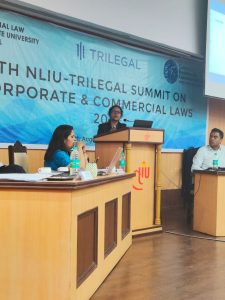 N Raghav Harini
7:20 PM | Fifteenth Paper Presentation: Tanya Vinod Nair, a fourth year student of NLIU, Bhopal aims to persuade through her paper titled "Social Stock Exchanges: A Small step in Regulation, a Giant Leap for Impact Investment" for the introduction of social stock exchanges in India, alongside the conventional regulatory body. According to her, the set of responsibilities and duties for both the bodies is vastly different and there is a pertinent need for a SSE in order to keep in check the social and environmental impact, which in turn shall promote inclusive and sustainable growth.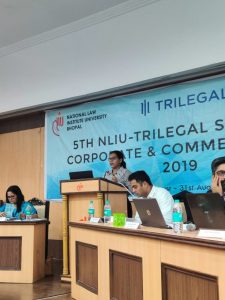 Tanya Vinod Nair
7:45 PM | Result Break:  We have taken a short break after all the participants finished presenting their papers. We are awaiting with abated breaths while the judges take a last call on scores and come out with their final decision! Stay Tuned!!
8:15 PM | Sharing Experiences: Before the results were announced Mrs Ranjeeta Dubey remarked that she was amazed that contestants chose relevant topics, were extremely proficient in their understanding as well as their communication. She also applauded the organizing team for their efforts and commented that she thought the event was conducted wonderfully. She concluded by adding that all 15 teams were winners and so were we, as we gained invaluable knowledge due to this Summit! Mr. Yogesh Singh, in his last address kept it short and sweet and with his kind words said that he found this experience to enriching.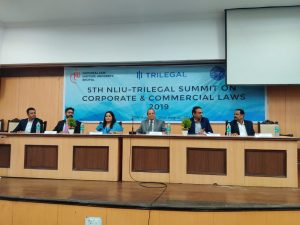 The Panelists were felicitated with mementos post which the results are being announced! All the esteemed panelists without whom we couldn't have pulled off such a successful edition of the NLIU – Trilegal Summit were honoured with mementos of the Sanchi Stupa, which till date remains one of India's most prominent historical monument. They were also presented with a copy of this years' official summit book which contained the selected 15 articles discussed about today.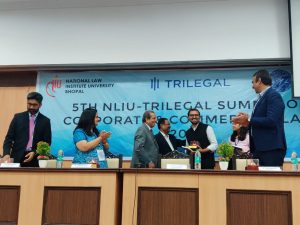 8:22 PM | Results: AND THE RESULTS ARE OUT! The first prize is bagged by N Raghav Harini from ILS Pune! The runners up are Samidha Sanjay Mathur and Aditya Anand who are from GNLU and NLUD respectively! The first runners up is Sarath Ninan Mathew from WBNUJS! Furthermore, Trilegal also offered an internship to Akanshha Agrawal, a student from NLUD for asking an intricate and interesting question which amazed the panelists.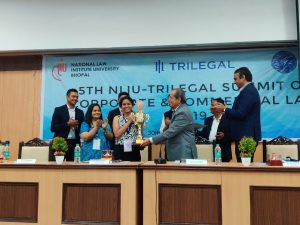 N Raghav Harini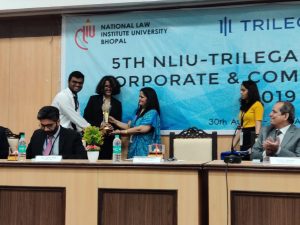 Samidha Sanjay Mathur and Aditya Anand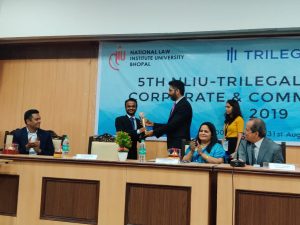 Sarath Ninan Mathew  
8:30 PM | Vote of Thanks: The co-Convenor of CBCL delivered the vote of thanks on behalf of the team. He rightly expressed his gratitude, firstly to NLIU Administration and our esteemed faculty including our Vice Chancellor. He also extended our unending gratitude to Trilegal's continuous patronage and guidance, specifically Mr. Yogesh Singh and Mr. Ramakant Rai who have helped create this summit from scratch. He expressed our heartfelt gratitude to EBC, which is our exclusive publishing and media partner, without whom we would not have seen the light of the day! And last but never the least, this even would not be a resounding success without the tireless dedication and efforts put in by the entire CBCL family!!
8:45 PM | Signing off: We loved having you and we hope to see you next year!!
The Live Blogging Team,
Anoushka Ishwar, Aparajita Marwah and Sana Sarosh.