The orientation session was conducted to lay down the basic and advance mooting and advocacy skills for the 1st year law students; to make them aware about the in depth knowledge of moot court. The two days program was conducted on August 5th and 6th, 2019 at Juris Hall; Lucknow University New Campus.
On Day-1 (5th August 2019), under the guidance of Panch Rishi Dev Sharma (Chairman, Moot Court Committee) the guest speakers were, Mr.Rajat Shukla (PCS-J Ex-Convenor LUMA), Mr. Prateek Tripathi (LLM NLSIU Ex- Convenor LUMA), Mrs. Sanjana Mittal (Guest Faculty LU), Ms. Lakmali Manamperi (LLM student LU from Sri Lanka), and Mr. Saksham Agarwal (LLM Student LU).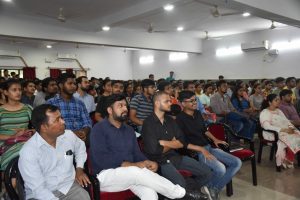 On Day-2 (6 th August 2019), Chief Guest & the keynote speaker Justice K.D. Shahi (Retd) High Court Judge joined the session along with other speakers who were Ms. Srijana Regmi (Ph.d Oxford University), Mr. Aushutosh Kumar Shukla (Asst. Professor Amity University), and Ms. Surangama Sharma (Mooting Coach & Advocate).
The event started with the lightening of the lamp by the guests, followed by welcoming speech of the Head and Dean Dr. C.P Singh, Faculty of Law; University of Lucknow.
The guest told the attendees about the importance of Mooting, Moot Court and Advocacy and its necessity in the life of a law student. Mr.Rajat Shukla shed light on the moot court and about the mooting skills and shared the experience of his Journey of Qualifying PCS-J examination Ms. Sanjana Mittal told the attendees about the basic and importance of moot court in all her possible way through her experiences.
The Keynote Speaker Justice K.D Shahi (Retd) High Court was also invited for motivating the children present there and to help them see a role model for their future.