The NALSAR University of Law, Hyderabad hosted its Fifteenth (15th) Annual Convocation Programme on July 29, 2017 at its residential campus in Shameerpet. Hon'ble Shri K. Chandrashekhar Rao, Chief Minister of the State of Telangana was the Chief Guest for the same. Hon'ble Justice Ramesh Ranganathan, Acting Chief Justice of the High Court of Judicature at Hyderabad presided over the programme in his capacity as the Chancellor of NALSAR.
Prof. Faizan Mustafa, Vice-Chancellor, NALSAR, presented a report about the University's activities over the academic year 2016-2017. The University has organised numerous international and domestic conferences as well as training programmes. It has also provided assistance to the State Governments of Telangana and Andhra Pradesh in drafting legislations, especially in areas such as land rights and forest conservation. The faculty members have also published their works in prestigious journals and presented papers at academic conferences, both in India and abroad.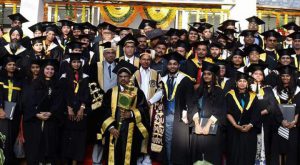 Degrees were conferred on the students who had completed the PhD. (Doctor of Philosophy), LL.M. (Master of Laws), M.B.A. (Master's in Business Administration) and the B.A, LL.B. (Hons.) programmes. Degrees and diplomas were also conferred for those who had completed specialized courses in areas such as Patent Laws, Cyber Laws, Media Laws, International Humanitarian Law, Taxation and Business Law, Telecommunication Law and Aviation Laws.
Hon'ble Shri K. Chandrashekhar Rao is the first Chief Minister to attend the Convocation Programme of NALSAR as its Chief Guest. The Hon'ble Chief Minister appreciated the institution and said that in less than two decades, it has earned a reputation for promoting excellence in the field of legal education. Notwithstanding its small size, it is undoubtedly one of the most prestigious educational institutions in the State of Telangana. Hon'ble Chief Minister also articulated a vision for the future of NALSAR. He said that "Let NALSAR become the first National Law University in the country to start a three year state-of-the-art L.L.B program with 50 per cent seats reserved for the residents of Telangana. The State Government would fully finance this course."
He also said that "It would be appropriate for the University to launch a Bar-at-Law program for lawyers who wish to upgrade their educational qualifications and shorter continuing education courses for others. Let the first Bar-at-Law course in India be started in Telangana so that our State takes a leadership role in not only enhancing advocacy skills of our lawyers but also in helping the country as a whole in getting litigation lawyers." He also said that the City Campus building needs to be renovated and refurbished in a suitable manner and quickly. He assured that the State Government will fully support the activities of the City Campus. The Hon'ble Chief Minister also declared that the State Government intends to allot 22 acres land which is adjoining the NALSAR campus in Shameerpet, This land can be used for further construction such as an Academic Staff College, Hostels and Research Centres among others. KCR also promised that the State Government would sanction further grants to NALSAR to take up these programmes at the earliest and complete them on an urgent basis.
As many as 48 gold medals were awarded to students for their excellence in academics and other activities. Mr. Rahul Mohanty received 11 gold medals while Mr. Shreenath Khemka received 5 gold medals and Mr. Srimukundam Ramaswamy received 4 gold medals.