RMLNLU, Lucknow with the aid of Eastern Book Company has successfully conducted the fifth edition of RMLNLU-SCC Online International Med
ia Law Moot Court Competition. The team comprising Karthik Vishwanath, Samyukta Ramaswamy, Shilpa Sangameswaran, from National University of Advanced Legal Studies (NUALS), Kochi has won the competition and were awarded a prize money of Rs. 25,000, while the team representing National University of Juridical Science emerged as the runner-up and were awarded a prize money of Rs. 15,000. Shrikar from Symbiosis Law School, Pune bagged the BestSpeaker award as well as a prize money of Rs. 10,000, while the team representing Damodaram Sanjivayya National Law University, Visakhapatnam won the Best Memorial award and a prize money of Rs. 10,000. The Winning team, Runner up Team, Best Memorial Team and the Best Oralist were also awarded 10 Practical Lawyer Subscriptions, one-year subscription of SCC Online Web Edition (Platinum), and an ebook titled "Due Process of Law" by Abhinav Chandrachud.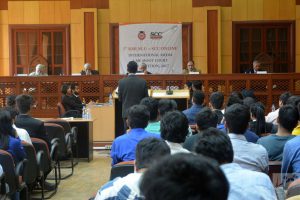 RMLNLU-SCC Online International Media Law Moot Court Competition was first organised  in the year 2013, with the aim to foster interest in media law amongst the student fraternity. The Competition has gained more reputation with each edition, by maintaining high standards in terms of judging quality, hospitalisation, organisation, etc. This edition's moot proposition revolved around the issues relating to journalists' rights, the law of sedition, the law of extradition, investment law, and other aspects of the International law. The final rounds of the moot were judged by Justice A.P. Sahi, Justice D.K. Upadhyaya, and Justice Attau Rahman Masoodi of the Allahabad High Court, Mr KTS Tulsi, Senior Advocate and Mr Surendra Malik, Chief Editor, Supreme Court Cases.
During the Competition, a Book Exhibition was also organised, with the help of EBC's Regional Manager, Anshum Kundra, where apart from conventional law textbooks, biographies, books on social issues, and other books of general interest were showcased. 
The Valedictory of the competition was also a memorable experience. Before the names of the winners were announced, each of the judges of the final rounds obliged us with their wisdom. Justice Masoodi noted that though teachers are important for the legal profession, we, today need doers. Mr Vijay Malik, MD, Eastern Book Company, while taking our attention to 'Moot Courts and Mooting', a book by Abhinandan Malik, (possibly the only Indian publication on the subject), discussed the importance of mooting in a law student's life. He further added that EBC is committed to the legal fraternity, and it attempts to cater to the needs of modern users with its innovative products like EBC Reader and EBC Explorer. Senior Advocate KTS Tulsi also emphasised upon the role of mooting and recalled mooting experiences of his college days. He also shared with us that after graduation, he and his friends had torn their Civil Services Examination admit card, and he was glad that he did that. Justice Sahi though advocated litigation as a career choice, but he also cautioned the audience of the challenges of the legal profession, while making several references to the recent movie Jolly LLB. Justice Upadhyay also motivated the participants to prefer litigation over corporate jobs and admitted Mr Tulsi's claim that in litigation, sky is the only limit. Sharing an anecdote, he told us that once when he was disappointed with his litigation career he asked his senior that his IAS friend was handling a district, and what was he doing with his life. His senior replied, "You're handling the Constitution."