SCC Online Blog is happy to publish a new book review of Sanjoy Ghose's How Gourango Lost his O published by EBC. The review has been penned down by Chandrahas Choudhary, a writer and literary critic, based out of  Mumbai. The review has been reproduced here with his kind permission.
---
It was a great pleasure to attend the book launch last month in Delhi of Mr Sanjoy Ghose's debut work of fiction, *How Gourango Lost His O*, the story of the life and times of a young lawyer in Delhi and all that he learns about life through the prism of the law and its protagonists: judges, advocates, petitioners, litigants and clerks.
But any pleasure in being present for the landmark moment in the life of a friend has been eclipsed by the much greater pleasure of reading this wonderful book, so full of narrative zest, love of life, warm mockery, gossipy buzz, and terrific characters (some robed, some in plain clothes). I can say no more in its praise than confess that I am restricting myself from reading no more than a chapter a day because I don't want it to end.
There are two things that stood out for me in particular: the vivid and powerful women characters (particularly the lawyer Indumati Khilnani, Gourango's first boss in Delhi and the disguised heroine of the book), and the little notes of appreciation (not at some theoretical level but with a fiction writer's command of telling detail) of the beauty of Indian syncreticism, so necessary in today's toxic world of religious and political polarisation (I attach a picture of one such passage).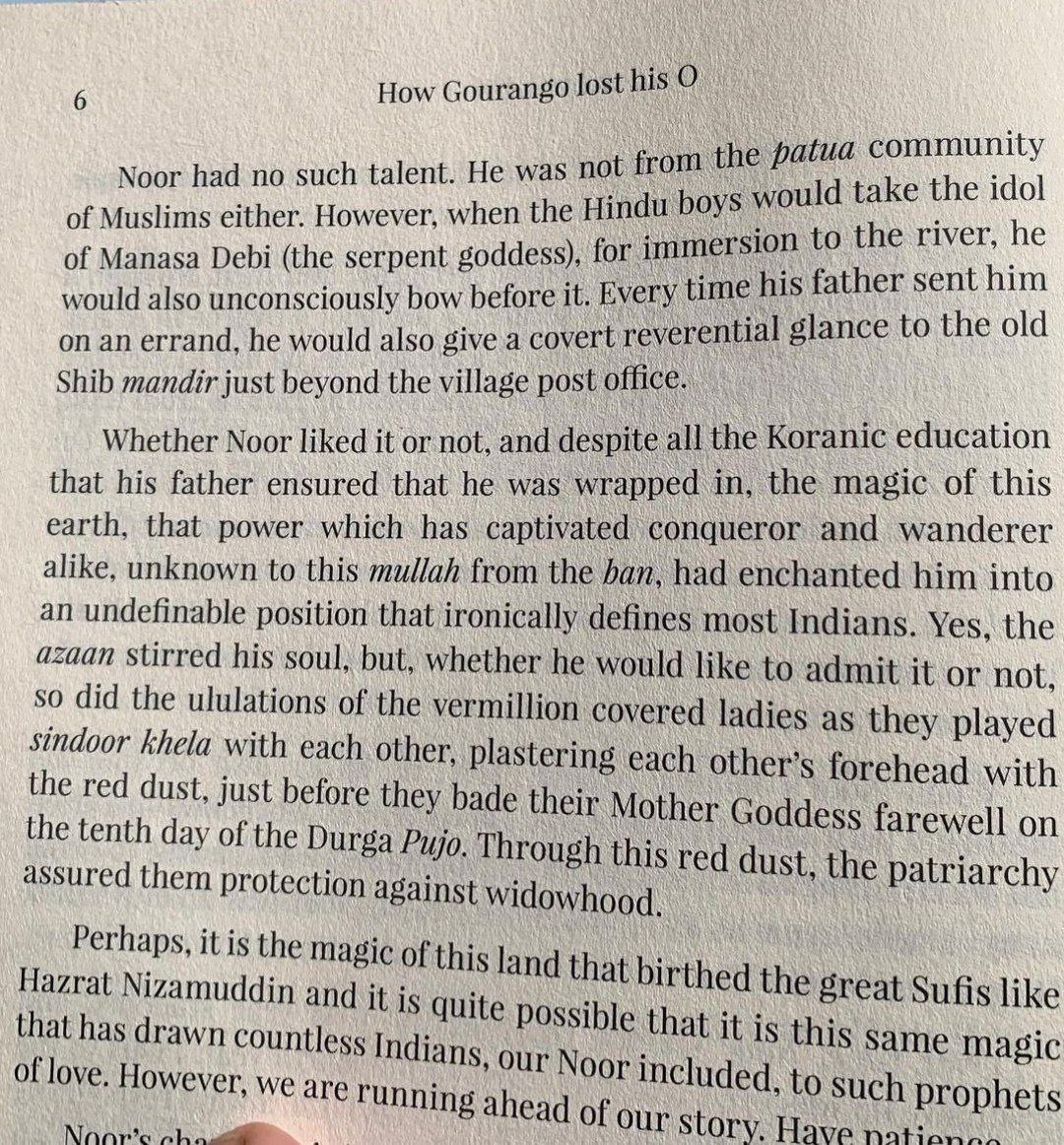 This image has been taken from Mr Chandrahas Choudhary's Instagram account: @chandrahaschoudhury
What an outstanding defence both of the spirit of the law (even if obscured by generations of accreted precedents and social realities and judicial grandiosity) and of the beauty and pleasure and spiritual jugaad of interpersonal relations and cultural communion in our great country. The book is full of exclamation marks. But they are not the signs of a novice writer, but rather someone who has a very emphatic view of life and a great store of one-liners harvested from his many years as an advocate.("They say that 'the Bar is the mother of the Bench' to emphasise how it is the legal profession itself that fills up the court by being the recruiting ground for future Judges. Hell, it is one mean mom!")
Most of us dread an encounter with the law in India; this is one to relish. Please read *Gourango* and get yourself the most fun education into how the law works in India.
---
A copy of the book can be bought on EBC Webstore  and on Amazon.