Indian Rounds of Philip C. Jessup International Law Moot Court Competition, 2022 | Jointly hosted by Amity Law School, Noida & ILSA | Live Blogging & Updates
Amity Law School, Noida hails pride in jointly hosting the coveted Indian Rounds for Philip C. Jessup International Law Moot Court Competition, 2022 virtually with the International Law Student Association (ILSA). We warm-heartedly welcome you all to the most awaited event of the year among the legal fraternity. With immense applause & enthusiasm, we greet all our part-takers and participating colleges who have come together from all around the Indian Sub-continent to experience the grand occasion. Your eagerness and anticipation surely beholds us.
Here, we intend to equipping law enthusiasts with a platform to come together and exhibit their calibre. Along with refining the advocacy skills of our budding lawyers, the event successfully encounter's them with challenges which pushes them to learn from each other while competing. The history of Philip C Jessup Moot Court Competition holds lineage in providing all the participants with a promise for an adventure of a life-time where they get to dwell upon factual scenarios of utmost importance and mould their argumentative skills thereon.
"Information is not knowledge. The only source of knowledge is experience. You need experience to gain wisdom"
~ Albert Einstein 
In the instant year, the Moot Problem engrossed itself into discussing the fascinating issues concerning the importance of human rights on the internet, data theft, secession of part of nation's territory, and foreign election interference. Intricate deliberations and showcasing of appropriate analytical skills in relation to the case will surely be mesmerising to witness. Definitely, it is a supreme privilege to host such law students & affiliates who exhibit such sterling devotion towards law.
A Team of Connoisseur Judges, dedicated student organisers and committed faculty members have come together in diligence to their sheer curiosity for law, bring forward to you this meticulously devised and crafted competition on this Edition. With an aim in putting our best efforts forward, we hope the event this year stands above par to its previous years. We wish all the participants the best of luck & fortune.
Hold your excitements tight and mark your calendar as the competition encompasses its thrill. Get ready to testify over an event where participants give it their all !!!
Save the dates : From 24th February to 27th February, 2022
Below is the itinerary of our Event: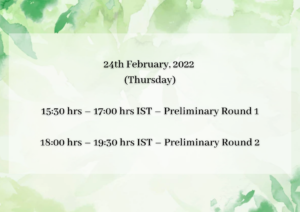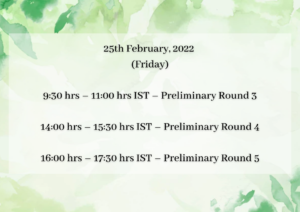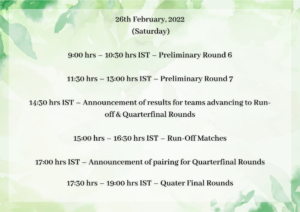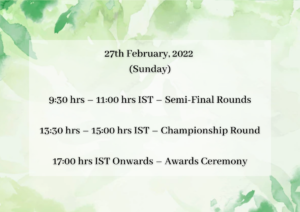 Day 1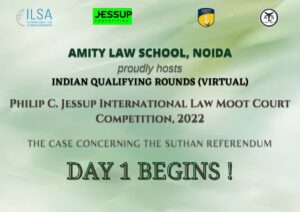 With exhilaration & eagerness, we are beyond excited to commence the first day of our event on an optimistic note. We aspire that the first day of the occasion establishes on a pious note by seeking the blessings of Almighty.
"Winning is fun…. Sure. But winning is not the point. Wanting to win is the point. Not giving up is the point. Never letting up is the point. Never being satisfied with what you've done is the point."
~ Pat Summitt
     *Now, we are keen to present you our Preliminary Round Judges*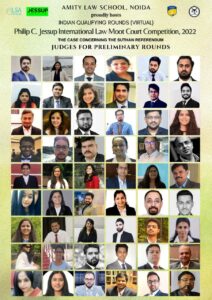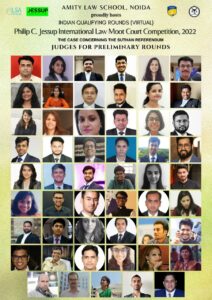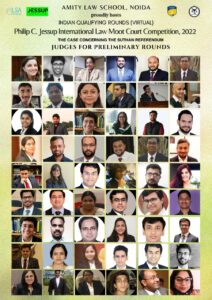 15:30 hrs : The time to shine has arrived. The Preliminary Round 1 of the India Qualifying Rounds of the coveted Philip C Jessup Moot Court Competition, 2022 has officially begun.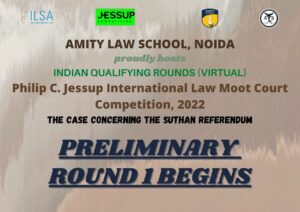 15:35 hrs : With the applicant team progressing their arguments, there is an anticipation of what awaits the members. The apprehension within our part-takers to ace themselves in this untamed & structured competition makes it even more riveting. We wish all the teams best of luck! May the best one win.
"Give way to your opponent; thus will you gain the crown of victory." – Ovid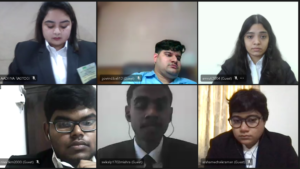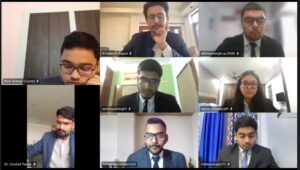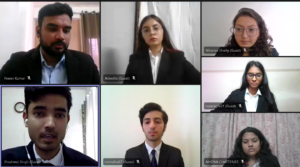 "The road to success & greatness is always paved by with consistent hardwork. Outwork your competitors, be authentic, and above else, chase your greatness" 
~ Dwatne Johnson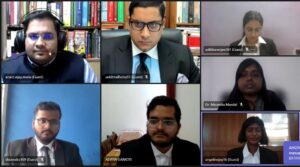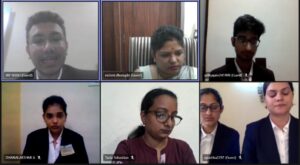 "Persistence is the quality of winners. Successful people never give up."
~ Lynda Field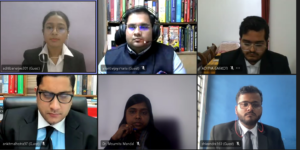 "If you have no confidence in self, you are twice defeated in the race of life. With confidence, you have won even before you have started." 
~ Cicero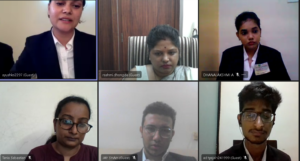 17:20 hrs : Succeeding the intense arguments and counter questioning, we now move on to the session of rebuttal and sur-rebuttal.
There are no secrets to success. It is the result of preparation, hard work, and learning from failure.
~ Colin Powell
18:15 hrs : For the second time in the day, teams & judges have come together to delve into the Preliminary Round 2 of the event.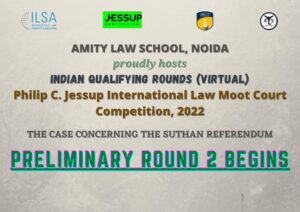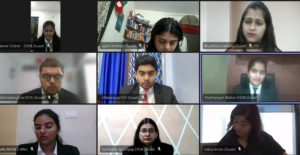 "The time your game is most vulnerable is when you're ahead. Never let up."
~ Rod Laver, Adidas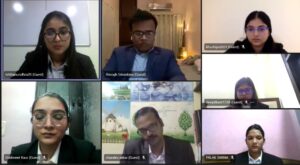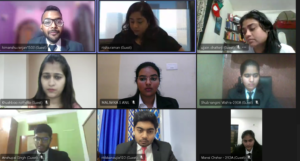 19:50 hrs : The rebuttal & sur-rebuttal rounds have concluded with an unique exploration into the case, sprouting strong arguments on the facts.
19:55 hrs : The Preliminary Round 2 has finished with an engulfing amount of knowledge & wisdom  for our participants.
As the curtains fall, we encompass the resemblance of gruelling competition and intense testimony of honorary belief in personal arguments through the first day of the occasion. Herein, we bid the Round 1 & Round 2 of the Preliminary rounds a adieu. 
"The conclusion of things is the good. The good is, in other words, the conclusion at which all things arrive. Let's leave doubt for tomorrow." 
~ Haruki Murakami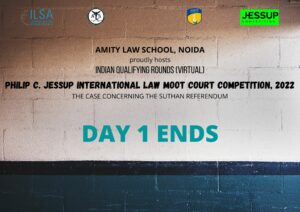 Day 2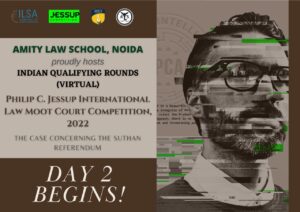 As exhilarating and competitive Day 1 was, we are equally geared up for the commencement of Day 2. The teams are eager to showcase their argumentative skills and we can't wait for another day of heated arguments and counter questioning! To all the promising team-members and participants, we give you the chance to win this competition with your unmatched skills & hardwork!!
The will to win, the desire to succeed, the urge to reach your full potential… these are the keys that will unlock the door to personal excellence.
– Confucius
9:35 hrs: A new day brings us new enthusiasm and new teams to this Preliminary Round 3 of the prestigious competition. With gratitude and anticipation, we start the proceedings for today.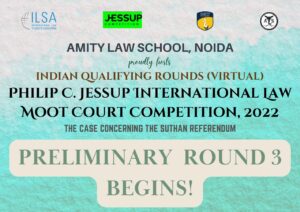 "Knowledge with action converts adversity into prosperity."
~ A.P. J Abdul Kalam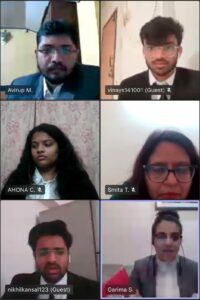 "Persistence is the quality of winners. Successful people never never give up."
~ Lynda Field.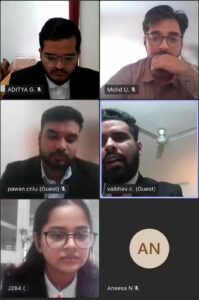 11:00 hrs : The tumultuous rounds of arguments is becoming more exciting with the surge of rebuttals and sur-rebuttals in the courtooms.
11:25 hrs : The Preliminary Round 3 has concluded with a spellbinding session of arguments & righteous justification from the representative team members.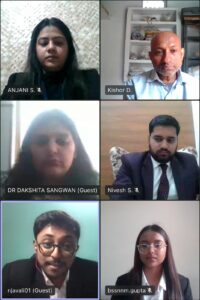 "Fortune favors the bold." – Virgil.
14:05 hrs : The Preliminary Round 4 of the India Qualifying rounds of Philip C. Jessup International Law Moot Court Competition, 2022 has officially been instituted.
"Know the enemy, know yourself; your victory will never be endangered. Know the ground, know the weather; your victory will then be total."
~ Sun Tzu.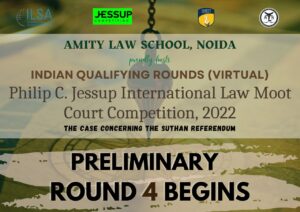 14:15 hrs : The second round for the day has opened with teams getting ready to show their longed hard-work & preparation on the concerned case in front of the bench.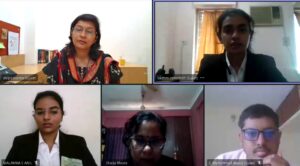 14:30 hrs : Participant's efforts have been peeking through their presentations. The powerful arguments and references made to relevant laws definitely showcases their willingness to win .

"Winning is fun… Sure. But winning is not the point. Wanting to win is the point."
~ Pat Summit.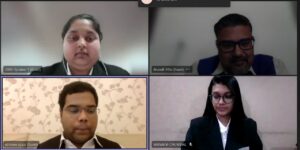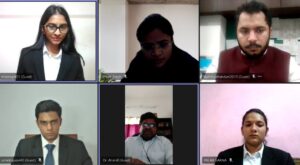 "The secret of success in life is for a man to be ready for his opportunity when it comes."
~ Benjamin Disraeli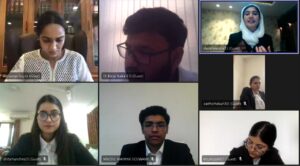 15:00 hrs : The arguments are moving forward with a well-built structure. We witness stiff competition and compelling claims from the counsels.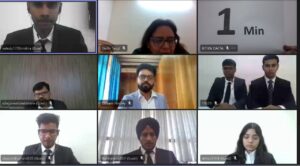 15:15 hrs : The applicant and respondent teams are ready to demonstrate their rebuttal and sur-rebuttal expertise with the arguments becoming increasingly fascinating.
"Competition helps people figure it out."—Brian McBride, American professional soccer player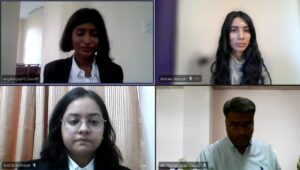 15:35 hrs : As the Preliminary Round 4 draws to a close, we've gotten a lot more than we expected: well-defended arguments, and equally good defences and conclusions.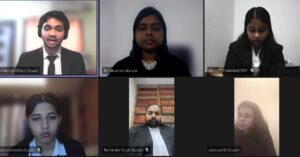 "Efforts & Courage are not enough without purpose and direction" 
~John F Kennedy 
16:05 hrs : As we approach towards the end of the day, the Preliminary Round 5 has been inaugurated. The esteemed bench & the team is excited to witness the new ingenious arguments which awaits them.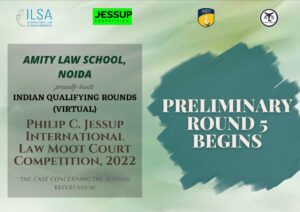 16:20 hrs : The arguments of the counsels have been blooming throughout. The articulation and moulding of the statements are surely commendable. Courtrooms are fully engulfed into the subject of the case.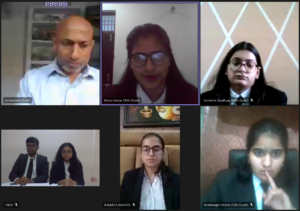 "The best part of competition is that through it we discover what we are capable of – and much more we can actually do than we ever believed possible"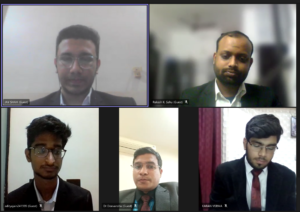 17:15 hrs : The teams have moved into the stage of rebuttal & sur-rebuttal. The representatives seem well-revised on their case and arguments. It is definitely thrilling to watch counsels clarifying their stances.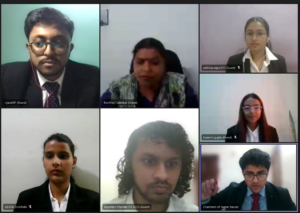 18:00 hrs : The Preliminary Round 5 has concluded with teams gearing tight to race against time and competitors. We anticipate each one would have got an amazing mooting experience.

As Day 2 of the event ends with insightful remarks from the bench, we look forward to seeing the teams showcase their talent after dedicated preparations, research, and practice. The team spirits and commitments are soaring high. We look forward to what Day 3 has in store for us.
"The purpose of journey is to restore ourselves to wholeness"
~ Dobbie Fors
Day 3
With the spectacular conclusion of second day, the competition has definitely risen. The stakes are high and the teams are getting more and more competitive. With this determination, we welcome you all to the Day 3 of Philip C. Jessup Moot Court Competition. This round will be as diligent & decisive as the others. So, we only ask you to tighten your belts for the rounds as this is going to be a spectacular ride!!
"And suddenly, you know…..it's time to start something new & trust the magic of beginnings"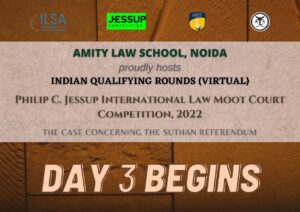 9:05 hrs : A new day, a fresh outburst, the teams are set to unleash the thrill in Preliminary Round 6  with their high spirits. The representatives of the teams have come  with   their well-crafted arguments.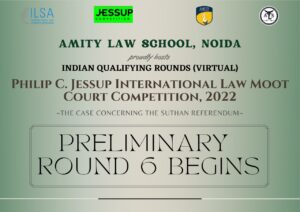 "The possession of knowledge does not kill the sense of wonder and mystery. There is always more mystery."
~Anais Nin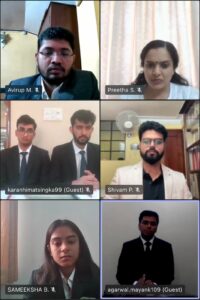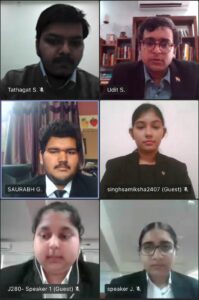 "Optimism is the faith that leads to achievement. Nothing can be done without hope and confidence."
~ Helen Keller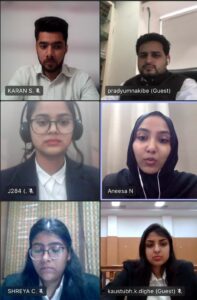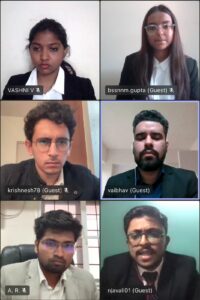 10:45 hrs : In the courtrooms, the rounds testified to tremendously precise reasoning from the competing teams. During the session, the teams showed a high level of engagement and decadence.
11:00 hrs : The counsels put forth amicable arguments in rebuttal and sur-rebuttal.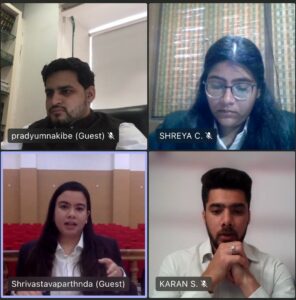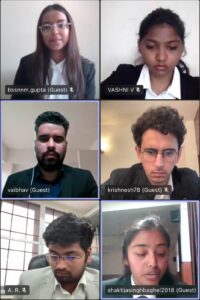 11:15 hrs : Another invigorating round of arguments and head-on competition between the applicant and respondent teams have comes to an end. The judges seem satisfied and the participants seem keen to know the results. For now, we bid you adieu!
"You will face many defeats in life, but never let yourself be defeated"
~Maya Angelou
As the Preliminary round 7 approaches, the desire to see the varied perspectives of teams on the topics has grown even more immensely. We are now here to witness the last round of this stage.
"The secret of getting ahead is getting started"

11:30 hrs : As soon as the rounds began, the counsels have began to present definitive arguments.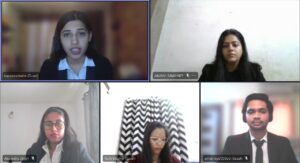 "The key is not the will to win… everybody has that. It is the will to prepare to win that is important."
~Bobby Knight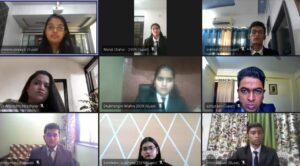 "Success is not final; Failure is not; It is the courage to continue that counts"
~Whinston Churchill
12:35 hrs : The rebuttal & sur-rebuttal have begun, the data presented is making the atmosphere in the courtrooms increasingly fascinating.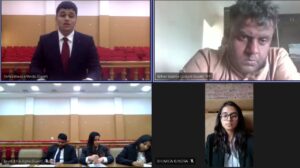 "The will to win, the desire to succeed, the urge to reach your full potential… these are the keys that will unlock the door to personal excellence."
~ Confucius
 

13:00 hrs : As Preliminary Round 7 comes to a close, everyone is eager to know the results of the rounds. The applicant and respondent teams competed terrifically and it was fascinating to observe this amazing session.
Preliminary Rounds have ended. We are thrilled to begin with the Run-off rounds in the event. The participants seem engrossed into the intricacies of the case and are energized about the commencement. The concept of this round surrounds around Top 4 teams from the Preliminary Rounds get direct entry into Quarter Finals and the next Top 8 teams will be in the Run off rounds from which the Top 4 further will be selected to advance for Quarter Finals.
"There are two mistakes on can make along the road to truth…..not going all the way and not starting" 
~ Buddha
*Our Esteemed Run-Off Round Judges*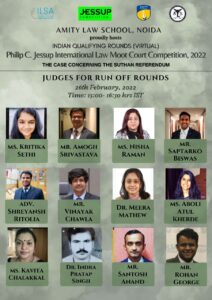 16:15 hrs : With eight team's progressing into the run-off round, the mooting stage ahead is full with grandeur and vigour. Impeccable argumentation is anticipated from the team representatives.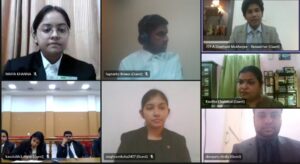 "Without continual growth and progress, such words as improvement, achievement, and success have no meaning"
~ Benjamin Franklin

17:50 hrs : After an enthralling session, the agents unveil into rebuttal and sur-rebuttal, where we can sense fierceness in there words.
As Rumi an ancient poet says "Raise your words, not your voice. It is rain that grows flowers, not thunder."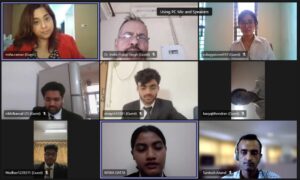 18:15 hrs : With this we come to an end of Run-Off round, participants have set best foot forward with their interesting and articulated points. The teams are awaiting for results with bated breath and on the other hand eager to put forth their legal attentiveness.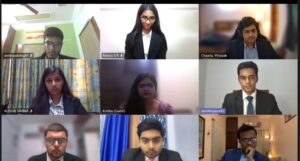 19:30 hrs : There is an intense atmosphere from the start of the Quarter Final Rounds; the teams are on the verge of success, and everyone is ready to compete fiercely.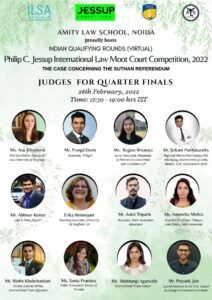 19:45 hrs : The judges have begun to put the candidates to the test by asking comprehensive questions and taking gists out of their arguments.
"By failing to prepare, you are preparing to fail."
~ Benjamin Franklin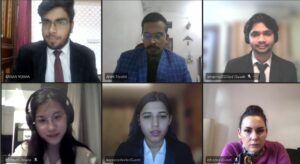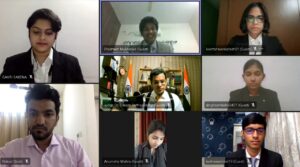 20:40 hrs : Bench's attention is drawn towards the rebuttal and sur-rebuttal as the session progresses, with the arguments and counter-arguments becoming more intriguing.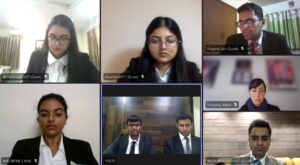 21:25 hrs : We've reached the end of Quarterfinal Rounds after an outstanding set off Run-Off & Preliminary Rounds. All of the competitors were well-prepared and gave it their best.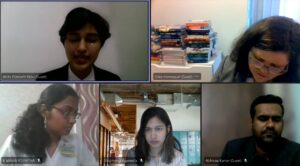 "Words possess primitive mystical incantatory healing powers… Their articulation represents a complete, lived experience."
~ Ingrid Bengis
With this, we have come to the end of Day 3 of our event. It was engrossing yet competitive for our teams to fight through and secure their positions in Quarter Finals. Further, tomorrow on the last day of our event, we are excited to witness our participants who made to the Semi-Finals & Championship Round. Till then, stay connected.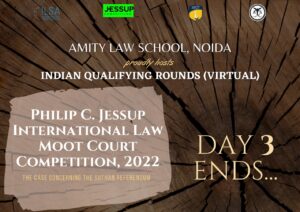 Day 4
The past three days have been filled with enthusiastic teams competing with one another to ace this competition. Here we are today on the Last Day, entering into the semifinals and final round waiting to have a glimpse of which team will be victorious in the end!!!
Come rain or storm, these teams will surely give it their best today! To all the participants, We encourage you to be as flawless with your arguments. Give it your all!!
"The real glory is being knocked to your knees and then coming back. That's real glory. Thats the essence of it."
~ Vince Lombardi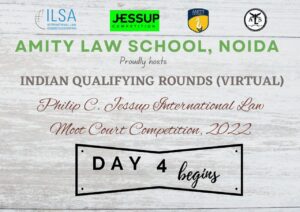 Herein, we introduce our Qualifying Teams for Semi-Final Rounds. We extend our heartiest congratulations & wish you all a very best of luck l!!!!
"Facing challenges with strength, determination and confidence is what matters, and you have done it !! Congrats"
9:35 hrs : As we commence the Semi-Final Rounds of the event, the teams appear to be in high spirits. They are presenting their broad arguments one by one with utmost courage & ascertainment !!
"If you're a true warrior, competition doesn't scare you. It makes you better".
~ Andrew Whitworth

"I enjoy competition. I enjoy challenges. If a challenge is in front of me and it appeals to me, I will go ahead & conquer it"
~ Conor McGregor
In the Semi-Final Rounds, the esteemed bench was greeted by our Dr Bhavna Batra, National Administrator Jessup India Qualifying Rounds, 2022 and Dr. Gouri V Naik, Convenor Jessup India Qualifying, 2022. We are really delighted & grateful to host such eminent individuals on our platforms.

11:25 hrs : The teams are now moving on to a rigorous session of Rebuttal and Sur-Rebuttal rounds after a productive session of arguments in the courtrooms.
12:00 hrs : The ongoing sessions of arguments led to the teams being at a terrific conclusion. Nevertheless, we have reached the end of semifinal rounds. While everyone awaits the beginning of finals, the excitement is building up!
"The end of a story, leads to a beginning of many more"
12:30 hrs : The teams qualifying for the Championship Rounds have been declared. We are elated & even more excited to spot them performing in the Final Rounds.      A Heartfelt congratulations to the both Qualifiers !!!! All the Best !!!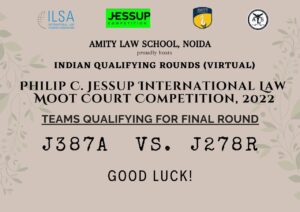 12:35 hrs : The Wheel of Fortune decides who amongst our Champion Round Qualifying teams will hold positions of applicant & respondent. It boosts our exhilaration over leaps & bounds to see teams representing the case from their respective positions.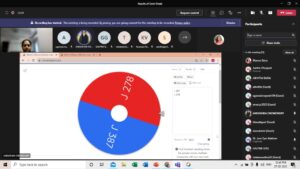 "Nothing in this world is impossible. Even the word itself says that I M POSSIBLE. Congratulations for this amazing success." 
13:30 hrs : The most awaited "Championship Rounds" has commenced. Teams are thrilled & filled with exuberance to start off with the final leg of the event.
"Everyday is a new beginning. Stay away from what you might have been and look towards what you can be"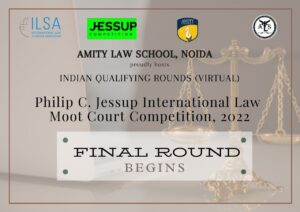 "A successful man is one who can lay a firm foundation with the bricks others have thrown at him."
– David Brinkley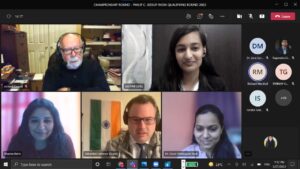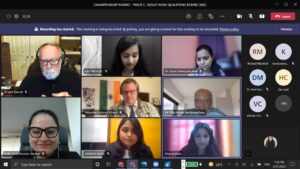 14:45 hrs : The participants are engaged in prompt rebuttals and sur-rebuttals to the other side's arguments.
"To be successful you must accept all the challenges that come your way. You can't just accept the ones you like."
– Mike Gafka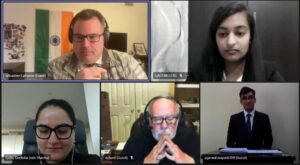 15: 20 hrs : As we have witnessed a head to head war of words between two outstanding teams. The participants presented their arguments in an attempt to persuade the spectators to support their position and left judges in admiration of their performance.
Knowledge is being aware of what you can do. Wisdom is knowing when not to do it.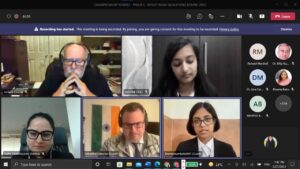 The final round of The Indian Qualifying Rounds of Philip C. Jessup International Moot Court Competition, 2021 has come to conclusion after a year of never-ending hardwork, hours of dedication, and days of preparation.
Before the announcement of results, we would like to congratulate all the teams who have taken part in the competition with utmost zeal and top-notch arguments
"participation is always more crucial than winning"
Valedictory Ceremony
17:00 hrs: As the finals of The India Qualifying Rounds of Philip C. Jessup International Moot Court Competition come to an end, we announce the start of the much-anticipated Valedictory ceremony. Our distinguished chief guests and esteemed judges will grace us with their presence and remarks. Furthermore, the winner will be announced at this ceremony, as promised. On behalf of the entire Amity University team, we congratulate every team that believed in themselves and presented their arguments in the best possible way. Let's hope the best team comes out on top!
"Winning takes precedence over all, There's no gray area. No almost."


17:05 hrs : After the competition concludes, it's time for the much-anticipated Valedictory Ceremony, which will feature statements from our distinguished guests, judges, and hosts. The lighting of the lamp marks the start of the valedictory ceremony.
17:07 hrs : In the Virtual Felicitation, Founder Sir felicitated Hon'ble Mr. Justice Suraj Govindaraj;  Atul Chauhan Sir thanked Hon'ble Mr. Justice Subramonium Prasad; Prof (Dr.) Balvinder Shukla and Prof (Dr.) D.K Bandyopadhyay honoured Hon'ble Mr. Justice Anup Jairam Bhambhani . Prof (Dr.) Shefali Raizada ma'am and Prof (Dr.) Aditya Tomer sir expressed their gratitude to Hon'ble Mr. Justice Anand Pathak. Finally, Ms. Tessa Walker and Mr. Michel Peil were greeted by Dr. Bhavna Batra ma'am.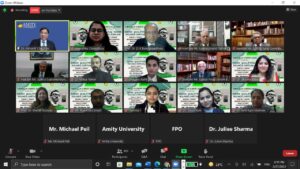 17:10 hrs : Our Additional Director and Joint Head (Prof.) Dr. Shefali Raizada commenced the addressing for today's gathering. Ma'am has an aura that impresses the crowd around her every year when she felicitates our competition. She bestowed gracious praise to the hard work of Amity University faculties, students and participants. Ma'am began with welcoming our guests of honour for today. She also extended a warm welcome to the Interim Executive Director, ILSA Ms. Tessa Walker and Vice Dean, Jigme Singye Wangchuk School of Law, Bhutan, Mr. Michael Peil. She further extended a hearty welcome to our respected Founder President Sir, Mr. Ashok K. Chauhan and thanked him for his auspicious presence and blessings.
Ma'am showed her gratitude to our Chancellor Sir, Mr. Atul Chauhan, for his guidance, leadership and support.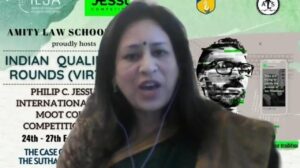 17:15 hrs: Prof. (Dr.) D.K. Bandyopadhyay is a visionary leader in India's education community in modern times. He is a multidimensional scholar, academician, and administrator. He welcomed our esteemed guests and extended a warm welcome to our respected Founder President sir Mr. Ashok K. Chauhan thanking him for his esteemed presence. Sir acknowledged the efforts of Founder President sir in creating a legacy in education and appreciated the contribution of Chancellor Sir and Vice-chancellor Ma'am. He further focused on the importance of international exposure which Amity Law School, Noida provides to its students. Lastly, he thanked the faculty members and appreciated students who have contributed to the competition.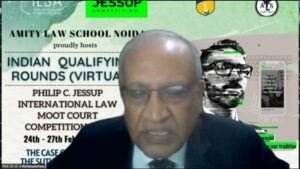 17: 20 hrs : Our Additional Director and Joint Head, Prof (Dr.) Aditya Tomer,  welcomed our distinguished guests and hosts. He congratulated the winners and participants. He emphasized on the relevance of mooting in the life of a law student. Furthermore, mooting provides experience, practical exposure, and aids in the development of abilities such as persuasion. He conveyed his gratitude to the esteemed guests for accepting our invitation.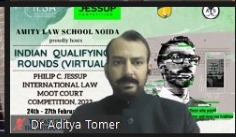 17:25 hrs : Ms. Tessa Walker, Interim Executive Director from ILSA addressed the gathering by acknowledging the presence of all our chief guests. She thanked and extended her gratitude to Dr. Bhavna Batra and the entire Amity University, Uttar Pradesh. She praised the participation of over thirty-five teams amidst the pandemic in this year's International Moot Court Competition. Her words of wisdom were highly encouraging. She enlightened everybody by mentioning the other countries like Germany whose students were participating in this year's Philip C. Jessup International Moot Court Competition. Ms. Tessa praised the resilience and hard-work of every team for their zealous participation and understanding of the International law. Further, she concluded her thoughts by sharing with us her desire to meet all the participants in person.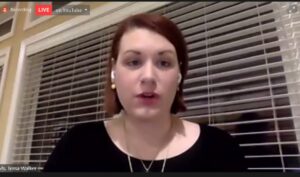 17: 27 hrs: Hon'ble Mr. Justice Suraj Govindaraj, Judge, Karnataka High Court, brings years of expertise and insight to the table. He addressed the colleague judges and extended his greetings to our respected Founder President Sir Mr. Ashok K. Chauhan, Chancellor Sir and Vice-Chancellor Ma'am. Sir commended the participants, and organizing committee for being resilient in the tough times. He wished best of luck to the international round for the winners of the championship round, and he stated the importance of technology and how it has resulted in a slew of new crimes. He further discussed the importance of mental health, and building a community.
Hon'ble Mr. Justice Suraj Govindaraj quotes :
"Do what fulfills your passion, and do what you do with passion". He wished the students the best of luck in their future endeavours"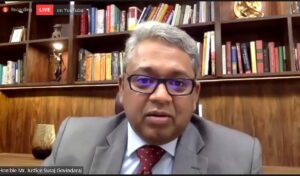 17:29 hrs : Hon'ble Mr. Justice Subramonium Prasad, Judge, Delhi High Court, over the course of his 28-year career, he has served on a number of high-profile cases and has been engaged in several Supreme Court reported judgments on an array of subjects. He mentioned how Philip C. Jessup International Law Moot Court Competition is the most prestigious competition in the world and said his an honour to reach this stage and hence every participant should receive appreciation, he expressed how its the journey that matters at end of the day. Hon'ble Mr. Justice Subramonium Prasad explained how this competition deals with Public International law and how it affects nations engagement with one another. Sir spoke about how this area influences legal analysis.
He went on to say how crucial moot is for developing litigation abilities including thinking on one's feet, speaking before a judge, and increasing research skills. Sir stressed the need of teamwork, and he concluded by stating that law is a marathon, not a sprint.

17:42 hrs : Hon'ble Mr. Justice Anup Jairam Bhambhani, Judge at Delhi High Court was delighted to be a part of the valedictory ceremony and congratulated Amity University, Uttar Pradesh and the participants for hosting the Indian Rounds of Philip C. Jessup International Law Moot Court Competition, despite the dearth of physical presence due to the global pandemic. Sir shared his visionary thoughts for the students who are at the threshold of being lawyers and future justices of India. He implored the prospective students to not just be learned people, proficient in their careers and successful but also to conceptualize the thought of acting as a social engineer who would steer the society towards harmony. His advice to wall the budding lawyers was to always remember that the handling of various disputes and their resolution shapes the society. Hon'ble judge authentically shared his view on this path of becoming a lawyer, advisor or judge. In his own words- "The more powerful you become as a lawyer and the more stature you gain, the more power you will have to mess up the law. So always be conscious about drawing your boundaries." He added that clients and disputes come and go, but what stays behind is the way you handled your career and cases. "Wherever you choose to go, always remember you have a larger and longer stake in the justice dispensation system." Sir imparted his insight and perception on the participants and everyone present in this ceremony today.

17:58 hrs : Hon'ble Mr. Justice Anand Pathak Judge of the Madhya Pradesh High Court has set an example for future generations, particularly in the legal arena. Having practiced in numerous areas of law, he acknowledged the importance of mooting. Further, he appreciated the Organizing committee for organizing the event in such an efficient manner. He added that the right to privacy and data privacy have become a major concern especially when it threatens states/nations sovereignty as it dilutes human rights. He acknowledged the participants' efforts and stressed that participation is vital regardless of the outcome. He quotes " Hold a file with sincerity, it would give life." He congratulated and wished good luck to participants for their future endeavors.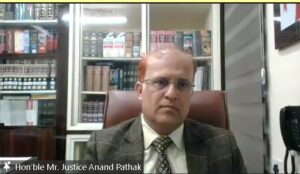 18:07 hrs: Dr Ashok K Chauhan, Founder President sir, Amity University and Amity Group of Institutions. Founder sir is known for his visionary personality, leading Amity Education Group & Amity as an entirety. Founder president sir mentioned about mooters becoming very successful lawyers and stated Philip C. Jessup International Law Moot Court Competition as the most prestigious competition for law students. He discussed his goal of making India a superpower for which a country needs economic power, human resource power, political stability, law and order stability. The function of a law student according to the founder president sir is critical because all international investors analyse the nation's courts and legal systems while deciding whether or not to invest in the territory..
He mentioned about his outlook towards students & what more he can provide for them. He felt amazed listening to the advice of judges and suggested their guidance to surely be of much help to students in becoming exceptional lawyers and further contributing towards making India a super power.
Further, emphasizing on the need to be a self reliant nation. Lastly, the founder president sir thanked amity members and judges. And appreciated students for their effort.

18:20 hrs : Dr. Gouri Naik ma'am, Convenor, Jessup India 2022 gave highlights of the event and a quick overview of how the rounds through a Report Presentation. In addition, after 72 matches with 250 judges, 8 teams qualified for the international rounds.
Ma'am has quoted "Success is no accident. It is hard work, perseverance, learning, studying, sacrifice and most of all, love of what you are doing or learning to do."

18:25 hrs – Dr. Juliee Sharma, Co-convenor Jessup India 2022, addressed the entire ceremony by highlighting the work of students and faculty members through a Souvenir, who acted as the pillars behind the curtain in order to make this event successful. She emphasised the importance of this journey which will be memorable for years to come. Thanking the entire law and International Moot Court Competition team, ma'am concluded her thoughts.
18:30 hrs – With the most awaited time coming up, our faculty organisers Dr Jane Eyre Mathew Ma'am & Mr Rupendra Singh Sir, opened the dias to declare the results of the Championship Rounds along with Top 8 rank holders across different categories of Best Oralist and Best Memorial.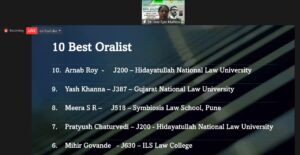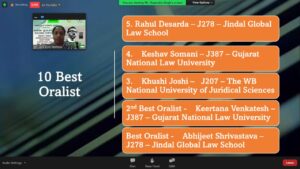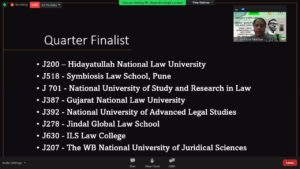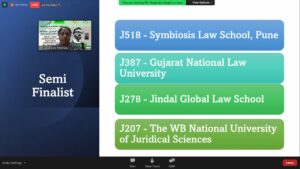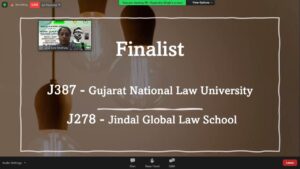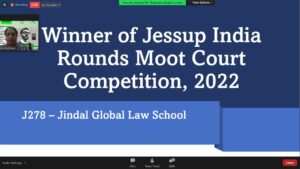 Our Heartiest Congratulations to "J278 Jindal Global Law School" for throning as the winner of the Indian Rounds of the Philip C. Jessup International Law Moot Court Competition, 2022.
18:40 hrs : Dr. Bhavna Batra ma'am, National Administrator India Qualifying Rounds, began her speech with an austere and powerful quote from the Bhagavad Gita & a Video of Gratitude for all our presiding judges. She spoke eloquently about how each student and faculty member contributed to making the event a success. She went on to express her gratitude towards the dignitaries, as well as Founder President Sir, for his continuing guidance and support, and IT department for seamless operation and lastly Ma'am stated the true nature of well-prepared participant who in a Competition is not scared & are true warriors.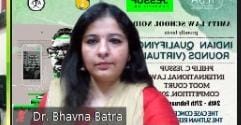 18:45 hrs : As the curtains close for this years India Qualifying Rounds of Philip C. Jessup International Law Moot Court Competition, 2022 we thank all the contributing faculty members, students, presiding bench members and judges who came together to make this journey a memorable one. It wouldn't have been possible without your constant support. Additionally, the participating teams who brought into house amusing & well-defined arguments which were definitely engrossing & alluring to witness.
The hardwork & dedication of our associated members for day-in & out brought the event to a successful conclusion and paid tribute to it's years of historic lineage.
"Unity is Strength… when there is team work & collaboration, wonderful things can be achieved"
~ Mattie  
With this, we Media & Blogging Team of the Indian Qualifying Rounds of the Philip C Jessup Moot Court Competition, 2022 sign off.
Special Thanks to :-
Prof Dr D.K Bandyopadhyay, Chairman, Amity Law School, Noida
Prof Dr Shefali Raizada, Additional Director, Amity Law School, Noida
Prof Dr Aditya Tomer, Additional Director, Amity Law School, Noida
Dr Bhavna Batra, National Administrator, Jessup India 2022
Dr Gouri Naik, Faculty Convenor, Jessup India 2022
Dr Juliee Sharma, Faculty Co-convenor, Jessup India 2022
Dr Jane Eyre Mathew, Organizing Committee
Mr Rupendra Singh, Organizing Committee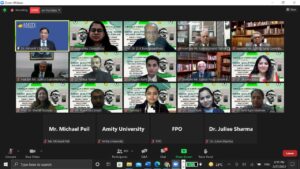 Student Editorial Committee of Amity Law School, Noida :-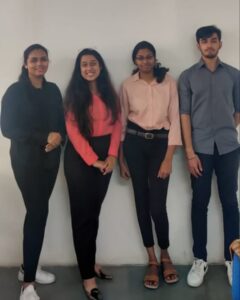 J Tanisha            Manya Kaushik           Ashish Suri          Maria Yoshitha             Nishtha Wadhawan       Shubhangi Mishra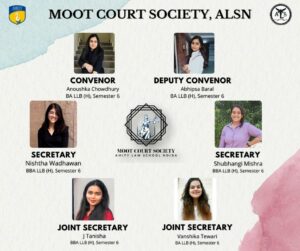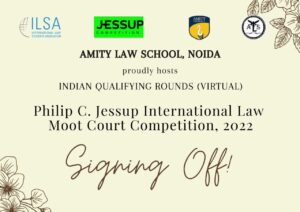 Thank you for Tuning In!!