With the aim of assisting aspiring litigators at National Law Universities, the Foundation had announced the launch of Project Dhananjay in 2020. In its maiden year of execution, the Foundation had selected 4 law graduates under this flagship initiative, a first of its own kind in the country for fresh NLU Grads.
The testing times brought on by the COVID-19 pandemic have made the financial assistance offered through 'Dhananjay' needed more than ever. Such financial assistance extended to law graduates is essentially aimed at dispelling the anxieties and apprehensions that they might bear because of the lack of initial support from their families. It also attends to the problem of financial constraints faced by these graduates as they venture into the field of Litigation.
The Foundation has thus announced the final list of NLU grads to be supported under Dhananjay 2021. The following five candidates have been selected to be beneficiaries of Dhanajay's stipendiary stipend after a thorough selection process spanning over almost 2 months –
● Divyanshu Jain (NLUO, Cuttack)
● Rishabh Joshi (HPNLU, Shimla)
● Vinudeep R (TNNLU, Tiruchirappalli)
● Sarath KP (NUALS, Kochi) [IDIA Scholar]
● Trilok Chand (NLUO, Cuttack) [IDIA Scholar]
The candidates shall be paid a scholarly stipend ranging between Rs. 15,000-18,000 per month from the date of commencement of their professional practice before any Court in the Country.
For Dhananjay 2021, applications were invited from young Law Graduates from National Law Universities (NLUs) from all over the Country. These applications underwent a thorough assessment and screening conducted by the Selection Committee which comprised Mr. Amalpushp Shroti (AOR, Supreme Court of India, Advocate, Madhya Pradesh High Court), Ms. Archana Pathak Dave (AOR, Supreme Court of India, Advocate, Delhi High Court), Mr. T. Singhdev (Advocate, Delhi High Court), Mr. Mrigank Prabhakar (AOR, Supreme Court of India, Advocate, Delhi High Court) and Mr. Tariq Khan (Principal Associate, Advani & Co.).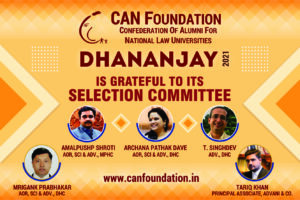 In June 2021, the Foundation had entered into an MoU with IDIA for the promotion of recommended IDIA Scholars under Dhananjay 2021. Pursuant to the same, IDIA recommended its scholars to be considered under Dhananjay 2021.
Out of the 5 applications selected, 2 of the selected scholars were recommended by IDIA. The applications of Sarath KP who hails from Ernakulam, Kerala and Trilok Chand who hails from Barmer, Rajasthan were selected under Dhananjay 2021 after a thorough selection process. IDIA has, notably, sponsored their education during their respective stints at law schools. Keeping in mind the vision behind 'Dhananjay', the Foundation shall be making earnest efforts to get these IDIA Scholars settled in eminent Litigation Offices and lawyers' Chambers in the respective States of their preference.
Given the journey made so far in terms of carrying out some of the noble pursuits and successfully implementing ambitious projects such as Project Dhananjay, the Foundation extends its heartiest gratitude to its Patrons, namely Mr.
Sidharth Luthra, Mr. Nidhesh Gupta and Mr. Manoj Swarup, Senior Advocates. It is because of their guidance that the Foundation has been able to achieve its objective and march ahead on the path of success with Project Dhananjay.
On the occasion, Manu Maheshwari, Secretary, CAN Foundation expressed hope that "these young talented Scholars will make the most of the opportunity and shine in the Legal Profession. We at the Foundation are committed to assisting as many Scholars as we can and hence have expanded the project this year. In the coming years, we hope to steadily increase the number of selected students with the goal of assisting at least 10 Scholars per year, under Dhananjay, to ensure that they may have the resources to succeed in the profession. We wish the Scholars the best for their future and hope to see them succeed in all their endeavours."