Hidayatullah National Law University will be launching a new web initiative christened as 'ALMA Matters…' to bring its Alumni world* over for a discourse of their learnings, expertise and contribution to inspire the HNLU student fraternity and the Law students fraternity at large in the country. The Webinar platform will shape the Alumni Association as an active stakeholder in the evolution of the HNLU in the coming years.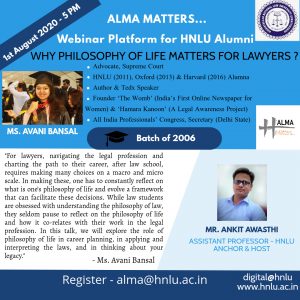 Speaking on the launch of 'Alma Matters…' Vice Chancellor Prof. V. C. Vivekanandan, remarked "The future autobiography of many a 'thought leaders' had their preface inked in a class room, cafeteria, cultural fest or a college dorm. Teachers and class mates are often the inspiration for the future screen play of the alumni in their life and career"
The inaugural edition of 'Alma Matters..,' will have Ms. Avani Bansal a distinguished alumna of HNLU batch of 2006 to deliver her address on 'Why Philosophy of Life Matters for Lawyers?' at 5 p.m. on 1st August of 2020.
Ms. Avani after graduating from HNLU in 2011 went on to complete her post-graduation from Oxford and Harvard to return to India to practice at the Supreme Court. She is also the founder of 'The Womb'- a first online News Paper for Women and 'Hamara Kanoon' a legal awareness project. Ms. Avani is also a prolific writer of legal publications and serves as the Delhi State Secretary of the All India Professional Congress. The programme to be anchored by Mr. Ankit Awasthi, faculty and convener of RCC and Internship Committee of HNLU.
The Web platform is the fourth initiative after- 'Sui Generis' – HNLU Faculty Webinar series, 'Lex Osmose' – the add on online credit course programme, 'Ex Arca'- the webinar platform for distinguished speakers and currently the 'Alma Matters…'  the web platform of distinguished alumni of HNLU. The 'digital@hnlu' team of faculty – Ms. Debmita Mondal, Mr. Ankit Awasthi. Mr. Jeevan Sagar, Mr. V. Surya Narayana Raju and Dr. Parvesh Kumar Rajput are the moving force behind these initiatives.