VIPS is a pioneer institute in the arena of education, catering to society for almost two decades now. It is accredited 'A' grade by National Assessment and Accreditation Council (NAAC), placed in category 'A+' by State Fee Regulatory Committee (SFRC) recognised under 2(f) of UGC, affiliated to Guru Gobind Singh Indraprastha University, New Delhi.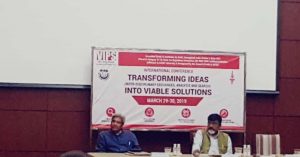 About the conference:
Vivekananda Institute of Professional Studies (VIPS) organised a two-day conference on "Transforming IDEAS (Interdisciplinary Exchanges, Analysis and Search) into viable solutions" by Indian Council of Social Science Research (ICSSR) on March 29 and 30 at its campus.
On day one Prof. V.B. Coutinho, Vice Chancellor Garden City University, Bangalore, Suneet Vats, Vice Chairman VIPS, Advocate-on-Record, Supreme Court Neeraj Aarora, Prof. Biswajit Das, Founding Director of Center for Culture, Media & Governance, Jamia Millia Islamia and Suman Nalwa, Deputy Commissioner of Police addressed the two plenary sessions.
Day two of the conference held four parallel technical sessions chaired by prominent academicians. The conference aimed at initiating academic discourse encompassing multiple disciplines such as Health, Welfare, Culture & Law, Gender, Dynamics of Globalisation and Sustainable Development. More than a hundred papers were received from across the country. One of the key highlights of the conference was the release of the edited book comprising selected research papers published by Macmillan Education.
Two best papers from each sub-theme were awarded at the Valedictory presided by Principal Judge, Family Court, Delhi, Swarna Kanta Sharma, C.A. Naveen N.D. Gupta, Chairman VIPS, Dr. S. C. Vats and Principal Director, VIPS Prof. Rattan Sharma.