Training and Placement Cell, Symbiosis Law School, NOIDA organised a Seminar on Youth, Constitution and Politics by Mr. Aditya Shankar, Founder, Chambers of Aditya Shankar and Partner, Kaden Borris on September 20, 2018.
About the Resource Person: Mr. Aditya Shankar, Founder, Chambers of Aditya Shankar & Partner, Kaden Boriss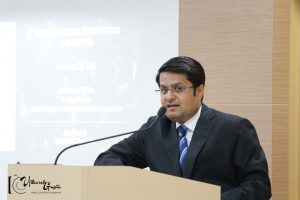 Mr. Aditya's expertise includes constitutional, civil, corporate and criminal litigation, general practice apart from specialising in drafting and vetting of petitions, applications, contracts, agreements and legal notices. Mr. Aditya has done his post-graduation from Cornell Law School, Cornell University, United States, one of the premier International law schools in the world. He was member of the American Bar Association and New York City Bar Association. As a member of the American Bar Association, he was also part of the Intellectual Property Law and Business Law Sections of the Bar Association.
Mr. Aditya has worked as an Associate Counsel in the Chambers of Mr. Mukul Rohatgi, Senior Advocate & Current Attorney General for India. He was exposed to different types of high-end litigation in the Hon'ble Apex Court of India & Other Courts including – Constitutional, Corporate, Commercial, Civil, Criminal, Original & Appellate Jurisdiction of the Supreme Court and other High Courts namely – Writ Petitions Article 32 & 226 of the Constitution, Special Leave to Appeal Petitions & Other Petitions.
At Kaden Boriss, Mr. Aditya has built a substantial-litigation and alternate dispute resolution practice. He has also appeared for and advised many high-end corporate-clients and is also mentoring Start-Ups in the current age. Mr. Aditya is also the Retainer-Counsel for Bombay Stock Exchange (BSE), India's Premier Stock-Exchange advising them on Corporate and Commercial Transactions under SEBI Act, 1992 and other provisions of law.
As a litigation-lawyer, Mr. Aditya makes professional appearances in Supreme Court and other All-India Judicial Forums including Indian High Courts, Tribunals and Foreign-Avenues. His areas of experience include International & Domestic Contracts, Intellectual Property Law, International & Domestic Arbitration, Alternative Dispute Resolution (ADR), Commercial Suits, Corporate-Litigation, Economic Crimes, FERA & FEMA Violations, International and Domestic Trade, Economic & Commercial Laws – Company, Joint Ventures, Collaborations, Mergers & Acquisition, UCP 600, Letters of Credit, Shipping, Customs, Excise, Service Tax, Mining, Competition Law (Anti-Trust), Debt Recovery, Consumer, SEBI, WTO & Anti-Dumping, Constitutional & Writ-Litigation under Articles 32 & 226 of the Constitution of India, 1950.
Mr. Aditya regularly participates in, and attends, industry conferences and seminars. He  has also authored several articles in various newspapers and journals and appears frequently on prime-time news channels on issues of legal and national importance.