University Training & Placement Office, Faculty of Law, Aligarh Muslim University in collaboration with Training & Placement Office Law, Department of Law and Project Abhimanyu organised a one day workshop on 'Career in intellectual property laws in India, Career in taxation laws in India, Soft Skills of a good lawyer, Career Options available to a law graduate' to explore new vistas in legal profession,  on 24th February, 2017.
Prof. Javaid Talib, Dean Faculty of Law intends to make TPO Law as 'platter for budding law graduates to join law and justice administration.' Prof Iqbal Ali Khan, Chairman Department of Law desired to forge meaningful relation with Project Abhimanyu to chart out programme for internship and placement. Prof. Zafar Nomani, Training & Placement Office Law, remarked that Project Abhimanyu is well sought after partner in heralding goals of justice education and inclusive growth in India. Mr. Saad Hameed, University Training & Placement Officer opined that 'Training & Placement Office, Law is on our priority and expects to come of age in globalised and competitive world.' Tanjana Rai, mentor of Project Abhimanyu dwelt on the objectives of Project Abhimanyu and culled out ne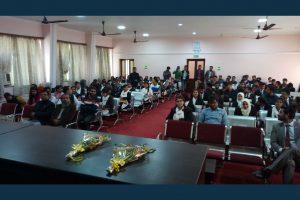 w horizons of legal profession. Mr. Saurabh Kumar delivered on prospects of taxation, litigation and advocacy in the current monetary and fiscal environment of country.
Mr. Ramaswamy, Chief Mentor, expounded the lawyering soft skills in charting out professional advancement besides making audience aware about challenges and opportunities in Intellectual Property law and enforcement. Ms. Arshi Salauddin, Representative of Project Abhimanyu and student coordinator, Training & Placement Office,  proposed vote of thanks and hopes for having enduring relationship with TPO law, Faculty of Law, Aligarh Muslim University, Aligarh. The programme was well attended not only by students of BA LLB but also LLM and PhD scholars and faculty members. There has been overwhelming response to this program in terms of interaction, participation and registration which runs to more than 125 delegates.