The fifth edition of RMLPD was successfully held in Ram Manohar Lohiya National Law University from 10th-12th February 2016. The Competition witnessed participation of forty-three teams from twenty-one institutions from all over the country. The team comprising of Arka Bannerjee, Md. Zaid, and Ananya Nigam from NUJS, Kolkata won the tournament and bagged a prize money of Rs. 45,000, while the runners-up, Pritika Dutta, Nitika Bakshi, and Gaurika Sood from Lady Shree Ram College were awarded Rs. 30,000. Also, the team comprising of Hanumant Thakur, Shivank Senger, and Siddhant Raj from Kirori Mal College emerged as the Best Novice team of this edition.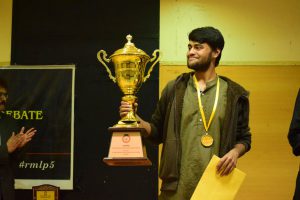 Tarini Unnikrishnan, an independent adjudicator and Shagun Sethi from Jesus and Mary College, were awarded the Best Adjudicator award. Each of them was awarded a prize money of Rs. 12,500. Kirti Sharma from RMLNLU won the award of Best in-house Adjudicator. Krishtijeet Das from KMC, Dibyojyoti Mainak from NLSIU, and Mannat Tipnis from LSR were the core Adjudicators of the tournament this year.
The tournament follows the Asian Parliamentary style of debating and, with each new edition it is getting bigger and better, in terms of both, participation and debating standards. This edition, the participants debated on motions relating to politics, gender, popular culture, ethics and morality, etc. Debate and Discussion Committee, the organiser of the tournament, while being modest about the success of the event, promised us to put up an even grander show next year.