A message in Hindi has been doing the rounds on WhatsApp and other social media that Aryan Khan, son of Hindi film actor Shah Rukh Khan, was arrested on Saturday night and courts were made to open on Sunday especially to hear his bail plea. The message  goes on to insinuate that it is because of Aryan's wealth and status that an exception was made, as Courts are usually closed on sundays. The message further states when it comes to millionaires, judges are ready to hear cases, even at midnight, because the judicial system is merciful towards them.
A screenshot of the viral message is given below.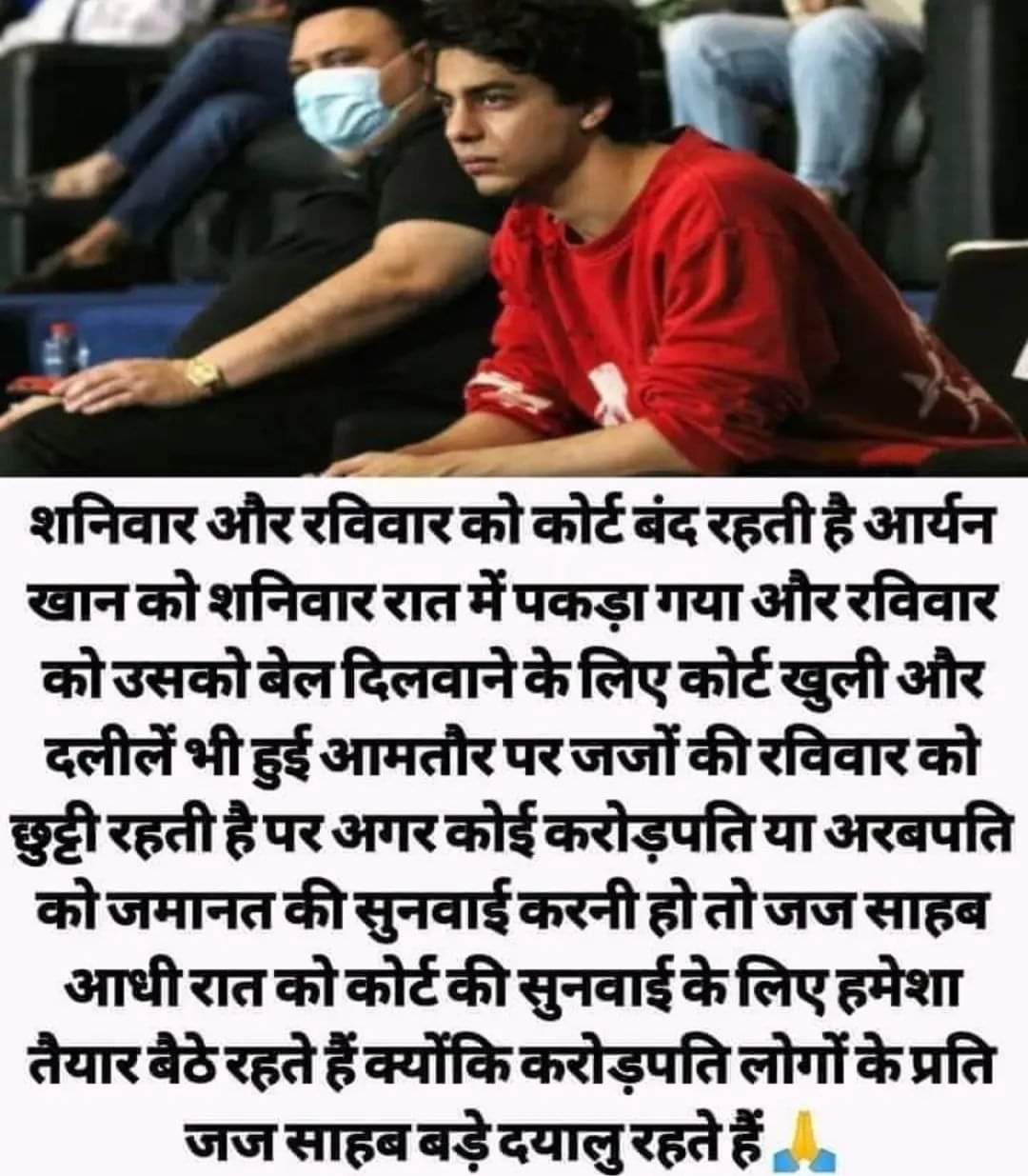 [This photo is courtesy of Prachi Saxena (Twitter handle @eatlessliftmore)]
Now let us check the veracity of the facts claimed in the pic above. Several news reports prove that Aryan Khan was arrested on Sunday (3rd October) and not on Saturday (2nd October). I have mentioned a couple of news reports below.
 As per a report on India Today, Aryan Khan was placed under arrest at 2 pm on Sunday for "involvement in consumption, sale and purchase" of contraband. As per a report on NDTV, Bollywood actor Shah Rukh Khan's 23-year-old son Aryan Khan was arrested along with seven others on Sunday following a raid at a party on a cruise ship off the coast of Mumbai the previous night by the Narcotics Control Bureau or NCB.
Summarising the events, the raid on the cruise ship took place on Saturday night, the formal arrest of Aryan Khan took place on Sunday afternoon and his remand application before the Court took place on a Monday. This can be proved without doubt by perusing the remand application of Aryan Khan, Arbaz Merchant and Munmun Dhamecha before the Court of RM Nerlikar, Additional Chief Metropolitan Magistrate, 8th Court, Esplanade, Mumbai. The date mentioned on remand application (No. 911 of 2021) of Aryan Khan and others is 4/10/2021.
Therefore, we can safely say that the viral message is fake. No court was especially made to be open on Sunday to hear the remand/bail application of the accused and it took place within 24 hours from date of arrest as is the norm.