The four day long 1st NLUO PHFI Public Health Law National Moot Court Competition concluded today after a stellar final round between GLC Mumbai and NALSAR, Hyderabad was judged by eminent legal luminaries and public health experts including Mr. Anand Grover, Senior Advocate, Supreme Court of India, Dr. Gagandeep Kang, India's leading virologist and Professor, CMC Vellore,  Mr. Murali Neelkanthan, Partner, Amicus, Mr. Sameer Sah, Partner, Khaitan & CO and Mr. Warren Bruke, Senior Attorney, United States House of Representatives, Office of Legislative Counsel. The moot focused on the issue of compulsory vaccination and immunity to vaccine developers and manufacturers along with ancillary issues of federalism in the context of Public Health policy.
The final rounds were followed by a grand valedictory ceremony which was graced by Hon'ble Justice Mr Sanjeeb Panigrahi, Judge, Orissa High Court as the Chief Guest and Dr. K Srinath Reddy, President, Public Health Foundation of India as Guest of Honor, Prof Ved Kumari, Vice -Chancellor, NLUO, Prof. (Dr.) Yogesh Pratap Singh, Registrar, NLUO, Prof. Shifalika Goenka, Professor PHFI  and the finalist judges. Hon'ble Mr Justice Sanjeeb Panigrahi stressed on importance of making the right to health as explicity mentioned fundamental right under the Constitution of India and gave a deeper nuance into the role of judiciary in protecting people's right to health in the context of a pandemic. Dr. K Srinath Reddy and Prof Ved Kumari committed to make the Public Health moot an annual event at NLUO and praised the team for meticulously conducting the moot on grandiose scale by hosting 62 teams from across the length and breadth of the country.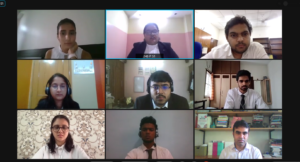 Government Law College, Mumbai won the competition and will be awarded a cash prize of Rs 21,000. They also won the citation for 'Best Memorial' and will be awarded a separate cash prize of Rs 10000. Runners up, NALSAR Hyderabad will be awarded a cash prize of Rs. 15,000. Anshika Paul of Government Law College, Trivandrum was adjudicated the 'Best Speaker' and will get a prize money of Rs.10000.  Other hon'ble citations were 'Fourth  Best Memorial' to Himachal Pradesh National Law University, Shimla, 'Third Best Memorial' to Dr. Ram Manohar Lohia National Law University, Lucknow, 'Second Best Memorial' to Chanakya National Law University, Patna,  'Third Best Speaker' as Anagha Ramdass from NUALS, Kochi and 'Second Best Speaker' to Nabeel M from School of Law, University of Mysore.
The valedictory session was an opportunity for all the participants to benefit from really incisive comments from all the distinguished guests. Mr Murali exhorted all the participants to read hand books, research, citations and sources of power. Dr Gangandeep and Dr K Srinath Reddy also stressed on the need of balancing the individual autonomy and State powers to protect people's health.As the moot was a fusion of public health and law, the guests appreciated the interdisciplinary approach of the competition.