Ms. Gunjan Bhagchandani, has completed her LLM in Commercial and Corporate Laws from Queen Mary University of Law, London and currently working as Legal Tech Lead at Apple. She has been interviewed by EBC/SCC Online Student Ambassador Saman Rahman who is currently pursuing law from Lucknow University
Please introduce yourself to our readers.
Hi all, I am Gunjan Bhagchandani, a law graduate with double masters. I am based in London, UK. I have been an extrovert since birth, always sought to do multiple things and learn at every step of life. It's important to accept that life is tough and one needs to be tougher than their goals. I have completed my LLM in Commercial and Corporate Laws from Queen Mary University of Law, London. I have been working as a qualified paralegal at MBM Solicitors in London and have recently joined Apple as a Legal Tech Lead for their ongoing project in the UK. For me, life has been tough but I have learned how to enjoy each day with a smile.
It should be important that we never let others make us feel down. As a bright student, I completed my schooling from City Montessori School with Science stream but I changed my paths from science to law as I wanted to serve my community. Initially, I dreamt opting judiciary but after working with various judges and distinct lawyers, I decided to move into Corporate and work internationally. When I got NLU Jaipur for my Undergraduate, my family didn't allow me to go out of the city for my UG due to my medical conditions and showed me a dream of sending me to London after my bachelors.
I completed my UG from the Faculty of Law, Lucknow University, Lucknow. I have been supported by amazing faculty members who have always been there for me and still are. That dream was just a dream until I got the opportunity of studying at QMUL with sponsorship of my tuition fees. I never knew that life would surprise me with my biggest achievement, things turned around in August 2018 when I got an offer from QMUL and this was because of my previous employment at Legal Desire as Executive Manager (2016-2017) and SK Chambers (2017-2018). With blessings of my elders and a support from amazing colleagues, I got admission in QMUL. I completed my masters with Merit and Dissertation in International Commercial Arbitration which is my main interest. After working for one year in the UK legal field, I specialised in immigration, family, commercial and mergers and acquisition matters. I am working as a caseworker and handling day-to-day client meetings, cases, court visits, appeals and learning vast experience of working internationally. Since 2013, I have been into my dad's business of Handwork Embroidery and I have learned memorable life lessons which I believe made me stronger.
2. Tell us about your experiences of university and how moot and other activities help you build your personality?
I believe attending lectures and doing extra co-curricular activities make you a real lawyer. No book can give you lessons about the reality of life but only the basics of law terms and their importance. I have always been into publications and events more than mooting. I did 27 National and International Research Papers, which helped me a lot to secure and excel in where I am today. Foreign universities always look at your extraordinary behaviour more than your grades; no doubt they want you to be among the toppers. The co-curricular activities make you confident, a better public speaker and a motivating soul; it develops your interests about a subject and you know which topics of law interests you. You can't excel in every field that's why it is important to choose those which you like and perform outstandingly on that. Never choose subjects because of peer pressure or your love story because that will not last long and your career will always be there for you like your family. Your interest will decide your specialisation and recruitment in any firm all over the world. Being abroad is tough, as you live on your own. I created my life on my terms and conditions with the approval of my family, who had so much faith that whatever I will decide will be the best for me. Mistakes are part of human nature and everyone makes mistakes, but one who learns from them, will excel. I have seen many ups and downs in my career but downfalls made me stronger. Being an independent person makes me feel more proud each day. For being distinct you need to leave your shy attitude and make connections or bond with everyone you meet in this field. Make strong links with your faculty and indulge in every event. I appreciate my professors who still guide me whenever I am stuck especially Mr Ashish Srivastava, who was my professor of Corporate Laws from UG.
3. As you have done your post graduation from the Queen Mary University of London, tell us about your preparation strategy, what made you pursue your post graduation degree from a foreign university?
All you need is guts along with potential hard work, recommendations, work quality and ability to compromise, learn and move on. Preparation begins from the day you decide what you want from yourself and just work on that without any second thought about the results or how will it happen. Believe in yourself and miracles happen, which happened in my case. Being delayed in getting results I missed my deadlines for the best universities in the world and I didn't want to take a gap, as I believe either now or never. So I was offered a place from QMUL after Cambridge, being the second topper of my batch which I took without giving a second thought as QMUL is at 3rd rank in the UK and I am so proud of being a QMULian. I wanted to work at an international level and that aim brought me to the UK as most of the laws have the same roots in England and India. I am currently preparing for my Solicitor levels and I hope I get through that soon.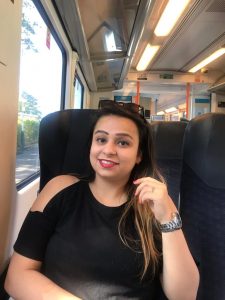 4. Tell us about the procedure for getting enrolled in a foreign university, kinds of scholarships and what are the other criteria?
The Internet has made our lives so easy that we get everything by one click and same is for any procedure, eligibility or funding any course, you will get multiple options. The main criteria are good grades, work experience, recommendation, extra activities during your life period and what are your own aspirations from your life for getting admission in any foreign university. This criterion differs with different universities. I was offered a sponsorship by a private trust that had seen my work quality and experience before giving me the sponsorship of 23,000 pounds which is 22 lakhs in Indian currency.
5. Do you think, doing internship under a lawyer helps a law student?
Yes, I would suggest to start working from the 1st year of a law career. I started working from my 2nd year towards my legal career as in the 1st year I was figuring out about its different aspects and how the law will be my right path as a first-generation lawyer. In the legal field, never restrict yourself to one field; explore your starting years of course understanding where you will stand in five years from now. That's why it's important to intern under different platforms like NGO, law firms, advocate, legal in-house counsel, legal advisors and Judges. This experience will be a remarkable turn to your dreams as you will know what you are good at and what you like; explore every sight of this career and then make a decision. The decision should be firm as it will be your lifetime mark. It is important to understand the different pros and cons of public or private sector opportunities. Never boast yourself or be an egoist, always be down to earth and be a helping hand to those who need.
6. You have been appointed as Tech-Legal project manager of Apple, how do you feel, tell us about your preparation strategy for this job and the requirement for this post?
I had been fantasizing about legal technology since 2018 and was learning a few new skills and techniques since 2019 which helped me to boost my CV and secure this post after clearing oral, written examinations and then interviews. And now when I was appointed for this post I was so proud and excited to work in legal technology which is booming. This is a new area where employers seek you to understand the legal obligations into technologies and what are the liabilities for an employer who is engaged in this job.
7. Any advice you want to give to your juniors and upcoming lawyers?
Just be yourself, never be afraid of starting in any field if you are first in your family, work hard and don't let societal pressure affect you. Never let others decide for you and never get influenced by others or peer pressure. Take your decisions after consulting your guardians, teachers and family and you will have less chance of failures. Being first-generation lawyers, explore like a wild animal and learn every bit of world knowledge.
8. How important is doing proper legal research and how should law students equip themselves with legal research skills?
Just read, read and read. Use different search engines to polish your skills of interpersonal communication, drafting, how to face scenario problems and take your life lessons seriously. Never go for any course if you are not prepared, you will just end up investing money for that certificate which will never matter if you don't acquire knowledge about that topic. Take help from your surrounding friends, teachers, faculty members and supervisors to improve yourself and to make a better version of you in the next period. The biggest competition for oneself is the person in the mirror; you don't have to beat the world but you need to improve yourself. For legal research understand what the topic is demanding and take different opinions of yourself and society. Every topic has different dimensions or viewpoints, all you need are critical thinking and analysis for which the subjects' legal ethics and drafting are there.
9. Not many people are familiar with the concept of "exhaustion of a search". What are your views on it?
Exhaustion of a search happens due to surrounding pressure and if you are exhausted of finding the right choice takes a break, know yourself more and about the subject. Always do what you are capable to do and if you feel exhausted just go on a trip or do something that is your hobby to make a switch.