Screenshots of a tweet by a journalist has been doing the rounds on social media that the Supreme Court Bar Association headed by president Dushyant Dave has passed a resolution not to give farewell to Arun Mishra, J. when he retires on September 2. Along with the screenshot of the tweet, a pdf titled 'Proposed Resolution of SCBA' is also circulating. The pdf states that the executive committee of the Supreme Court Bar Association has resolved not to hold any farewell for Justice Mishra upon his retirement. Two points have been mentioned in the pdf which state that he was extremely unpleasant to the members of the Bar and have misbehaved with him on several occasions and that all important matters of the government where assigned to him, and  therefore other judges were relegated to an inferior position. The note ends with the statement that Justice Mishra had caused immense damage to the Supreme Court as an institution and that the Bar registers its protest by not giving any farewell to Justice Mishra. The points can be read in detail in the pdf image given below.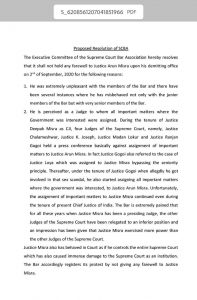 Now let us test the veracity of the claims in the pdf. We checked the official website of the Supreme Court Bar Association and found that there is a notification published there which states that circulating pdf with respect to the statement tissued by the Executive Committee of the Supreme Court Bar Association on the issue of Farewell to Hon'ble Mr. Justice Arun Mishra on his retirement next month is false. The  notification further states that no such statement had been issued by the Executive Committee and that in fact this matter had not been considered by the EC in any meeting. The Press release being attributed to the EC was not genuine and is strongly denied by Mr Dave on behalf of the EC. Mr Dave strongly condemned the same as being mischievous and an attempt to malign the SCBA. 
The notification uploaded on the SCBA website can be seen below: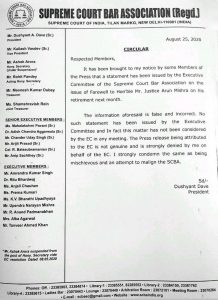 Therefore, we can safely say that the circulating message is false and no resolution has been passed by the SCBA to not give a farewell to Justice Mishra.