IDIA Scholar Jitendra Majhi, who got admission into National Law University Odisha, shares his story with us. Here's about his journey to the law school (in his own words):
I am from a small tribal village called Renu, which is situated in the Gajapati district of Odisha. I belong to 'Kandha' tribe, which is known for its hunting style in Odisha. My family includes my father, my mother, my grandmother and my five siblings. Two of my sisters are married. My mother is very brave and is my inspiration. She is a homemaker and a farmer. My mother uses all the money that she earns for sustaining the family. She is supported by one of my elder sisters who is married and teaches in a government school. During summer vacations, me and my siblings also work to earn some money.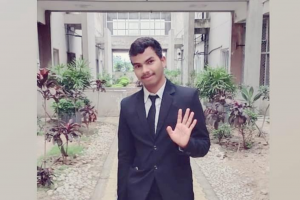 I did my schooling from Kalinga Institute of Social Sciences (KISS), which is for the tribal students. It is situated in Bhubaneswar. I got education and all other facilities free of cost there. My mother, who is herself illiterate, did my admission in KISS.
My mother is the inspiration for me to choose law as a career. I also wanted to pursue legal education, because I feel I can understand our society better through it. Legal education is necessary not only for becoming a good lawyer but also for becoming a well-aware citizen. There is no lawyer in my village or in my Gram Panchayat. Due to the absence of legal experts in our village, people from my village and from nearby villages face a lot of problems. That's the reason I decided to become the first lawyer of my village. I want to lead my community in the future.
I came to know about IDIA when members of the IDIA Odisha Chapter came to our school and introduced us to law as a career option. They conducted a test for selecting IDIA trainees. I secured the highest marks amongst all the students who sat for the exam. Subsequently, IDIA provided me with some study material and started to teach me for the Common Law Admission Test. They were very friendly to me during my training period. When my class 12 exams were over, they took me to the National Law University Odisha, where they trained me for CLAT and AILET. All IDIA volunteers were very generous and friendly. They never made me feel that I come from an underprivileged background.
After completing my training, I appeared for the CLAT and AILET, which were my first competitive exams. I was very nervous. I was wondering about many things. How will I search for my name and room at the centre? How will I sit with people from more privileged backgrounds? At the time the CLAT result was published, I was in my village where network connectivity is a big issue. I always tried to be in touch with Raju (my social mentor at IDIA) by climbing the highest point in our village area to catch the signal. I became the first law student in my village. I also became the first student of my Panchayat to pursue legal education at a National Law University!
---
Jitendra had quite a few expectations before joining NLUO and he said – "I expected to meet with people from all over India in the university. I also expected that the university will provide me opportunities that I did not get earlier in my life and to hone my talents and skills. I also expected that I will learn different languages like English, Hindi, and more, and I will also gain knowledge about different cultures and traditions. I am very happy with the university and all my expectations are actually being met here."
During his first semester vacation, he interned with the NGO Zenith Legal in Shivpuri, Madhya Pradesh where he worked on many legal aid causes such as manual scavenging and with victims of silicosis. He also made a presentation on "Tribal Rights".
---
About IDIA:
IDIA is a pan-India movement to train underprivileged students and help transform them into leading lawyers and community advocates. IDIA is premised on the notion that access to premier legal education empowers marginalized communities and helps them help themselves. IDIA selects and trains students from underprivileged backgrounds (IDIA Trainees) to crack top law entrance examinations in India. Once they are admitted to top law colleges, it provides a scholarship to these students (IDIA Scholars) that comprises financial support, training and mentorship among other things.
Read more about IDIA here: https://www.idialaw.org/
Get in touch with them here: info@idialaw.org
---
SCC Online is now on Telegram and Instagram. Join our channel @scconline on Telegram and @scconline_ on Instagram and stay updated with the latest legal news from within and outside India