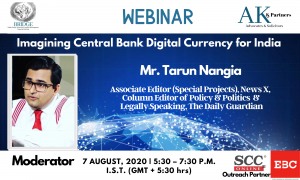 Moderator:
Mr. Tarun Nangia, Associate Editor (Special Projects), News X, Column Editor of Policy & Politics and Legally Speaking, The Guardian.
Meet the Panelists: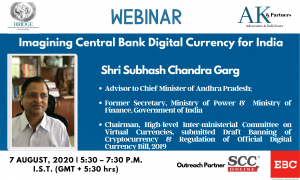 1. Shri Subhash Chandra Garg
Advisor to Chief Minister of Andhra Pradesh.
Former Secretary, Ministry of Power & Ministry of Finance, Government of India
Chairman, High Level Inter Ministerial Committee on Virtual Currencies, submitted Draft Banning of Cryptocurrency & Regulation of Official Digital Currency Bill, 2019.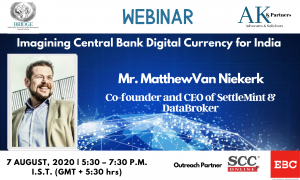 2. Mr. Mathew Van Niekerk
Co-Founder CEO of SettleMint & DataBroker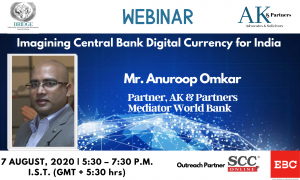 3. Mr. Anuroop Omkar
Partner, AK & Partners
Mediator World Bank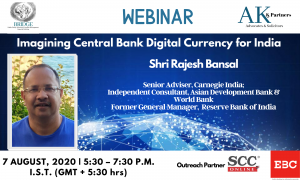 4. Shri Rajesh Bansal
Senior Adviser, Carnegie India
Independent Consultant, Asian Development Bank & World Bank
Former General Manager, Reserve Bank of India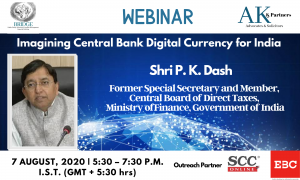 5. Shri P.K. Dash
Former Special Secretary and Member, Central Board of Direct Taxes, Ministry of Finance, Government of India
Details of Webinar — 
Date – 7 August 2020 (Friday)
Time – 5:30 – 7:30 P.M. I.S.T. (GMT + 5:30 hrs)
Click on the following link to register:
Sub-Themes of the Webinar:
Difference between Cryptocurrency and Central Bank Digital Currency (CBDC)
Central Bank Digital Currency (CBDC) and blockchain for faster transfer of funds under various government benefit schemes
Flattening the cross-border payments hegemony while flattening the curve
Imagining Central Bank Digital Currency (CBDC) for New Digital India — Key Features and Concerns
Issues of trading and taxation