Mr. Karan Gupta graduated from NALSAR University of Law, Hyderabad in 2018 with several gold medals and as the 'Best All-Round Student'. Thereafter, he was appointed as a Judicial Law Clerk to Dr. Justice Dhananjaya Y Chandrachud at the Supreme Court of India from June, 2018 to July, 2020. He was recently awarded two full scholarships – the prestigious Oxford Weidenfeld-Hoffman Scholarship and UK Chevening Scholarship to pursue the B.C.L. degree at the University of Oxford, besides numerous funding offers from top US universities. With a keen interest in constitutional law and theory, adjudication, and the interface between religious law and anti-discrimination, he has been an outstanding student through law school. Carving out time from his academic schedule, he has also volunteered extensively with Increasing Access by Increasing Diversity (IDIA) as well as the Students' Educational and Cultural Movement of Ladakh, an initiative started by Mr. Sonam Wangchuk. 
He has been interviewed by EBC/SCC Online Student Ambassador Ujjwal Jain who is currently pursuing law from TNNLU.
1.Entering the 4th Year (VII Semester) of law school, you were offered a Pre-Placement Offer (PPO) at Shardul Amarchand Bombay– a dream job for many. Instead, you preferred being appointed as a Judicial Clerk at the Supreme Court of India.In what appears to be the best of both worlds, what made you choose the latter over the former?
It is an understatement to say that I enjoyed my time at SAM, Bombay working with Ameya Gokhale, Meghna Rajadhyaksha and their litigation team. Following my time at SAM, it was an internship with advocate Jawahar Raja at the Delhi Trial Courts that sparked my interest to commence litigation at the Trial Courts. I learnt there that a working knowledge of procedure and evidence is indispensable to any successful litigation career. A phenomenal and warm litigation team at Keystone Partners, Bangalore offered me a job close to the end of law school. I kept the team in the loop about my application to the office of Justice Chandrachud and they were extremely supportive through the entire process.
I had two general reasons and one specific reason for confirming the clerkship over any other immediate alternate path:
Fit within the larger picture –During my student exchange in Israel, studying the evolution of the Israeli Constitution built a curiosity in court-driven processes of constitutional evolution. My time exploring sentencing trends in the West Bank also sparked an interest in the practical considerations of adjudication. Back home, these interests were honed during my time as a teaching assistant for constitutional law. I had developed a strong interest in constitutional adjudication and judicial discretion (not in its loosely used sense of adjudicating according to will, but in the sense best articulated by Chief Justice John Marshall when he said that "judicial discretion is the exercise in discerning the course prescribed by the law"). A clerkship would allow a head-on immersion in this area and enable me to pursue the same as a field of study for my masters;
Balance between academia and hard law–After graduation, there is a stark jump from the theoretical dimensions of the law to its practical dimensions. I have an interest in maintaining a balance between practicing the law and studying Clerkships usually involve a high degree of research – not just on domestic and international law, but also on the reasons that underlie their development (context and policy); and
The man himself!– I remember distinctly my time as a law student in 2016 watching Justice Chandrachud deliver a speech at the Bombay High Court upon his elevation to the Supreme Court. At the end of his speech, I thought to myself that if there is any judge with whom I want to clerk, he is the one. Fast-forward to 2018, I flew down to Delhi to interview with him (I had applied only to his office). A few weeks later, I woke up to a confirmation message that cemented the path to come.
2.In the terminal semester of your law school, you were selected as the Indian delegate to the Harvard Project for Asian and International Relations ("HPAIR") and were invited to Harvard University, Boston for a global dialogue. At the conference, you bagged the Global Winner in the Social Impact Challenge. Tell us more.
HPAIR offers a forum of exchange for students and young professionals to discuss and learn about the most important economic, political, and social issues facing the Asia-Pacific region. Every year, Harvard hosts one conference in an Asian country and the main conference in the University at Boston. The application procedure is fairly straightforward –fill out the application form along with the short essays and the chosen 'track' (I was selected for Humanitarian Affairs). Following the shortlist process, there is a final short 20-minute interview with a panel from the conference team.
The great thing about attending the conference was having the opportunity to interact with numerous other students from other the world who shared similar interests. One component of the conference (which principally involved panels, discussions and informal meets), was the Social Impact Challenge where teams of 2-5 were to come up with a business pitch related to their track to present to a real VC investor with about a 150 portfolios. Another delegate and I conceptualised a business platform aimed at reducing the drop-out rates of children between 11 and 14 in Indonesia. Growing up, I was a big fan of the entrepreneurial show 'Shark Tank'. Watching the show gave me the requisite experience to come up with a strong socially oriented business pitch which also accounted for a steep investor-profit model. Vicky Lay (the investor and judge) loved out pitch and awarded us the 'Global Winners'.
To be completely honest, the conference costs a significant amount of money. I think attending this conference is worth only if your trip is sponsored (as mine was) or you place an extremely high value on networking and can afford it.
3. In your fourth year, you competed at in the holy grail of moot courts – the Philip C Jessup International Moot Court Competition, where you bagged speaker citations at both the National and the World Championship level. Your team was also finished at the advanced stages and was awarded memorial awards at both levels. Could you tell us a bit more? What would you tell law students about mooting in college?
My affinity towards mooting in law school was natural given my active participation in the debating circuit in school. The Jessup is a formidable commitment. It spans 9-12 months, involves making the moot central to that year and organising all other commitments around it.Despite this, it was also one of my most fulfilling and exhilarating experiences of law school. I had a dream team of four people – all of whom learnt to practically live together for an entire year and spend countless days researching, drafting and preparing.
What made the experience truly memorable was not the awards or the outcome over three days, but the entire year long process of committing to the exhaustive research of a single set of legal issues with a group of people that truly enjoyed it and the moments in-between preparation. I even remember using an ironing board as a podium to practice oral rounds and setting timers to mark the end of breaks.
One of my greatest takeaways from the Jessup experience was learning the art of disagreement. Spending a significant amount of time brainstorming with a team inevitably leads to divergences in opinion. Apart from learning how to be a team player, I learnt that it is more effective, efficient and sensible to resolve disputes not by simple majorities, but by appeal to reason and shared consensus. It accords to every decision a shared sense of ownership and legitimacy.
One thing that I would tell present day students is that it is important to internalise the idea that mooting is not everyone's cup of tea. I have seen students face an immense amount of pressure to participate in moots. The consequence is for students who are not comfortable with public speaking to find a fault in themselves or measure their excellence with reference to an activity they do not enjoy. The law school experience offers a myriad of activities which may form the basis of an enjoyable interest and a stellar CV. Moots, like any other activity in law school, are undoubtedly great teachers. Yet, it is perfectly okay to turn away from them and invest time and energy in an activity or interest that you truly enjoy.
4. Over the last two years (and presently), you have been a judicial clerk to Justice Dhananjaya Y Chandrachud. Could you explain the process of securing a clerkship and how a current student may gear towards applying for a clerkship?
There are two important components to a clerkship application – internal and external. The former involves decision-making and the latter involves the process of applying to an office.
Internal – Every prospective applicant must navigate two decisions:
High Court or Supreme Court–There is a common misconception that only judicial clerkships at the Supreme Court are worthy. Some of the best decisions that push the boundaries of Indian jurisprudence are delivered by the High Courts. A clerkship at both levels offers significant learning. The best clerkship is not one which carries the most reputation, but one which offers a higher learning curve; and
Understanding work and institutional commitment–It is important to be aware of that clerkships involve dealing with sensitive information and working in close proximity with a judge. A prospective applicant must understand not just the high work ethic expected during the clerkship but also that one attaches to the institution during the clerkship. It is also advisable to spend time exploring one's true reason to pursue the clerkship – it is only if they are motivated will they be a contributing member of the office.
External – the application:
An applicant may choose one of two ways to apply for a clerkship:
Clerkship exam: generally held every February or March. A merit list is prepared after the final interview and clerks are assigned to judges based on seniority and available vacancies; and
Direct applications:while the requirements range in every office, it is standard for a direct application to consist of a statement of purpose, the CV and a legal writing sample.There is a degree of information asymmetry here – it is often difficult to source the email ID of the office. It is advisable for the applicant to reach out to a previous clerk (email/LinkedIn) and request them to help source the email ID.
Over the years, the upside of a direct application is that it allows a prospective applicant to narrow down the offices with which they intend to work.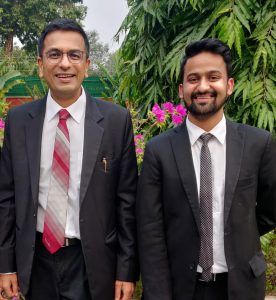 5. Could you tell us more about the nature of work and your experience as a judicial clerk to Dr. Justice Dhananjaya Y Chandrachud?
Propriety and ethic associated with a judicial clerkship require that I omit the specifics of my time working with Justice Chandrachud. It is an understatement to write that the upward learning curve was steep. That aside, I would be happy to share some key takeaways from our time working closely together for two years at the helm of the Indian Judiciary:
Trust juniors: the greatest catalyst to the creation of a strong work relationship and a steep learning curve is trusting juniors – not just with information and work, but their abilities and potential. Justice Chandrachud places an immense amount of trust on his judicial clerks, which inevitably creates a strong bond of reciprocity. His trust helped me attach myself to the institution, his office and him and internalise a strong sense of commitment to the timely completion of quality work.
Love and respect the law: Law is an empire, larger than the people who claim to know and work it. This view truly humbles every actor to be a life-long student of the law – constantly watching, learning, unlearning, discussing and most importantly, keeping an open mind to contrary views. Early in my clerkship, I was nervous the first time I decided to offer Justice Chandrachud an alternate interpretation. When I did, what ensued was not a 45 minutes conversation between a judge with 20 years of experience on the Bench and a judicial clerk (his employee), but one between two individuals who were humbled by the fact that the vastness and the numerous faces of the law had presented them with the opportunity to explore it. The view of the legal enterprise as transcending individuals, their accomplishments, titles and experiences instils an understanding that at its heart, law admits contestation. Justice Chandrachud taught me to be a sponge – absorbing viewpoints, especially those contrary to mine. I complete my tenure believing that immersion in the legal enterprise will always be larger than my accomplishments and the positions I may hold.
The human touch – A judge's office comprises of its own ecosystem. The clerkship requires extensive interaction with the judge, his staff at the office and residence (which are coextensive with each other), and also members of the Registry. Justice Chandrachud and a few of us had gone for lunch to Big Chill (a restaurant in Delhi). While we stood in the waiting line for over 15 minutes, I asked him if I could go ask the manager to find us a spot quicker. He refused and said – "This will all pass one day; we shouldn't let our position ever get to our head". My time at the office showed me that such a view trickles down quickly and creates a similar office culture – be it the office senior personal assistants, the cook, the driver, or the registry individuals who deliver the supplementary files in the evening,I was touched by the humbleness, warmth and respect with which each individual works. At the end of the day, it's the human touch and warmth that draw us to people and vice-versa. My time at the office showed me that the legal enterprise has a lot to gain from compassionate lawyers and judges. I leave believing that there is significant value in focusing inward to develop a humble, warm and compassionate personality.
My clerkship experience would be incomplete without the mentorship and constant guidance provided by Justice Chandrachud's partner – Kalpana ma'am. Her extensive experience in managing workspaces is an asset to the office. She was always there to chat on improving the work space and taught me the importance of entrenching strong communication channels.
I am not one to pen grand praises. The clerkship involved a seven-day work week from 10 am to 11 pm on days with regular work and numerous sunrises on other days. Time flew by and if given the opportunity, I would do it all over again. Some of my favourite memories include our daily conversations on the events in Court, brainstorming on an interpretation of the law, the shared meals, him pulling my leg and watching him weave law, facts, policy and a vision for the future in a single three hour sitting of dictation without looking at the typed out copy. I will miss the adrenaline of being armed on a daily basis – with completed work and a willingness to take on more. I have grown to cherish the equation DYC and I have built (including loading our Whatsapp messages with emojis and gifs!). I commenced the clerkship viewing him as my employer and a judge of the Supreme Court. I end my tenure this month viewing him also as a friend, mentor and family member for whom I care deeply.
6. Based on your experience, if you were to prescribe a Dos & Don'ts list to a Judicial Clerk and an intern to a Judge, what would it be?
A judicial clerkship is the opportunity to display your skills and sharpen them further.
Dos
Be pro-active: Develop the habit of understanding court proceedings and being aware of the latest cases listed before your judge; Volunteer to take on more work;
Develop a polished work ethic: Inculcate the habit to submit work on time and keep the judge constantly updated on your work;
Stay alive to new scholarship: Read extensively on the latest development in law in India and across national frontiers and bring it to the attention of your judge;
Treat the interns wells: In most offices, the judicial clerks shape a significant component of the internship program. Be kind, helping and humble with the interns;
Speak up: based on your equation with the judge, move beyond being a 'yes-person' and gather courage to offer alternate interpretations on the law (after thorough research); and
Make the best use of your time: Attend court regularly and follow up on matters. A judicial clerkship is unique in offering you the best seat in the house to hear top lawyers argue cases of seminal importance.
Don't
Speak about the work during the clerkship: Clerkships involve working with highly sensitive information (you are covered under the Official Secrets Act). Never speak about the judgment or work on which you, the judge or the office generally is working. It is also wise to not speak of the judge's schedule;
Publish on what you work: Propriety requires that you do not write academically on the judgments published during your tenure (principally those on which you have worked or on which you have additional information);
View the clerkship as merely a recommendation letter: I personally believe this is not adequate motivation to pursue a clerkship. The fulfilment and learning from a clerkship are far higher when it fits into a larger picture and there is a clear reason to pursue it;
Speak to the press or other lawyers; and
Use the office of the clerkship to obtain favours.
7. Scholarship-Saga
You have been awarded two prestigious scholarships – the Chevening Scholarship and the Oxford Weidenfeld-Hoffman Scholarship. The former enables you to choose any University in the United Kingdom for higher studies while the latter is specific for University of Oxford.You were also the only BCL candidate to be offered the Weidenfeld-Hoffman Scholarship (which is considered rare).
7A. Tell us more. Would you have to choose from either of the above scholarships bestowed on you?
The Chevening Scholarship is the UK's flagship scholarship that boasts a very illustrious alumni network of over 50,000 people across the world. This year saw the highest number of applicants – 66,000 from around the world of which around 1600 were awarded the scholarship. The selection process involves four shorts essays and an interview with past scholars, the Chevening India administrator and generally a member from the UK. It covers the entire tuition fees and about 1000 pounds stipend per month.
The Oxford Weidenfeld-Hoffman Scholarship is a comparatively young scholarship and is a collaboration between Oxford and the Weidenfeld-Hoffman trust (40%-60%). The selection process involves an essay component and an interview with a panel of professors from Oxford. The scholarship is awarded to 33 students from the 9000 that study at Oxford in a given year (0.3% acceptance rate). It covers the entire tuition and a total of 15,000 pounds as a stipend.
I have opted to accept the Oxford-Weidenfeld Hoffman Scholarship for five reasons: (i) It offers a dedicated tailored and intensive leadership program through the course of the academic term – a moral philosophy seminar, an entrepreneurship summit, practical skills seminar, field trips, an Oxford Union debate and numerous scholar-led events; (ii) It consists of a small cohort of 33 people from Oxford who will become family; (iii) There are significant additional opportunities during my time at Oxford (including a foreign internship) and after I complete the degree; (iv) They have a partnership with colleges within Oxford that guarantee accommodation and other benefits; and (v) It is the most generous UK scholarship – offering nearly 5 Lakh INR more in stipend than even the Chevening Scholarship.
7B. For a student still in his/her Undergraduate years, what would be your advice on structuring CVs, especially from the perspective of clinching scholarships? Could you also comment on maintaining a good Cumulative Grade Point Average (CGPA).
The approach to securing admissions at a reputed university and securing scholarships are slightly distinct, though the principle components overlap. The primary question for scholarship applicants is what sets the candidate apart from the others? There are two things that aid in achieving this distinction:
Go beyond academics: When an offer-holder is considered for a scholarship, it is safe to assume that every applicant has a good and consistent academic record. It is a good idea to develop a wholistic CV – one that is not just about academics and publications. For example, the Rhodes scholarship factors in extra-curricular like sports and theatre and the Chevening scholarship has two dedicated questions on leadership and networking. My approach was to pick what I love doing (theatre) and actively pursue it through law school.
Create a narrative: Being awarded a scholarship is not about having the best academics, but about being able to demonstrate a coherent narrative to justify the decisions through law school and tie them neatly into the proposed field of study. Committees are examining whether they can mark you as a thinking individual with a clear vision and goal.
I have interacted with numerous students who are disheartened because of the college from which they graduated or because they have not secured any gold medals. My advice has been to focus on the things that they can determine and control and not be disheartened by the things they cannot. A masters application round is a year-long commitment that requires a degree of clarity and mental commitment. Not having a gold medal or being in the top 5 of the batch does not mean that the application round will not go well.
Focus on the Statement of Purpose and remember that good applications are not about how much one puts into their CV, but whether it all ties into a larger picture. It is important to remember that the CV is scrutinized by a panel that is most likely comprised of foreigners. This means that entries in your CV must be explained properly. For example, it is not adequate to mention that one was class representative. It is important to also describe the nature of the work and the specific contributions made.
7C. What are your plans post-BCL '21 from the University of Oxford?
I hope to return to India and commence litigation. I am keen on maintaining contact with the academia world and would also like to explore teaching either on the weekend or visiting courses.
8. Law students usually plan their internships in terms of the squarely fitted points circling around the corporate life. Your choice of internships had certainly been out-of-the box. In 2014, you interned with the SAARC secretariat in Nepal. In Sept. 2015, you decided to teach Xth grade students at the Students' Educational and Cultural Movement of Ladakh. How did you choose your internships? What would be your advice to law students?
I admit that not every student has this level of discretion given how the academic year is structured. NALSAR is unique in allowing its students to intern for nearly four months in every academic year. My decisions were guided by the notion that the first two to three years in law school must be used to explore every possible option widely. I did not confine myself either to litigation or corporate internships, and decided instead to have a wide range of experiences. This allowed me to assess diverse avenues before deciding which path was best suited for me.
I do not view volunteering at places like SECMOL and with organisations like IDIA as internships. I think it is important for law students and lawyers both to take out time for one social cause to which they are dedicated.
It is equally important to mention here that I was able to do undertake a diverse range of internships because my kind parents agreed to pay for my stay and food in another city. I know of law students that are financially constrained. Over the last two years, I have heard growing voices to ensure that internships are paid and offer, at the least, a modest stipend. I really hope we see a transforming system where it is understood that a stipend is more than money and includes questions of equitable access to opportunities and experiences.
8A. On a lighter note, many institutions have strict attendance requirements – students do not risk skipping classes for a month. Is this aspect, what sets NALSAR apart from the other varsities?
As I have stated in my previous answer, NALSAR is unique in offering four months to intern in every academic year.I have witnessed many other universities expanding the period allotted for internships and this is undoubtedly a move in the right direction. It was Oliver Wendell Holmes Jr. who said – "The life of the law has not been logic: it has been experience." It is very important to gain practical experience beyond classrooms and actively utilize time outside the class working the law and observing it.
The NALSAR system would be impossible without the oversight by VC Faizan Mustafa, Professor Dhandaand Professor Neha Pathak. It is my hope that the system continues and is a model for other universities to follow.
9. You're an inspiration for many students and to law students in particular. What message would you like to give them?
I would say two things:
The first is a story from over 15 years ago. The balcony at my home overlooks the Utility building in Bangalore (back then one of the tallest in the city). My parents pointed to it and asked me when I would be able to stand atop the building and scream out that I have achieved success. A young me remained silent. They told me that I should aim at doing this when I find joy in the things I do, irrespective of how big or small they are. I guess at the end of the day, law school (or any endeavour for that matter) is not about the medals, accomplishments, praises or doors they open – it's about carving a path most suited to you and one which gives you the most joy. That memory defined success for me. It's okay to not know your path with absolute clarity or even be confused about whether law is the right avocation. As long as it gives you joy, you are doing great. We should aim at not steering our path towards what the industry values, but maybe redefining what it does through our work.
The second is about human connections. Spend time building warm connections to which you contribute and which uplift you. My very limited experience with the legal world has shown me that it can sometimes develop into a very inward-looking enterprise. It is of significant value to find compassion within and spread it around. It is equally important to reach out and help others find their own path and actively give back to the legal community. This is but a small step in developing a warm personality and infusing the legal profession with warmth, compassion and care.
*Karan Gupta can be reached at karan.gupta@nalsar.ac.in and tweets @Karanngupta. He conducts regular informal discussion sessions on structuring CVs, planning a masters in Law and other law school related endeavours, details of which can be accessed on his LinkedIn page.
**Due credits to Mansi Meena (NALSAR University of Law, Hyderabad) for her help in this interview.