It was an awareness program for the 1st year law students to make them aware about the legal aid clinic and its working. The program was organized on 25th of July 2019.
Under the guidance of Anurag Shrivastav (Chairman,Legal Aid Center).The event was organized on 25th July 2019. Mr. Bhagirat Verma (OSD, State Legal Service Authority) and Mr. Rajnish Verma(Secretary, District Legal Service Authority ,were the guest speakers.
The event started with the lightening of the lamp by the guests, followed by welcoming speech of the chief proctor.
The guest told the children about the importance of legal aid and why is it necessary as a law student to provide free legal aid to the society.
Mr. Bhagirat Verma told them that they should educate people not only about their rights but also about their duties towards the society as a citizen. Whereas Mr. Rajnish Mishra told them about the importance of providing free legal aid to those who are in need.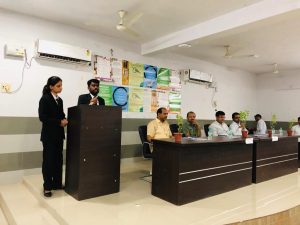 Mr. Gandhrv Patel alumni, faculty of law; Lucknow University was also invited for an interactive session with the students. He secured AIR rank five in UP PCS(J) 2018.He shared the experiences he had while preparing for the exam.