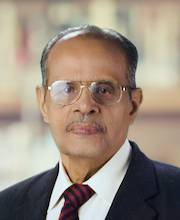 Obituary
Aparna Rajagopal
Dr N.R Madhava Menon, the founder director of the National Law Schools across the country and the father of modern legal education in India passed away on May 8, 2019. What stood out in his passing was not his achievements as an academician and the laurels he collected in his career alone. They seemed mere statistics in the face of the deep respect and affection his students across the world have for him. Eulogies have poured in from everywhere on Facebook groups and Whatsapp groups. So many genuine messages filled with the warmth of many memories about him have been shared. Groups of his students even made the final pilgrimage from all over to see him physically on his birthday in Trivandrum just days before his demise.
In an era that is filled with a general cynicism and irreverence to older orders and institutions and a disdain for tradition; when kindness has come to mean weakness and integrity foolishness, the reaction to his demise stood out like a beacon and an affirmation.
A great part of my memories of my school and college life are filled with my relationship with my teachers. Of teachers who left a multitude of impressions on me. Some I remember with humour and others with absolute reverence. Whatever the memories may be, these experiences shaped me. In some years I had some amazing teachers teaching me and I grew as a person exponentially. In others when I just could not find the vibe with some teacher in a particular subject, I struggled and floundered until the year ended and the teacher changed. Whatever the case may be, the encounter never left me untouched. I always still learned.
When I see my children in school today, I see the same pattern. It has taught them to deal with multiple kinds of personalities each year; just as they would encounter all around them when they are in the adult world.
Yet, through the multitude of the teachers who are mundane and even those who are good, there are those few and far between who shine very bright in all the years one spends in learning. These people are born to teach and guide and mentor. They remember the names and faces of the awkward youngsters sitting before them; especially those who are dull and disinterested; ill behaved and arrogant or lost without a rudder. They can see them as clearly as they can see those bright young minds in the first three rows of every class. The best teachers know that children can and do lose direction often and yet every child has a potential and may find his place under the sun anytime anywhere. That children have to be taught where to look more than what to learn. Children need to be steered to do what they will do best and where they will be happy. Children need kindness and compassion. Children learn more by observation than through lectures. Teachers have to themselves be of such moral stature that students emulate unconsciously. Teachers must be approachable and without judgement so that a child never feels intimidated by the teacher who is always in a position of authority and power.
Some of us who are writing these eulogies and feel the death of Dr Menon today as a personal loss are not even doing law anymore and may not have been in those front three rows in class, for sure. I run a farm today not a firm. I am a farmer not a lawyer. It is a reflection of the greatness of his stature as a teacher that I feel this deep need to write his eulogy. The lessons I learnt from him had nothing to do with law. He taught me passion and hard work. His commitment to setting up centres of legal excellence from scratch and his loyalty to them was legendary. As many eulogies have already mentioned, he treasured "every brick" of the institutions he created. Years and years were spent in the planning and execution of creating each of these universities. yet his moral stature and integrity were exemplary and untarnished. Especially when law school was in its early days and starved of funds we were very vulnerable to pressures requesting admissions and other favours. Dr Menon stood his ground and refused each one of those requests all because the moral stature of the institution mattered to him the most. To 350 impressionable youngsters this was a huge unforgettable lesson. In his busy schedule as the Director, he always stopped in the corridor to have a personal word with a random student making him or her feel special for the rest of the day. The conversations were always formal and to the point. Yet, the questions were knowing and in particular relevance to the student. There was a certain equanimity in his behaviour. His tone whether happy angry or sad, rarely wavered. He maintained the same intonation and calm while conveying different things. That was comforting and also disarming especially when agitated youngsters armed with the sudden knowledge of constitutional rights argued with him about the right to have an extended curfew time or the fee structure. All his responses to such agitations were noteworthy and memorable. Everyone could argue but no one usually won unless they really had something to say. His love for culture and the arts matched his love for law. Even though we had set out to learn law we were encouraged to explore all cultural activities. We were also encouraged to set up various rights societies which suddenly gave us a voice; so important when you are 18.
He was mostly like any other dad. He didn't like grunge dressing, long unkempt hair, leaning with your leg against the wall and of course on-campus romance. He did everything possible to scuttle romantic liaisons. There were lovely little alcoves in the NLS building in the windows outside. Perfect for a couple to vanish into. Realising the design flaw in the building architecture, he decided to play with landscaping instead and placed large heavy flower pots into those cavities leaving couples stranded. Undeterred, they started to remove the flower pots for the duration of their dalliance. The next move was to appoint two guards to patrol the area. He put spikes on the gates so we couldn't jump across, personally supervising the welding, standing on site with his characteristic black umbrella. In his tenure, there was not one instance of sexual harassment, major ragging or bullying to my knowledge. Such was the supervision. What many saw as control was just an intense need in him to keep the sanctity of the Institution intact. So we often joked that it is not called The National Law SCHOOL for nothing.
He had a sense of humour too. He was amused at the pranks we played on teachers especially if the teachers fell into the trap laid by us. On more than one occasion he would take the side of the students and would chide the teacher for being easy prey, his eyes twinkling.
Rest in Peace, dear Sir and thank you for the many memories you have left behind, the wonderful institutions you have created (that has made law the most sought after career today) and most of all the way you raised the Bar in all that you did. We have a lot to live up to.