On the auspicious occasion of the University completing the last year of its First Decade, National University of Study and Research in Law organised its Foundation Day Celebrations from 26th-28th of April 2019. The program titled "Nine to teN", included the following events: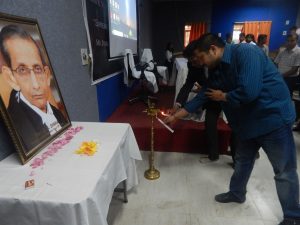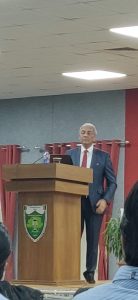 MYLESTONE
The Foundation Day Lecture on Rule of Law by Hon'ble Mr. Justice Mohan Pieris Former Chief Justice Supreme Court of Sri Lanka.
UDBHAAVNA
National Seminar on Sports and Intellectual Property Rights
Organised by Center for Study and Research in Intellectual Property Rights [CSRIPR].
TABLEAU
Human Tableau Making by Students on Child Rights' Issues
Judged by Mrs. V. Vijay Laxmi Senior Advocate, Supreme Court of  India
Organised by Center for Child Rights [CCR].
TÊTE-À-TÊTE
Visual Display on LGBTQ Rights in Indian Universities
Along with Launch of WORDS OF WORLD (First Edition)
Organised  by The Society of International Law [SIL].
CHRONICLE
Keynote Address by Shri R. Venkatramani Senior Advocate, Supreme Court of India on "Supreme Court as a Social Workshop & Appellate Advocacy"
Alongwith Contributions of Late Hon'ble Justice Satyabrata Sinha Judge, Supreme Court of India (Retd.) with his son, Shri Indrajeet Sinha, Advocate Jharkhand High Court, as the Chief Guest.
Organised by Center for Constitutional Governance.
CHITRAHAR
Poster Making on Rights of Indigenous People
Organised by Center for Tribal Rights [CTR].
TOLEE 2k19
Legal Awareness Camp on 'Witchcraft'
Organised by Center for Legal Aid Programme [CLAP].
INCOGNITO
Short Movie Making Competition titled Forensics of Crime 
Organised by Center for Criminal Law.
RITURANGA
Cultural Extravaganza titled UNLEASHING TALENT
Organised by Cultural Committee.
The 9 events were aimed at commemorating the University's completion of Nine years and observing its venture of its 10th year of being.