The Literary and Debating Committee of NLUO hosted IV British Parliamentary Debate 2019.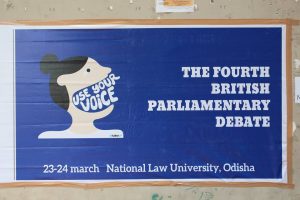 The 4th NLUO British Parliamentary Debate was conducted on 23rd and 24th March, 2019. The event witnessed participation of 32 teams from across the Country.
The list of winners are as follows:
The winners of the 4th edition of the NLUO British Parliamentary Debate were IIT KGP – NUJS (cross).
Best Speaker was bagged by Jalaj Panday from NUJS Kolkata.
2nd Best Speaker was awarded to Maitreyi Ghorpade from HNLU.
Best Adjudicator was awarded to Priyansh Khandelwal from Hansraj DU.
2nd Best Adjudicator was awarded to Partha Kadambi from IIT KGP
Best Novice team was awarded to NITR 2.