We warmly welcome you to the Live Blog of the 1st CNLU National Moot Court Competition on Cyber Law, 2019 being hosted by Chanakya National Law University, Patna. In the ancient city of civilization and legal ethics.
We are witnessed the enthusiastic participation from 24 esteemed law universities across the nation. These teams would be competing in the 3-day long event, starting from the 29th of March till the 31st of March, which looks to be extremely promising and competitive from the enthusiasm displayed by all the participants and organizers at the inaugural ceremony. This inaugural ceremony was attended by all the students, teaching and non-teaching staff of CNLU, and the participating teams. The draw of lots, determining which team would go up against which teams in the rounds of oral arguments from 10 a.m. on 30th of March, 2019, followed the inaugural ceremony.
The inaugural ceremony was graced by the august presence of Hon'ble Mr. Justice A.P. Sahi, Chief Justice High Court of Judicature of Patna and Shri Rakesh Prasad, regional head of HR cum General Manager of NTPC, Eastern Region HQs, Patna. The ceremony started with the floral welcome to the guests by Dr.Vijay Kumar Vimal, Convener of MCC of CNLU, Hon'ble Justice (Retd.) Smt. Mridula Mishra, Hon'ble V.C. of CNLU, delivered the welcome address, which was filled with much encouragement for participants and organizers alike. He highlighted the importance of mooting in the path of excelling in the profession of law. Vibhuti and Apoorva, excelled in their task of being the anchors of the ceremony with the much required grace and poise. Ms Nandita S.Jha, the Member of the MCC (Faculty) welcomed the Teams to the Competition which was declared open The Hon'ble Justice A.P. Sahi Chancellor Chankya National Law University, Patna.
And with this we are proud to host the following Teams-
National Law Institute University, Bhopal
Symbiosis Law School Noida
School of Law Christ, Banglore
Symbiosis Law School, Hydrabad
Amity Law School Delhi
University of Petroleum and Energy Studies, School of Law, Dehradun
Fairfield Institute of Management and Technology, New Delhi
Army Institute of Law Mohali
Patna Law College
Rajiv Gandhi School of Intellectual Property Law IITKGP
NMIMS Kirit P Mehta School of Law
Maharashtra National Law University Nagpur
Amity Law School, Amity University, Kolkata
Campus Law Center, Faculty of Law, University of Delhi
Gujarat National Law University
Maharashtra National Law University, Mumbai
Symbiosis Law School, Pune
Ram Manohar Lohia National Law University, Lucknow
School of Excellence in Law, The Tamil Nadu Dr. Ambedkar Law University
National Academy of Legal Studies and Research University of Law, Hyderabad
REVA University
Maharashtra National Law University, Aurangabad
The National University of Advanced Legal Studies, Kochi
Chandigarh University
We are back live with the information regarding the Moot and every associated details.
After the researcher test and the memorial exchange for the prelims 1 today the rounds started 11.15 A.M.
Currently the teams are battling it out in the Preliminary rounds.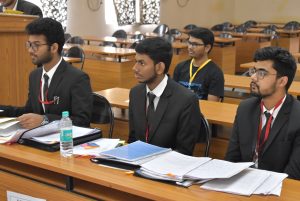 In Court room No. 6, the prosecution side started to establish their case by dealing with the criminal conspiracy and mens rea of the respondent, nervous and anxious trying to cope with the questions of the judges. Now, here comes the 2nd speaker, too shy to make an eye contact with the judges. The judge is grilling the speaker, he is trying his best but the questions are being fired one after another, now asking help from researcher but Alas!. Judge is asking to cite an authority which led down the exception for Article 20(2) and here it is the researcher's phone rings.
In Court room No. 4, the counsel is pleading to be intermediary company but according to judge para 14 is against it and asking what's the problem in giving data when you are pleading yourself to be innocent and issue of national security in question. Speaker 2 replied that data is encrypted and if given to government it is open to attack and will led to breach of privacy. The judge took a jibe on the counsel that they do not trust the government.
Now, we will be posting minute to minute updates.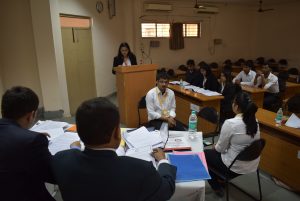 3.00 PM- In the most latest update of prelim 2, a team was so out of time that they decided not to add any footnote or references to the moot memorial.
3.16 PM-  In Court room no. 1, Speaker 2 fails to answer the definition of Forgery on which the whole case rest, no answer except 'indeed your lordship' and remained dumbfounded. Finally, after amazing grilling, counsel resorted to "the counsel pleads ignorance…!"
3. 20 PM- A lady judge asks about the steps to be taken, in case a company denies to share their data. Speaker 2 attempts to divert the judges but ended up getting diverted and the case moves to natural justice violation. Lady judge smirks.
3:23 PM- Of all the court room in all the world you come to my court room with no case cited to back arguments on judicial review.
3.26 PM- In Court room no. 1, Speaker 2 trying hard to get out of situation but grossly failed to do so. It seems as if judges are all set to play their cards on basic laws, info and facts.
3.28 PM- In Court room no. 8, Oh..! The defence pleads that national security is not affected and the lady judge counters immediately that it has. Respondent stuck on the question of presumption of govt. to breach the privacy of all the customers, somehow Respondent manages.
3.29 PM- Here in Room no. 5, Respondent Don't have a basic knowledge about whether right to privacy is an absolute right or not. Now, being grilled badly here related to RTP.
3:32 PM- A speaker is using his phone to administer how Inscription works and how evidence can be tempered.
3.33 PM- In Court room no. 12, Judges told them stop reading from memorial directly for judges know how read.
3.34 PM- Court room 1, Defense has ran out of arguments. So, great work by judges.
3.35 PM- Now in court room 5, Respondent is unable to answer whether Fundamental rights is absolute in its own or not and he also don't know for whom it is made whether it is only applicable for Indians or also it is for foreigners.
3.36 PM- Court room No. 2, totally frozen, reading bare act and frankly my dear the judge don't give a damn!. On being asked about use of term cyber terrorism and it's use in fact sheet counsel is frantically flipping pages of fact sheet.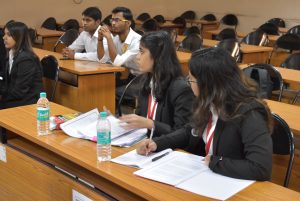 3.37 PM- Court room No. 10, Judges: how do u say there is no intention when there exists circumstantial evidence. Speaker replied, there is no forgery as no smart criminal will use his own IP address and explains demand-supply chain to judges.
3.39 PM- Court room 1,"Doctrine of forgone conclusion" came into play. Some great come back from defense. They are on driving seat now and riding high on confidence.
3.41 PM- Court room No. 8, judge said you can't argue on Article 23, if you call yourself innocent. Smartly dodged by stating even if there is a remote possibility of being accused the company can't be compelled to provide the data.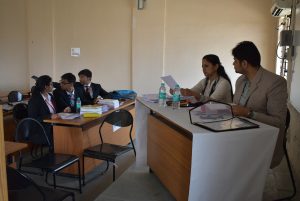 3.52 PM- Court room no. 8, counsel being grilled on the supremacy of judicial review over legislature
3.55 PM- Court room no. 9, Counsel tried arguing the unconstitutionality of law on policy grounds rather than legal issues, gets slightly reprimanded. How can u take defence of self incrimination at a pre-trial stage, counsel says will revert to it and ends her submission.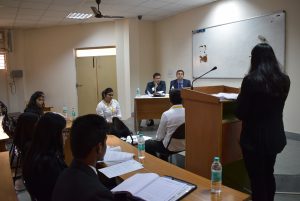 With this we come to the end of prelims and soon enough we will be posting the results so see you in a while.
6.00 PM– and we have the results of the teams qualifying into the Quarter finals
School of law Christ, Bangalore
Symbiosis Law School, Hyderabad
Amity Law School Delhi
University of Petroleum and Energy Studies, School of Law Dehradun
Maharashtra National Law University, Nagpur
Campus Law Centre, Faculty of Law, University of Delhi
Maharashtra National Law University, Mumbai
Symbiosis Law School, Pune
The Quarters rounds are about to start.
6.34 PM- In Court room no. 5, Prosecution misquotes a section and frantically searching pages when asked about facts of case. Judge asked, does the company have the right to privacy but according to the petitioner indeed, no your lordship.
6.38 PM- In Court room No.1, Proceeding start with a major setback for the team by issues being interchanged of both the counsel from the prosecution.
6.41 PM- In Court room No.1, Unless 65 B is complied there is no evidence. There is no admissible evidence. Counsel bombarded with questions on admissibility of evidence.
6.42 PM- In Court room no. 5, on being asked about facts of case, counsel read the analogy of the case and excerpt and reprimanded for not knowing facts of case
6.44 PM- In Court room No.1, Lack of coordination. Counsel mentioned a reference from compendium but had no idea of flag no. Judges look at researcher who is turning pages. While counsel was Establishing the mens rea Judge points out on use of knowingly, voluntarily in the submission but nowhere intentionally. Does it reduces the burden or increases it?
6.49 PM- In Court room no. 6, Judge asks sarcastically whether in the interest of the justice, the prayer is to be granted?
6.51 PM- In Court room no. 5, Second Counsel from the Prosecution, took his time from recitation of the Memorial to answer the judges snap. Counsel alleges legality of law cannot be challenged gets reprimanded about the concept of judicial review learner counsel.
6.57 PM- In Court room no. 1, The questions on the violation of natural justice regarding the notice being put up. Counsel asks for time and then for some documents from her researcher but the judge replies indifferently you are wasting your time.
So, after a long scintillating grilling rounds the names of the four ready to eat grilled cheese smoked sandwiches are below
HERE ARE THE  TEAMS  QUALIFIED FOR THE SEMIFINALS:
Amity Law School, Delhi.
Maharashtra National Law University, Mumbai.
School of Law Christ, Bangalore.
Symbiosis Law School, Pune.
GOOD MORNING EVERYONE!
We are back! With all the preparations for the semis and final rounds going on, with all the anticipation on the faces of the participants, this day surely is going to be the most competitive one!
We would begin with the live updates as soon as the rounds begin! Stay tuned in to support your teams!
So the proceedings have begun!
11.01 AM- In Court room no. 6, Question on intermediary status of company. Counsel refers the case of Shreya singhal. Judge questions the difference in case facts and it's relevance.
11.10 AM- Gaurav Upadhyaye: "Who's in Court room no. 5?, Please note questions of Rajnish sir. They r pretty interesting." Oh..! such Distrust!
11.14 AM- In court room no. 5, Judge asked as a prosecutor therefore u have to prove it beyond reasonable doubt. Counsel diverts to unconstitutionality of law but judge is adamant on his question and asks other counsel to come and answer.
11.14 AM- In Court room no. 6, Counsel points out the norm that "in case of breach, there is an automated notification that system sends notification to all its party." The judge asks the counsel to relate the norm with fact sheet. The counsel at loss of words and admits assumption.
11.21 AM- In court room no. 5, Judge first asks the counsel to deal with validity of law. The counsel gets slightly reprimanded for not following the order of issues.
11.27 AM- In Court room no. 6, The judges continuously bombard questions regarding constitutionality and remedy. Counsel attempts to answer but doesn't gets a chance to answer. Further, Judge ask is it possible to define terms like national security. Counsel answers that at least we can set some standard and gives an example. Judge gives approving look.
11.35 AM- In court room no. 5, Judges divert to Aadhar card case and say it is more recent than Justice K.S. Puttasawami case counsel smartly moves to defects of anti encryption law
11.41 AM- Judge grills defence on the issue that since u r only an intermediary and not end user data does not belong to u…so your privacy does not get hurt.
11.46 AM- Court 6 Judges grills on point of 'dealing with electric record' of sec 2w. He points out your University is also having electric records but is in the business of education. He further elaborates that Facebook deals with electric records. The counsel tries to prove her point but fails.
11.48 AM- Judges bombards the defense counsel with questions on Ingredients of the offences…the counsel is searching pages of bare act… awkward silence
11.50 AM- On being asked whether sec 43 defines offence or civil wrong. Counsel is blank. Judge smirks, we are holding a criminal proceeding it's an offence
11.53 AM- Judge asks if the IP Address was hacked. Counsel says i will deal with it later. "Well no one likes a tease" Counsel says we didn't do it.
11.54 AM- Court 6 The counsel stuck with the electronic record of intermediary record. Judge describes his version but counsel fails to give satisfactory response.
12.00 PM- It's not grill anymore its roast in court room 5
12.00 PM- Court 6 The judges ask counsel to take reference of IT act and points out the wrong. The counsel apologize.
12.07 PM- Court 6 The judge question fundamental of rights of company or the two accused? Can company have fundamental rights?  Which fundamental rights?  The counsel taken aback and confused, nervous.
12.10 PM-Court 6 Counsel as baffled as they have been throughout the competition, the judges share a look and ask her to move to prayer.
12.11 PM- Court room 5 Judges completely shattering the defense "That's what you do when you are battering Ram of highest caliber"
12.17 PM- Court 6 Rebuttal The prosecution rebuts the example of Google being an intermediary. The judges points out it was never mentioned in oral not in written memorial.
And now with the Finals-
The teams fighting it out for the honor of the 1st CNLU National Moot Court competition on Cyber Law are-
Amity Law School, Delhi
School Of  Law Christ, Bangalore
We will be back with the Finals As soon as it starts.
In about 5 more minutes Finals would be starting and the team are already all set to meet the challenge which they are about to face we wish them both  all the best…
2.40 PM- In the final rounds Amity Law School, Delhi would be competing as the Defense and School of law Christ, Bangalore would be the prosecution.
3.00 PM- The judges for the final rounds have entered the moot court hall. The bench comprises of Hon'ble Mr. Justice (Retd.) Shiva Kirti Singh, Supreme Court of India & Chairman, TDSAT; Dr. Pawan Duggal, Adv. Supreme Court & Chairman International Commission on Cyber Security Law; Hon'ble Dr. Justice Anil Kumar Upadhay, Judge Patna High Court; Hon'ble Mr. Justice Ashutosh Kumar, Judge Patna High Court; Hon'ble Mr. Justice Chakradhari Sharan Singh, Judge Patna High Court.
3.02 PM- The Counsel from the side prosecution has taken the podium to establish their case with initial good start.
3.15 PM- Judges being waiting for the right time asked when did they became accused and how Article 20 (3) comes into play. With lot of Efforts the Counsel was able to satisfy the judge as they were accused only after the technical assistant report was not complied with.
3.20 PM- Counsel arguing the accused is not an intermediary. Judge misunderstood the counsel as respondent. Other Judge correct him. A light moment shared in the proceeding.
3.30 PM- Judge asked can Darkhill allege that their identity is forged. The counsel cited the technical assistant report. There is an unauthorized access to the electricity grid of computer system. In this case, prosecution is trying to prove this point only.
3.38 PM- Judge asked about the failure of the security agency of the state. Under GDPR rule, replied by the counsel, adequate amount of data protection is enough, fullproof protection is not needed mandatorily as the IP address of Darkhill is indeed tracked by the govt.
4.05 PM- Defence claimed that Secondary Evidence inadmissible in this case the record of ISP without certificate.
4.13 PM- Asked the judge if the provision is not unified under a single legislation, is there any changes in your submission. Counsel claims that a person must be charged as against one law only and charging under different legislation would lead to violation of principle of Double Jeopardy.
4.21 PM- Defence Counsel cites the case of AK Gopalan v. State of India. The Judge points out that the judgement is overruled in Maneka Gandhi case. Counsel apologize.
4.27 PM- Counsel stating Article 19 part 2 – Article 19 part 6 is the part of fundamental rights. The judge inquired, is the counsel is sure of what he is submitting. The counsel apologize.
With this the moot in itself comes to an end and soon we will be announcing the Winners for the Awards:
Winning Team Award: Cash prize of Rs. 24,000.
Runner up team: Cash prize of Rs. 18,000.
Best Memorial Award: Cash Prize of Rs. 9,000.
Best Speaker Award: Cash Prize of Rs. 7,500.
Best researcher Award: Cash Prize of Rs. 7,500.
Now, on with winners:
Top 3 researcher:
Shannu Charak, Chandigarh University.
Garima Mittal, NLIU Bhopal.
Anuja, MNLU Nagpur.
Top 3 Speakers:
Aman Shankar, SLS Noida
Ashabari Basu Thakur, SLS Noida.
Nipun Jain, NMIMS Krirti P Mehta School of Law.
Top 3 Memorial:
SLS Hyderabad.
MNLU Mumbai.
CLC Faculty of Law, University of Law.
Runners Up:
Amity Law School, Delhi Comprising of
Khyati Chhabra
Aayush Aryan
Bhavna Hemrajani
Winner:
School of Law Christ, Bangalore Comprising of
Chhaya K.
Nishantani R
Merryl Biju
Like all good things this must end
.
.
.
We have more we'll be back with video for the finals though not very good as u know photography in court rooms not allowed so its a sneak peek.
Just for the record it is not a issue that this fun is over new friends you made will be gone because
ONLY TIME GOODBYE IS PAINFUL WHEN YOU KNOW HELLO IS NEVER COMING AGAIN
NOT A CASE WE TELL YOU LOT TO IT IS YET TO COME
WILL SEE YOU AGAIN
AS FOR OUR VERY OWN Kritika Singh, Prasasti Priya and Venkatesh Kirti GOOD BYE AND MAY YOU HAVE A EXCELLENT LIFE AHEAD.
WITH THIS THE BLOGGING TEAM SIGNS OFF
(Ana Upadhyay
Vaibhav Shukla
Diksha Singh
Prasanjeet Tripathy
Tanay Choudhary
Shivani Sharma
Shristy
Aditya Mishra
Anand
and how can we forget Pratyush Kaushik sir)