ILS hosted the second edition of INTERCESSIONIS-ILSCA PACT Community Mediation Competition on 6th and 7th January 2019. It is the only Community Mediation competition in the country providing the participants with an opportunity to test their core mediation skills and experience model community mediation sessions through rounds of competitive simulations.
Mediator:
Winner: Aachman Shekhar, NALSAR, Hyderabad
Runner Up: Rahul Naresh, SLS Hyderabad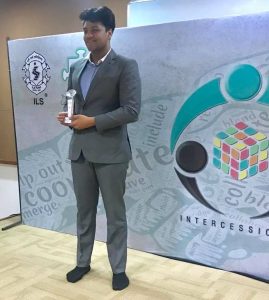 Negotiators:
Winner: Anushka Paliwal and Taneesha Paranjape, SLS Pune
Runner Up: Akshita Totla and Supriya Julka, Nirma University.