Event Details: The Advocates Association High Court Allahabad unveiled an E-Library on Thursday, 22-11-2018, in the presence of eminent Judge of Supreme Court of India, Justice Vineet Saran, (Chief Guest) along with Justice Govind Mathur Chief Justice Allahabad High Court to pay tribute to late Shri P.P. Srivastava, Senior Advocate. Distinguished members of the Bar, fellow colleagues attended the event to honour his legacy.
The Library shall be open for paralegals, members of the Bar, law clerks, and lawyers. It exists to meet the research needs of the lawyers and is well equipped with all-in-one LCD computers/desktops powered by the latest processors and loaded with the SCC OnLine Premium Editions which covers all case laws, law journals etc.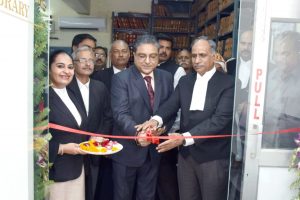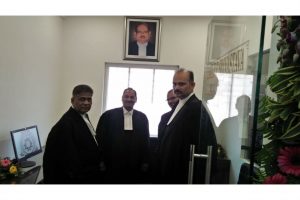 Background:
Senior Advocate Late Shri P.P. Srivastava, son of Chandra Prakash Srivastava, Advocate was an outstanding lawyer, having attained a high-degree of peer recognition and professional achievements. He was a highly accomplished personality, well known in the legal fraternity, not only in the State of U.P. but nationally as well.
He started his practice as an Advocate at the District and Sessions Court, Gorakhpur in Civil and Criminal side. In 1976, he shifted his base to High Court of Judicature at Allahabad. Gradually, he widened his area of practice to Civil, Criminal Writ and Constitutional matters. In the year 1995, Shri P.P. Srivastava assumed the office of Additional Advocate General for the State of U.P. He served between 1995-1998 during the President rule of the then Excellency Shri Motilal Vora, Governor, Uttar Pradesh. In 1996, P.P. Srivastava was designated as a Senior Advocate by the Allahabad High Court. Later in the year 2007, he was unanimously elected as the President of the Advocates Association of the Allahabad High Court. He was also the founder member of the Advocates Association, Allahabad. It was his sheer hard-work and absolute commitment to his work and clients that earned him the recognition of the Bar.
Shri P.P. Srivastava's stature, sterling leadership qualities, remarkable foresight, uncompromising pursuit of excellence and humility continue to guide and inspire the present and future generations of lawyers.