Today was a historic day at HNLU Raipur. The students have been protesting against the discriminatory and arbitrary rules of the institution for the past three days.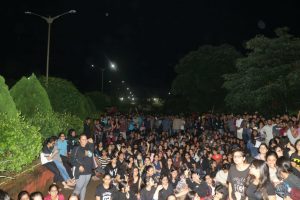 Today on the 3rd day of the protest, in order to look into the demands made by the students, the Chancellor of the University appointed Mr. Ravi Shankar Sharma the Principal Secretary, Government of Chhattisgarh, via notification as the Vice-Chancellor of the University. Mr Sharma would be discharging his duties as the Vice-Chancellor of the University, in addition to his present responsibilities as the Principal Secretary, Law and Legislative Affairs Department, Government of Chhattisgarh. After the appointment of the new VC took place, he came to the auditorium and accepted most of the demands orally and asked for 3 days' time to make a decision on a few demands. He assured that all the demands will be taken care of.
The students have decided to continue the protest as long as all the demands are not accepted. The students have decided to attend the lectures and continue with the protest after the class hours. The appointment of new VC has come as a relief as we have an authority who is ready for a discussion and has already accepted most of our demands. We thank the students of NLSIU, NALSAR, NUJS, NLIU, NLU-J, and NLU-D for supporting us by releasing a solidarity statement.
Background: HNLU Raipur students had assembled overnight since 27th of August outside the college,  following the Chhattisgarh High Court's ruling on 27-8-2018 in Dr Avinash Samal v. State of Chhattisgarh, that the 2014 extension of the Vice-Chancellor's tenure had been made illegally as the recommendation for his extension was granted based on a statute that had not come into effect.
The students, employing the hashtag #HNLUkiAzaadi on social media, were calling for  the administration to "respect" the judgment of the Chhattisgarh High Court and "not allow Dr. Sukh Pal Singh to continue as the VC of the University, as his appointment has been found to be illegal". The students of HNLU were also informed that the VC was contending appealing against the order. The Student Body Association of HNLU strongly opposes this appeal and wishes for Mr. Sukh Pal Singh to file his official resignation immediately. We also contend that henceforth, he has absolutely no power in relation to his previous duties as a Vice-Chancellor.
To view the list of demands, click HERE.
To follow the latest updates of Student Bar Association, HNLU on Facebook, click HERE.