1. Could you please introduce yourself, professionally and academically, to our readers?
Hi everyone, I completed my undergraduate studies from Institute of Law, Nirma University, Ahmedabad with honors in Constitutional Laws and presently pursuing LL.M in Human Rights and Value Education from Rajasthan University. In 2016, I appeared for Rajasthan Judicial Services Examination and got selected as a Civil Judge/Judicial Magistrate securing 2nd Rank in Rajasthan.
2. What motivated you to pursue law, and then go for judicial services?
Pursuing law and becoming a Judge was actually destined though after completing 12th in science stream I chose engineering as my career option. It was only in second semester of engineering, I started introspecting about what actually interests me and one thing always kept hovering my mind, my grandfather's dream to see me as a Judge. I dropped engineering and appeared for CLAT and took admission in Nirma University. Being very dignified and respected, Judicial Services has always attracted me but somewhere I was caught up in dilemma between Civil Services and Judicial Services. Finally in 4th year I decided to choose Judicial Services as my dream job and started preparing for it with full determination and commitment.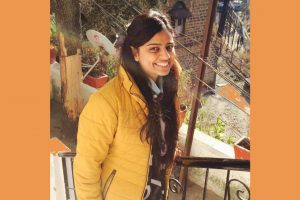 3. Please tell us about your time at ILNU. What experiences during these five years would consider key?
My time at ILNU is the most valuable experience. The environment provided by the Institution has resulted in my all round personality development and has boosted up my confidence. The guidance and motivation of my professors has helped a lot in shaping my career. In ILNU, I had both bitter and sweet experiences and every downfall taught me a life lesson. Even my friends played a significant role in making me what I'm today. The time spent in ILNU defines the best part of my success story.
4. How did you prepare for the Judicial Services Examination?
Well, preparation for Judicial Services Examination requires a focused mind with a planned framework. I made each day schedule to cover the whole syllabus in a limited time. After completion of my graduation, I studied 10-12 hours everyday, in which I gave 2-3 hours for reading general knowledge, recent judgments and newspaper. One should focus equally on English and Hindi language papers, it needs lots of practice. So, I started from basic grammar and improvise my vocabulary. No fixed strategy is there for clearing the exam, what one requires is patience and determination, your hard would definitely pay off.
5. Generally, students have a tendency to ignore Moots, debates and other extracurricular activities if they want to go into judiciary or civil services. What are your views on this?
Moot Courts, Debates and other co-curricular activities help in developing the confidence and intellect that every judicial officer must possess. Moot Courts and debates helps in improving oratory skills and enhance knowledge. Preparing memorials for Moot Courts improvise research and drafting skills which proved to be very helpful for judicial and civil services. Co-Curricular activities develop team spirit and compassion towards other fellow members which is very much important in professional career.
6. When did you start your preparations? When should a student ideally start preparation for the judicial services examination?
Formally I started preparing during my last semester. My advice to the aspirants is to start preparing at the beginning of 4th year and focus more on major Acts like CrPC, CPC, IPC, Evidence Act, Constitution, Personal Laws, Mercantile Laws etc. this would definitely reduce your workload and last moment's anxiety. Prepare self notes of each subject that will help you in a quick revision for Mains examination.
7. How far internships played role in shaping you and share your important internship experiences?
Internships offered by law schools proved very advantageous in shaping a person's career. My Internships in Supreme Court, High Court of Rajasthan and Lower Court, Jaipur provided practical experience and a close look at the day to day responsibilities that come with being a judge or a lawyer. A good internship experience adds a lot to the personality. It provides a way to apply the concepts and principles learned in the Institution to situations in the real world. In the legal field, where every day is new challenge, one has to uphold the integrity of rule of law, the importance of internship enhances manifold.
8. What importance does CGPA holds for a judicial services aspirant?
A good CGPA and academic achievements definitely shows one's confidence and ability to work hard. But this is just one parameter, one can't be judged on the sole criteria of CGPA, what matters is your legal knowledge and ability to apply your judicial mind.
9. Tell us about the interview and what kind of questions was asked?
Interview is basically assessment of candidate's suitability for the position of a judge. Interview Board assess your confidence, ability and commitment towards the position. Interview is a mix of legal and personal questions. One should have clear conception of all the law subjects, your background, home town, academics, work experience, recent legal developments etc. Questions asked were mostly from procedural laws like CrPC, CPC, Domestic Violence Act, family background, general knowledge of Rajasthan specially hometown, why the Judiciary.
10. What would you advice to the Judicial aspirants reading the interview?
For the aspirants of judicial services, I would advise them to be confident and focused to clear the Examination with flying colors. Candidates must go through every subject given in RJS syllabus thoroughly, each and every subject is equally important. This exam requires a great hard work and commitment with proper planning and determination. Do away from all kinds of distractions, keep working hard, analyse your mistakes and weaknesses, learn from them, Success is bound to follow.