Rishika Srivastava, a National Law University Delhi graduate of 2016 batch, has topped the Delhi Judicial Service Examination. She secured the top-spot by scoring a total of 682.5 marks, which is good ten marks more from the second highest score. She was being interviewed by Shruti Srivastava. 
How would you introduce yourself?
I was born and brought up in Lucknow. I studied law at National Law University, Delhi and graduated in 2016. Thereafter, I worked at Star India Private Limited for a short duration. My preparation for judicial services examinations began after this brief stint.
I have recently secured the first rank in the Delhi Judicial Services Examination 2017 in my first attempt.
What are your interests?
I enjoy teaching, reading, listening to music and watching sports, especially tennis.
Why did you pursue law?
Law governs and impacts almost every aspect of our public and private lives. I found this pervasiveness of law to be very fascinating because of which I chose law as a career.
How was your experience in NLU Delhi? Do you think being an NLU Delhi graduate has helped you in your preparation?
I had a truly wonderful experience at NLU Delhi. Over the course of five years I was able to take part in a lot of different activities which ensured that my learning extended beyond mere academics.
My education at NLU Delhi played a significant role during my preparation. The high academic standards of the University ensured that my fundamentals of law were strong. Co-curricular and extra-curricular activities like mooting, debating, policy research helped me develop certain crucial skills like the ability to critically analyze issues and to articulate them in a precise and coherent manner, to conduct legal research efficiently and to think creatively.
Since there are multiple options in terms of career to choose from, even when you're taking a professional course, how and when did you decide to pursue Judicial Services?
The decision to opt for a career in judicial services was a well-informed choice taken gradually over five years.
I wanted to be directly involved in the process of administration of justice and public service. Also, the act of adjudication appeared very interesting and positively challenging to me. Hence, judicial services was an obvious choice.
However, despite being aware of my interest in judicial services, I utilized my semester breaks to gather different experiences through internships in law firms, with lawyers and in policy research organizations.
How did you prepare for Delhi Judicial Services?
I prepared for mains examination before preparing for prelims.
The DJS mains examination consists of four papers- GK and Language, Criminal Law, Civil Law I and Civil Law II. Bare acts are provided to the candidates and the questions are application based. Thus, it is very important to have clarity of concept and there is no need to mug up any provision of law.
Law subjects: I read one or two standard textbooks for each subject. Understanding how the various provisions of a statute are interlinked with each other and with provisions of another statute is essential for the mains examinations, especially for the Civil Law II paper. I also read Delhi High Court and Supreme Court cases from DLT and SCC for the years 2016-2018. I think reading landmark and recent judgements in their entirety is very helpful for the DJS mains since the questions are based on issues that have recently arisen before the courts and often involve complex questions of law. The papers are also fairly lengthy and thus time management becomes very crucial.
GK and Language: Since my written Hindi was not excellent, I read the editorial section from a Hindi newspaper regularly. For the general knowledge section, it is essential to not just learn the facts but to also understand the debate around any issue. I referred to the newspaper, monthly magazines like Pratiyogita Darpan and online resources like gktoday to prepare for current affairs. For static knowledge, I referred to Lucent's GK.
For prelims it is very important to read the bare act with utmost attention to minute details. One also needs to be aware of recent legal developments. In the past few years it has been seen that the number of application based questions has increased and number of direct section based questions has come down. I believe that 20-25 days of dedicated study solely for the prelims is sufficient, if one has already read the standard textbooks once.
What was your schedule? What were your motivations?
I did not have a fixed schedule. I used to divide my day into various components- reading the newspaper, reading DLT/SCC, reading textbooks and revising. I also solved past year papers and practiced translation on a regular basis.
Preparing for this exam was an enjoyable and enriching experience and I did not lose motivation easily. I constantly kept reminding myself of the reasons for my wanting to be a judge and that always kept me on track.
    Having achieved so much at such a young age, what else do you think would you like to achieve in the future? How do you feel right now- content, that you have achieved so much, or excited, that you have to do way more? What are your hopes and expectations from the future (in terms of your position as a judge)?  
While I was ecstatic to see the result and I am very thankful for it, I do not look at this solely as an achievement. I look at this as an opportunity to become a meaningful part of the justice dispensation mechanism and to contribute to the evolution of the law. I am sure that this is only the beginning of a very enriching and challenging journey. I hope that I am able to discharge my duties as a judge with utmost diligence and can adhere to highest standards of judicial rigour and ideals.
Any advice for individuals who are preparing for judicial services examinations or for students who are indecisive of their career choices.
Try your best to figure out what you are passionate about. Use your time in law school wisely to garner as many different experiences as you can as this will help you in making informed choices. Before choosing any career option, be very sure about what your motivations behind that choice are.
Once you decide to pursue judicial services, start as early as you can since judicial services examinations do not have a fixed calendar or schedule. Before starting the preparation, do proper research about what resource material is required and what strategy will work best for you. Thoroughly analyze past year papers and prepare accordingly. Focus on strengthening your conceptual understanding and keep track of legal developments. And most importantly, please take good care of your physical and mental health.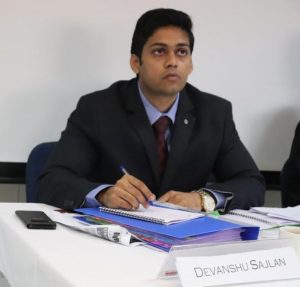 Additionally, two other NLU Delhi alumni, Devanshu Sajlan and Akansha Gautam, have succeeded in qualifying the examination. Sajlan, is a 2014 graduate who had worked in AZB and Partners as an associate for three years before starting his litigation practice in 2017. Gautam had been a part of Rishika Srivastava's batch and had graduated with her in 2016.