In memoriam: Shamnad, you are remembered and missed
IDIA Increasing Diversity by Increasing Access (IDIA) / SpicyIP / Basheer family and to the scores of lives you've touched (including mine)."
– Pramod Rao, Group General Counsel at ICICI Bank
---
Boy with the beauty, brawn and the brains
Shamnad dazzled all in law school.  The boy with the beauty, brawn and the brains.  What stays on as Shamnad has left us for his maker is his beauty.  His fragrance can be felt by all he loved and whose lives he touched.   I remember how years after law school we again got connected when he wanted me to help out in some of the cases he was engaged in.  He had started calling me "Sanjoy Da". There was so much affection and excitement in the way he would call me that.  While it made me feel special, I soon realised that it was quintessential Shamnad.  High on life, in perpetual excitement to get things done, people's lives made better!  He truly belonged to none and he was our own.
— Sanjoy Ghose, Advocate
---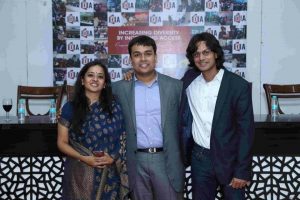 The legacy continues
It's a year since Shamnad left us for probably what might have been a higher purpose. While on this earth what Shamnad set out to do was tremendous and hard and arduous! To train and provide skills to an underprivileged child, to give this child an opportunity to study in India's premier law schools, to be able to put that scholar through law school and then enable that child to get a job, equipping the scholar with skills beyond her imagination and therefore, pulling an entire family out of poverty, is a gargantuan task. It's Herculean to actually motivate people to give money for it. To so effectively use the Law as a tool of social and economic change, is beyond the imagination of ordinary people.
But then Shamnad was anything but ordinary! His legacy IDIA- Increasing Diversity by Increasing Access to Legal Education along with his closest ally Shishira Rudrappa, changed the way law schools in India think of diversity and access.
It's been a year since we lost Shamnad. But his legacy continues.
–Madhurima Mukerjee, Chief Mentor, IDIA
---
Keep moving
Today it's been one year since my dearest Shamnad discarded his mortal coil..how time flies!!! At this occasion, I am reminded of a part of a speech by Martin Luther King Jr which I had seen and sent to him thinking that it was apt. He had loved it when I sent it to him.
It reads thus:
"Keep moving, for it may well be that the greatest song has not yet been sung, the greatest book has not been written, the highest mountain has not been climbed. This is your challenge! Reach out and grab it… but there is something we can learn from the broken grammar of that mother, that we must keep moving. If you can't fly, run; if you can't run, walk; if you can't walk, crawl; but by all means, keep moving."
— Rohit Mammen Alex, Advocate
---
Epitomy of CHAMPS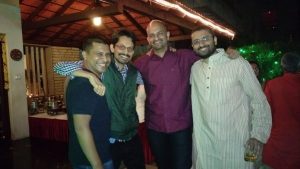 It's been a year to the day since my friend Shamnad passed on. Sham pioneered the concept of CHAMPS and lived it. I remember him spending time with my kids at home and teaching them the virtues of being a maverick and how it's ok to not confirm. The best way to remember Sham will be to try and live by the ideals he stood for. He will always remain a star shining brightly over the night sky to continue to guide us even though I may not hear the familiar "Maaaaanaaaaaavvv" when I called his number, any more.
— Manav Nagraj, Advocate
---
Intelligent, thoughtful and with a heart full of playful mischief
'The heart of India is in its villages' he said. I nodded knowledgeably (with a trace of disappointment) at this cliché. With a roguish grin he added, 'Not that heart, man, HLA Hart'. That is the Shamnad I knew. Intelligent, thoughtful and with a heart full of playful mischief. Whether playing a game of 'chicken' with exams or convincing a professor that he was the grandson of Vaikom Basheer, Shamnad always lived life with a sense of fun but one could always sense a hint of greater purpose behind that booming laugh. Stories abound of his kindness and the impact he has had, but for me, Shamnad will always be the young man with wavy hair riding a rickety cycle in Oxford. A smile on his face, a tune on his lips, on his way to doing something brilliant. In the immortal words of Binyon:
"They shall grow not old, as we that are left grow old:

Age shall not weary them, nor the years condemn.

At the going down of the sun and in the morning

We will remember them."
Navneet Hrishikesan, NLSIU Classmate
---
Left an everlasting impact
Inequalities in the society are so inherent that most of us unknowingly turn a blind eye to it. Shamnad Sir taught us not just how to blur these lines of inequality but to teach and prepare a generation who would change the course of the lives of several others. As he taught us the value of making people self-reliant. There is so much one could learn from Sir, and I will always be regretful of not being able to meet him. Despite this, he has left an everlasting impact on the values I preached all my life. I hope to follow his legacy for as long as possible
–Srishti Chhabra, Team Leader, IDIA Rajasthan Chapter
---
Made dreams of thousands of kids a reality
To the person who told us that law students need not only limit themselves in talking the talk but also walking the walk. To the person who made dreams of thousands of kids a reality. To the person who made differently-abled that they have a similar right to legal education. A big thank you.
–Rohit Sharma, Ex-Team Leader, IDIA WBNUJS Chapter